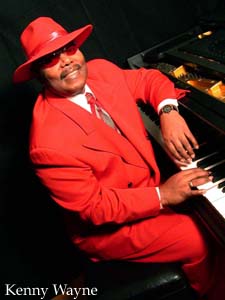 Can't Stop Now (Electro-Fi) by Juno Award winning keyboardist/singer-songwriter Kenny "Blues Boss" Wayne is a CD to get excited about. Recorded in various locations from St. Louis to Whitehorse, Canada, it is a pleasing gumbo of contemporary and traditional blues with a distinctive New Orleans flavor.
Wayne was born in Spokane, Washington in 1944 but spent his early years in New Orleans. A child-prodigy pianist, he was encouraged by his preacher father to play gospel music but was instead drawn to the exciting sounds of blues and boogie-woogie. A sobering experience at a nightclub in Los Angeles (where his family settled in the mid '50s) put an end to his emerging blues career. Appearing with Jimmy Reed at the Alpha Bowling Club – his parents in attendance – a vicious fight broke out, and the 18-year-old Wayne was hustled unceremoniously from the club by his father. Wayne shifted his musical focus to the less dangerous world of soul and R&B. He became a staple in the L.A. scene, playing with Delaney & Bonnie, Billy Preston, Sly Stone, and the Doobie Brothers. Wayne eventually settled in Canada and established himself in the local scene.
Wayne is an original. He brings an authentic voice to tried-and-true musical forms; it's refreshing to hear a musician playing in his style who is not derivative. The nine original songs on Can't Stop Now are masterful mixes of boogie-woogie piano, New Orleans blues and jazz, Kansas City swing, and West Coast jump. The opener, "Boogie Woogie Mama," is reminiscent of Louis Jordan (without the horns). It rocks. It jumps. You've got to be pretty damn good to put out this kind of stuff these days and make it sound real. Wayne pays tribute via two covers to a pair of his piano-playing heroes, Fats Domino and Johnnie Johnson, with "You Can Pack Your Suitcase" (a hit for Domino penned by Dave Bartholomew) and "Tanqueray" by Johnson. His own song, "Johnnie J. Was Good," is a another Johnson tribute.
Wayne turns mellow on the poignant jazz ballad "You Cured My Blues," which features a flawless, soulful guitar solo by the late Jeff Healey. Wayne changes tempo on "My Sweet Little Peach," a funky tune featuring a rap by his son, Corey Spruell. "Ragin' Storm" is his take on Hurricane Katrina and its aftermath, in which he takes the government to task: "The system failed to do its job/Now the troops are down here trying to control the mob . . . where was the help, it came a little too late/We know the reason that you hesitate." Wayne follows "Ragin' Storm" with the rollin' boogie woogie New Orleans jam "Don't Cry." The concluding track is the apropos rollicking jump tune "The Party Is Over." Can't Stop Now is one of the most solid and delightful recordings I have heard in quite some time.
NEW RELEASES: The Outsider (Provogue) is the latest from heavyweight guitarist/vocalist/songwriter Walter Trout. Profound lyrics, impassioned, high-energy guitar and vocals coupled with some mellow ballads and a kick-ass band including drummer Kenny Aronoff (John Mellencamp), bassist James "Hutch" Hutchinson, and pianist Jon Clearly (Bonnie Raitt) makes this a must-have for fans of the former Canned Heat and John Mayall's Bluesbreakers guitarist . . . Roamin' And Ramblin' is Grammy-winning legend David "Honeyboy" Edwards' fourth CD on Earwig Records, and an all-star affair featuring guest appearances by Bobby Rush, Johnny "Yard Dog" Jones, Billy Branch, and Sugar Blue. Label owner and harmonica player Michael Frank, who often sits in on live shows with Edwards, makes his recording debut on "Low Down Dog" and "Little Boy Blue" . . . Night Train To Nashville (Telarc) is guitarist/singer-songwriter Tab Benoit's first live effort. Recorded in Nashville in 2007, Benoit is at his rootsy and impassioned best as he burns through the blues landscape backed by Louisiana's LeRoux and guests Kim Wilson, Waylon Thibodeaux, Johnny Sansone, Jim Hall, and Jim Lauderdale . . . Dave Specter: Live in Chicago (Delmark) is the retro guitarist's latest CD/DVD release on Delmark. Specter is caught live at Buddy's Guy's Legends and Rosa's Blues Lounge, and his perfunctory guitar playing is enlivened by legendary guitarist/vocalist Jimmy Johnson, harp man Tad Robinson, and singer Sharon Lewis . . . Hattiesburg Blues (Delmark) just arrived from Delta-based Chicago blues unit Mississippi Heat. Led by harp player Pierre Lacocque and featuring vocalist Inetta Visor, the Heat goes uptown with guests Carl Weathersby, Lurrie Bell, Hank Ford, Bill McFarland, Willie Henderson, and others.
LIVE BLUES: The Chicago Blues Round Robin performed an intimate set of down-home acoustic blues at the Old Town School Of Folk Music in May. Led by guitarist/ soundman Dave Katzman, Round Robin features guitarists/vocalists Jimmy Burns, John Primer, and Carl Weathersby, singer/harp player Willie "Big Eyes" Smith, Smith's son and drummer Kenny "Beady Eyes" Smith, Steve Doyle on lap steel, and stand-up bassist Jimmy Sutton. This group of accomplished bandleaders and sidemen jammed together on blues standards and originals, trading licks, telling stories, joking with one another, and drawing the audience in on the fun.
If you missed the Round Robin, you can check them out at the Chicago Blues Festival performing at the Juke Joint Stage on Thursday, June 5th at noon.
IN TRIBUTE: Former Albert King and Willie Kent And The Gents drummer Dave Jefferson (real name Dave Harrison) passed away April 29th at Ingalls Hospital in Harvey. Jefferson continued to tour and play around town with the Gents after Kent's 2006 death. May he rest in peace.
– Beverly Zeldin-Palmer
Category: Columns, Monthly, Sweet Home