Mariah Carey
E=MC2
(Island)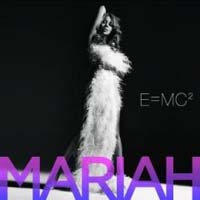 Before Amy Winehouse was arrested, Britney Spears shaved, and Ashlee Simpson taped "SNL," Mariah Carey fell apart on MTV and began one of the most spectacular celebrity flameouts the world had seen.
With the globe laughing at her and practically toasting her demise, four-years later The Emancipation Of Mimi's shock success reaffirmed Carey as one of the preeminent recording artists of her generation. E=MC2 might be little more than Carey-by-rote, but it certainly won't derail her quest to overtake The Beatles' chart-topping record.
As transitions go, Carey's metamorphosis from adult-contemporary sweetheart to hip-hop arm-candy was wobbly at best. Yet E=MC2 stands assured, a quietly confident album free of her '90s bluster and refreshingly at ease. (What's still dumbfounding is how she managed to make her audience younger.) E=MC2 refuses to rub your face in its modernity. The hyper-Euro synths that tidal-waved the latest Justin Timberlake and Spears albums faintly glisten on tracks like "Last Kiss," and her only other blatant nod to the current charts is the woeful "Migrate" — woeful because it makes space for T-Pain, who has worked harder than anyone to exhaust his 15 minutes.
Lead single "Touch My Body" balances the sensual with the innocent, something she seemed to have lost in that fateful "TRL" appearance. (It's also her 18th number-one single, leaving her just two to match The Beatles with the saccharine but tender "Bye Bye" sure to be 19th.) With Janet Jackson lost in the woods and Madonna down a blind alley, E=MC2 looks less to be a theory and more like reality.
7
— Steve Forstneger