Silverchair
House Of Blues, Chicago
Thursday, December 12, 2007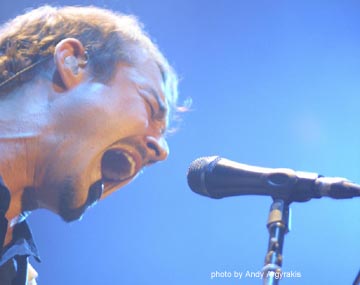 In an iTunes-dominated era, five years is a lifetime between albums. It not only puts act's longevity in jeopardy, but can find a fanbase shift a complete generation. Though Silverchair tempted fate by stalling for a half decade, the time was clearly well spent.
Frontman Daniel Johns fully recovered from reactive arthritis, and the band decided to completely reinvent its sound. The trio's flannel/grunge days are long gone, scuttled in favor of a much more experimental melodic pop focus, complete with dancefloor flourishes and orchestral arrangements by Beach Boys/Brian Wilson mastermind Van Dyke Parks.
Though the group debuted Young Modern (Eleven Music) at Lollapalooza this summer, a sold-out House Of Blues served as a much more extensive platform. Granted, the band was part of Q101's Twisted 14 line-up, but as headliners for the mini-festival's third and final night, the gang had 90 minutes to push the present and occasionally dip down memory lane. The evening opened with the new disc's lead track, "Young Modern Station," a surprisingly club-tinged cut that would be much more at home with The Killers or Metro Station than it would any of Silverchair's '90s counterparts. Of course, there was still plenty of aggression come the angst ridden "Emotional Sickness," along with bellowing distortion and audience participation throughout "Israel's Son," ensuring familiar elements within the updated formula.
Yet those hoping for a substantial flashback would be left out for the rest of the show, which even included a fake out from Johns: "Now everybody say 'Sing 'Tomorrow' from Frogstomp,'" prior to the threatening percussion thuds of "If You Keep Losing Sleep." Still, the band was quite fair in highlighting other albums, such as the grippingly raspy ballad "Ana's Song (Open Fire)" from Neon Ballroom, the melodic sensitivity of "The Greatest View" off Diorama, and the scorching (though still slightly grungy) "Freak" from Freak Show.
Despite hitting several strides, Johns was noticeably hindered on a couple tracks due to a cold that he repeatedly referenced, "I'm downing so much Dayquil it makes me feel like Johnny Cash," he joked before the easygoing jangle pop of "Reflections Of A Sound." Luckily he managed to wade through most of the higher scales, but that good fortune soon faded for the recent single "Straight Lines," checking out during the complicated choruses and depending exclusively on crowd support.
Of course being under the weather can't cover up the fact Silverchair made an impressive album in current contexts that yielded a cross section of attendees — presumably from their early teens to late 20s — who stayed well past openers Silversun Pickups and Strata.
— Andy Argyrakis
Category: Live Reviews, Weekly