Chloe Day
Elbo Room, Chicago
Wednesday, December 26, 2007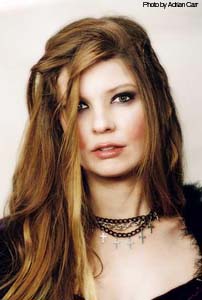 Perusing Chloe Day's online picture gallery isn't so different than listening to one of her CDs. It's the same person in each one of those pictures, just like it's the same voice on each one of those songs, but there are a lot of different personalities.
Like a little girl, Day, a Los Angeles-by-the-way-of-St. Louis singer-songwriter, loves playing dress up. Looking at her collection of photographs you would never know just what kind of music Day makes. There's goth Day in all black with thigh-high stockings; preppy Day striking a pose fit for a Gap advertisement; and bad-ass Day with heavy makeup and a jagged, electric guitar. She's just as much a chameleon on record. "With You With Me," from her 2004 full-length Pixie Runway, swears off mainstream music in its lyrics, yet the song is a light, fluffy pop piece with an infectious chorus. And what about "Lolly," where Day purrs more than sings the line "Hey sweet sugar/gimme a lolly lolly"? Elsewhere Day is creepy ("Man In My Bedroom Corner"), playful ("Curves"), and sometimes both ("Catnip"). None of this will matter, though, if this year's three-song EP, Sugar, points to Day's future direction. Almost entirely electronic, a style she only flirted with on Pixie Runway, Day seems content with being unpredictable.
Sinister Fate and All Else Fails open.
— Trevor Fisher
Click here for streaming samples of Chloe Day.
Category: Stage Buzz, Weekly