GIBSON
Les Paul Robot Guitar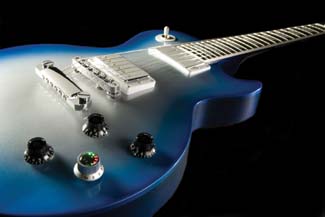 A friend once told me he couldn't attend shows at a certain Chicago venue because the bands that generally played there "couldn't tune their damn guitars." The Gibson Les Paul Robot could change that. It eliminates tuning problems for guitarists by automatically tuning each of six strings to standard A440 tuning with a master-control knob driven by servo-motors. As the motorized tuners adjust the pitch of the strings they are monitored by means of a Tune-Control Bridge and various other computer-controlled electronics. The master control also allows players to choose six commonly used altered tunings at the push of a button. With Gibson's locking tuner, the Robot can make single-string cha-nges or an entire set of strings are changed in user-friendly automation. For maximum public-relations impact, the first run of limited-edition Les Paul Robot Guitars will go on sale at 5 p.m. on December 7th at only 400 dealers throughout the world; each store will only have 10 to sell. The first version is available exclusively in blue silverburst finish. Locally, Chicago Music Exchange and select Guitar Centers will carry the guitar. Later next year Gibson will unleash a bevy of Robots for the common man. Visit www.gibson.com/robotguitar for details.
AIR CANNONS, INC.
You've seen them at White Sox and Bulls games launching T-shirts into a mass of screaming fans. Now Colorado-based Air Cannons, Inc. is hoping musicians get into the promotional projectile T-shirt game with their guitar-shaped Air Cannon, made famous by country star Alan Jackson. With a price tag pushing $3,500 for the Guitar Cannon, you may want to choose the budget-minded Breeze 125 Cannon, which will shoot a T-shirt roughly 125 feet for about $900. Or you can rent an Air Cannon for $195 for three days. Watch where you point that thing kid, you'll shoot your eye out. For more details check out www.aircannonsinc.com.
ROCK HOUSE
Metal Guitar: Modern, Speed & Shred Instructional DVD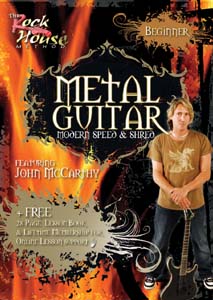 Our friends at Rock House have released a new instructional DVD series that will teach metal guitarists techniques used by today's "best" heavy rock bands. The series, titled Metal Guitar: Modern, Speed & Shred, includes a beginner section taught by John McCarthy stressing power chords, complete classic and modern metal rhythms, speed-demon exercises, and pentatonic death scales(!). The intermediate and advanced levels feature Soulfly lead guitarist Marc Rizzo and build on McCarthy's beginner DVD. The intermediate entry concentrates on neck-spanning scales, speed picking, tapping, Rizzo's personal bending technique, and even how to achieve that "metal sound." Rizzo steps it up a notch on the advanced DVD, teaching alternate tunings, legato techniques, harmonic minor scales, advanced tapping, trill riffs, sweep arpeggios, syncopated rhythms, and seven modes of the major scale. McCarthy also has his own advanced volume, titled Advanced Metal: Riffs, Arpeggios & Speed Runs. The DVDs are each accompanied by a tablature book and are are available at you neighborhood guitar store for $19.99 retail. Each Metal Guitar: Modern, Speed & Shred DVD also comes with lifetime membership to Rock House's lesson-support Web site. Visit www.rockhousemethod.com for more.
GUY LEWIS
Classic Guitar Boxes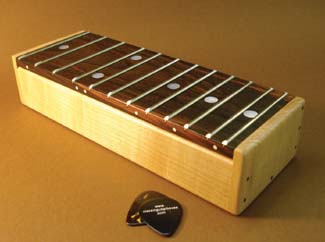 You won't find these at a chotchkie shop in Galena. Master carpenter Guy Lewis of Dorset, England builds boxes modeled after fretboards ('58 and '68 classic, '69 rosewood classic, the LP, and the MT acoustic) of iconic Fender and Gibson guitars. Made from luthier-quality woods, the boxes are meant to hold pens, pencils, picks, strings, (pot?), and more and, like the Gibson Robot, never go out of tune! As you'd expect, these boxes are available in a variety of woods. Lewis has been making these pieces for several years (all by hand) for both rock stars and rock stars in training. He is also willing to mix and match woods to customers' specifications and design something based on your ideas. Prices start at $125; visit www.classicguitarboxes.com to see the full line.
– David Gedge