For two months now I've stashed away Rhino's The Heavy Metal Box and Megadeth's Warchest just so I could reveal all the glorious details in December and make this month's column a sort of "Headbanger's Gift Guide."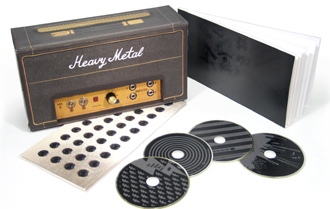 Cheesy, I know. But I'm only trying to spread a little holiday cheer to all you godless heathens. Worth a try, right?
I don't exaggerate when saying The Heavy Metal Box should be the perfect gift for any metalhead on your shopping list. With 70 songs (four discs) spanning 23 years (1968 to 1991), producers Mason Williams, Kenny Nemes, and Marc Salata did an admirable job with this set (housed in a box that looks like a Marshall amplifier head, complete with volume knob that goes to 11). Disc One is mostly dedicated to late-'60s and early-'70s rock bands like Iron Butterfly, Blue Cheer, Deep Purple, and Alice Cooper who, while never officially classified as "heavy metal," certainly laid the groundwork. Disc Two dives into the New Wave Of British Heavy Metal with Saxon, Diamond Head, Judas Priest, and Iron Maiden. Venom and Mercyful Fate, two acts who helped mold black metal, also make appearances, as do Dio and infamous shock rockers W.A.S.P. Discs Three and Four are grab bags, just like mid-'80s to early-'90s heavy metal. Hair metal was obviously the most commercially popular, evident by Cinderella, Ratt, Quiet Riot, and Whitesnake's appearances, but that was also the time metal started to branch out and "sub-genres" began to truly form. The producers get most of them with thrash (Megadeth, Metallica, Testament), power (Manowar, Helloween, Yngwie J. Malmsteen's Rising Force), and glam (Twisted Sister) metal. Sepultura and Pantera, who both withstood grunge's haymaker in 1991 and kept metal alive into the mid-90s, earned slots on Disc Four.
The fact Black Sabbath are represented by "Neon Knights," a Ronnie James Dio-era tune, and not something with Ozzy is interesting and surely attributable to the licensing issues the production trio reference in the liner notes (which also include numerous essays and track-by-track song summaries): "Unfortunately some bands simply did not want to be included," they state. This is likely why we get nothing from Ozzy's solo catalog, why Hanoi Rocks are here but Guns N' Roses aren't, the reason there is no Led Zeppelin, and probably explains including Sunset Strip-also rans Dokken but excluding Mötley Crüe.
So, of course, everyone won't be completely happy with this box. There is nothing from either death metal or grindcore so those fans have a legitimate gripe. There is so much hair metal here that cutting Faster Pussycat or Great White in favor of Death and Napalm Death would have worked. But don't mistake overlooking those genres as ignoring the underground. Appearances by Blitzkrieg, Krokus, Loudness, Rose Tattoo, and Metal Church, to name a few, prove the producers weren't only concerned with accessibility.
FYI, if you are bummed by the lack of brutality on Rhino's box, consider Earache Records' six-disc Metal: A Headbanger's Companion II, which features Deicide, Dillinger Escape Plan, The Haunted, Morbid Angel, and Godflesh among a bunch more. It's available by import only, though.
The Megadeth Warchest set is a blessing and a curse for fans. A blessing because, obviously, it's five-discs (four CD/one DVD) of nearly career-spanning (nothing from the band's most recent, United Abominations) material; a curse because much of it comes from frontman Dave Mustaine's 2004 "remastering and restoration" project with his old label, Capitol. In fact, Warchest is supposed to serve as a cap, if you will, to that experiment, which if you're not familiar with, found Mustaine remastering, remixing, and in some cases rerecording his group's work from Peace Sells . . . . But Who's Buying? (Killing Is My Business was reworked in 2002) all the way to 1999's Risk.
Mustaine's motivation to tinker with classic albums like Rust In Peace (where he added hideous background vocals and even changed lyrics!) was questionable, but he does the honorable thing with Warchest by avoiding those controversial moments and sticking to the stuff he didn't fuck up. Discs One through Three do a good job summing up 1983-2004 (The System Has Failed) Megadeth, never spending too much, or too little, time with any one album. As far as rarities go, if you were foolish enough to buy everything from the "remix/remaster" project (don't feel bad, I wasted dough on Rust In Peace, Countdown To Extinction, and Youthanasia before realizing the scam) then you have nearly everything on those three discs with the exceptions of a few unreleased-in-the-U.S. studio tracks ("One Thing," "Coming Home"), some interview clips, and a handful of session takes ("Anarchy/ Problem," "Breakpoint") and demos; three of the four demos on the set are from Rust In Peace: "Holy Wars . . . The Punishment Due," "Tornado Of Souls," and "Five Magics."
Discs Four (a complete 1990 Clash Of The Titans tour set from London's Wembley Stadium) and Five (live video material from a 1992 show) are Warchest's real treats. The group's only official live releases, CD or DVD, to this point, were with inferior, latter-day lineups. Both these discs (the CD was recorded just after the release of Rust, and the DVD just after Countdown) showcase what many consider Megadeth's best lineup (Mustaine, David Ellefson, Marty Friedman, and Nick Menza) and show how good they were in their prime. The accompanying booklet is a disappointment outside of some rare photos. Metal scribe Ian Christe's essay is lifeless, offering nothing about the band's combustible lineups, instead he just rewords 20-something years of press releases.
OUT NOW: Many bands today call themselves "folk metal" just because maybe they put some finger-picked acoustic guitar on one of their songs. Denmark's Svartsot are the closest I've personally heard to warrant-ing such a description. The band seamlessly mix their country's Nordic-folk heritage with modern-day death metal for outstanding results on Ravnenes Saga (Napalm). Songs like "Gravollet" and "Brages Baeger" never get weighed down by their monstrous heaviness – and they are very heavy – because Svartsot are extremely obsessed with melody. Ravnenes Saga really is a folk album first and foremost; being "metal" seems a secondary concern with the exception of frontman Claus B. Gnudtzmann's subterranean (and Danish) growl. Most importantly, the folk instrumentation on every song isn't merely studio production: Whistle and bodhran player Stewart C. Lewis (who I'm guessing isn't Danish) is a full-time band member . . . When I first listened to Mötley Crüe's Carnival Of Sins (Eleven Seven) double-live CD and discovered it was censored, right down to the word "pissed," I thought IE accidentally received the clean version – it happens. But after a little research, I learned the clean version is the only version. Yep, hear The Crüe, kings of debauchery, bad boys of rock 'n' roll, in all their live, censored glory. F#@k that!
NEXT TIME: Read "Caught In A Mosh" next month to find what some prominent Chicagoland headbangers, including members of Nachtmystium, Anthrax, and Yakuza, thought were the year's best records. Until then, always remember, mosh@illinoisentertainer.com.
– Trevor Fisher
Category: Caught In A Mosh, Columns, Monthly