Can We Still Call Him Maurice?
He may have been born in Milwaukee, but Steve Miller is a Chicago boy at heart. Though the leader of the eponymously titled band moved around a lot as a little one and even had some guitar training from his father's pal Les Paul, the hopeful found the firmest footing in the Windy City blues scene circa the mid 1960s. Given his longstanding connection to the area, it was only fitting the latest Steve Miller Band concert DVD be recorded July 14th at a local venue (Highland Park's lush and spacious Ravinia), while centering the set list around the axe grinders (local and otherwise) he emulated growing up.
After opening with more than 10 minutes of "Fly Like An Eagle" and getting "Abracadabra" out of the way, Miller switched between the South Side of Chicago, deep in the Delta, and the Lone Star state, dusting off everyone from Robert Johnson to Otis Rush to Jimmie Vaughan. As cameras swirled frantically around the pavilion, they captured the band's furious licks, impromptu jams, and the crowd's relatively consistent reception.
Yet the home stretch of original hits truly packed the aisles with dancers, including the psychedelic "Wild Mountain Honey," the country-tipped "Dance Dance Dance," and the token sing-along "Take The Money And Run" (woo hoo hoo), while encores of "Jungle Love" and "Jet Airliner" put the retro party into overdrive. It may not have been typical fare for the generally more subdued and serene environment, but no matter what the genre, Ravinia remains one of the country's finest venues for acoustic precision and aesthetic perfection, likely to translate to tape whether you're a joker, a smoker, or a midnight toker.
— Andy Argyrakis
Get In The Van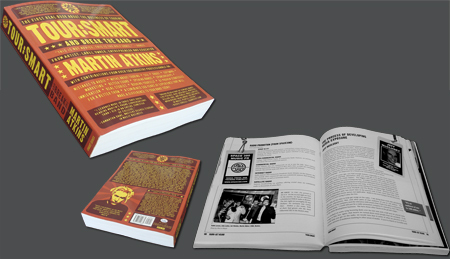 "You should fail because your band is shit or because you don't have the balls. You shouldn't fail because of a lack of some basic advice and a bit of planning."
Pretty straightforward introduction by Martin Atkins to his book Tour:Smart And Break The Band, which should be in the car, van, or bus of every band trying "to make it." Tour:Smart's goal isn't to make you an international superstar capable of buying your own island, but Atkins believes his 30 years as a musician (Public Image Ltd., Killing Joke, Ministry, Pigface), tour manager, producer, DJ, and record label owner (Invisible) could help you make the most of touring.
He doesn't claim to know it all, though. That's why Tour:Smart's 562 pages feature contributions from more than 100 industry types like musicians, managers, tour promoters, sound techs, talent buyers, radio personalities, publicists, and professors offering all kinds of advice to help your band get your shit together and do things the right way. Touring 101 basics (routing, contracts, riders, merch, media exposure, guarantees) are discussed at length, but it's the little things that make Tour:Smart informative and entertaining. Dr. Debby Herbenick offers sex advice for the road ("Hello drugs, goodbye erection"); the infamous Cynthia Plaster Caster offers groupie etiquette advice ("Don't bite the hand that feeds you, pal. You may get your dick bitten off"); Lee Fraser of Sheep On Drugs discusses creativity and drugs ("As far as crack goes, once you have smoked a pipe you're too out of it to do anything apart from enjoy the rush"); and law enforcement officer Chris Lee lets you know how screwed you are when you get caught ("Depending on the state you are in, the officer you are dealing with, or the quantity and type of illegal substance found, your vehicle could be impounded, equipment and all").
The book hits stores September 1st, but you can pre-order a copy at www.tstouring.com.
— Trevor Fisher
And You Thought John Deacon Had All The Brains
Never got around to finishing that old astrophysics PhD thesis? Still have it lying around the house? Finish that sucker, never know what might happen. Take Queen guitarist Brian May, for example. Thirty-three years ago he gave up on his interplanetary dust clouds thesis for Imperial College in London to concentrate full time on Queen. Surprised at the lack of research done on the topic in the last 30-something years (aren't we all?), May finally finished what he started, The Times (U.K.) reported last month. Given his thesis is approved by assessors at Imperial, he'll likely receive his PhD in May.
— Trevor Fisher