Factory Girl
The Weinstein Company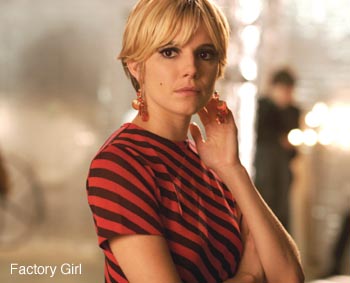 Call her the prototype. Call her the mold from which today's crop of celebutards — your Hiltons, Ritchies, et al — sprung. Call her the first person famous for just being famous. Just remember, she did have a ringside seat and a heavy hand in the most revolutionary movement of 20th century art.
She of course is Edie Sedgwick: muse to Andy Warhol, celebrated fixture at Warhol's "Factory," and America's answer to Twiggy.
Factory Girl takes a groundbreaking time filled with complex personalities and glosses over all of it. It comes across not as a gritty rendering of the times, but as a simple bio-pic that should turn up in heavy rotation on the Lifetime network.
Sienna Miller gives it all she can as Sedgwick, but the script never gives her or the audience any substantial insight as to why a wealthy heiress would ditch it all to hang out with the Factory denizens. All we get are nuggets like "It was a perpetual party!" and a suggestion of paternal abuse.
While no real insight into Sedgwick's demons are provided, Warhol comes off worse. With his trademark of throwing popular culture back into the faces of the American public, Warhol always cultivated a detached personality. He always seemed to project himself of the times, but also above them. Here, as portrayed by Guy Pearce, he's shown as a mumbling, insecure user — manipulating those around him and discarding them when they no longer serve his purpose. Pearce, like Miller, gamely goes along for the ride, but the writing fails him as well.
It's known that Sedgwick had a relationship with Bob Dylan. The extent of that relationship has never been fully explained, and many rumors abound. Factory Girl posits that the relationship was, in fact, sexual.
Dylan threatened to sue the producers if they used his name, so Girl gives us a faux Dylan simply referred to as "Musician" or "Billy Quinn" played by Hayden Christensen. His work in Factory Girl prooves his performances in the last two Star Wars films were no flukes — he really can suck all the talent off the screen when he appears.
Factory Girl includes a Special Feature on the real Edie, but even that is ineffective as it only contains interviews with friends, family, and the filmmakers with no real footage of Sedgwick herself, only more clips from the film.
Those looking for a window into the Warhol world and those who gravitated to it would be better served by checking out Basquiat or I Shot Andy Warhol, both of which offer more realistic insight.
Film:** Features: **
You're Gonna Miss Me
Palm Pictures
Without Roky Erickson and his band, The 13th Floor Elevators, there would be no psychedelic rock. That's the argument many have made, and it's a claim not without merit.
As with many of the psychedelic era, Erickson became a casualty of his addictions, and in his case, the effect was much worse as he was also a diagnosed schizophrenic. After a 1971 marijuana bust, Erickson was sent to Rusk Hospital for the criminally insane. After his release, he eventually landed under the guardianship of his mother, a true ogre of a woman that due to her Christian beliefs, felt that Roky did not need the medicines the doctors had prescribed for him.
You're Gonna Miss Me could easily have been another tale of the rise and fall of a rock pioneer, but it transcends by having the good luck of a main character who supplies a happy ending to the story. It's just a helluva nightmare getting there.
The film focuses not so much on Erickson himself, but the battle between his family members as to who could provide the best care for him. In the end, his youngest brother Sumner was legally granted guardianship, and Erickson finally got the quality treatment he needed.
The film ends there, but the rest of the story can be found in the Special Features. There's a segment featuring Erickson performing for the first time in 20 years at the 2003 Austin Music Festival. And more importantly, footage of his 2007 emancipation hearing, where he was deemed competent to look after his own affairs.
You're Gonna Miss Me shows that while the fall might be horrific, restoration is possible. And, when that restoration involves one of the most distinctive voices in rock, it doesn't get much better than that.
Roky Erickson appears Aug. 4th at Lollapalooza.
Film: **** Features: ****
— Timothy Hiatt