Airiel
The 10-Year Itch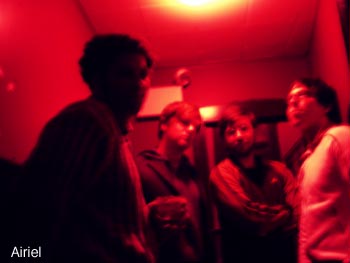 "I think it's a great home for bands, because, it's a very livable city, like you can actually work a job and be in a band and not go broke, y'know? You're not paying a million dollars a month for rent like you would in New York; we don't have to necessarily play the the industry game like you would in L.A. So, it's a lot better I think than a lot of other cities — it's big enough to where there's a scene, and you go to shows still, and there's a lot of good clubs to play at, lot of good recording facilities."
Appearing: August 29th at Empty Bottle in Chicago.
So says Airiel frontman Jeremy Wrenn, when asked about how Chicago works for a group like the very one he heads up. With as many bands who leave The Windy Second City for the brighter lights of Los Angeles or the gritty hipster grind of New York, it's refreshing to find one unabashed and concrete in their ties to and appreciation for their hometown. Then again, it makes a certain level of sense. It seems only appropriate Airiel would stay here and build a base the old-fashioned way, through self-promotion and constant live shows. As opposed to resorting to the coast-move cop-out so many one-time local bands embarked on when the going got tough, Airiel actually made use of the fabled Midwestern work ethic.
It's an ethic evident when you look at the long, strange story that is Airiel's 10-year career. The group — rounded out by bassist and vocalist Cory Osborne, guitarist Chris De Brizzio, and drummer John Rungger, plus visual projectionist Arturo Valle — are only just now releasing their debut album, The Battle For Sealand (Highwheel), rather than rushing out product before its time.
They've held out for a number of reasons, focusing instead on a series of EPs. Technically they were choosing to wait until the right set of circumstances and songs aligned, until the end product was exactly right. The decision to hold off on recording, however, wasn't entirely artistic, as the group quickly point out.
"We didn't have any money to record a full length," admits Wrenn, laughing. "That is one reason. The EPs that we did with Clairecords Records, that was pretty much just kind of an idea from the label itself. They didn't think, and I agree with them, that Airiel was ready to do a full-length. The fear was that it would've come out, and then it would've disappeared and it would've taken too long to get the songs together for another full length."
Judging by Sealand, waiting proved wise. On the record, Airiel have crafted a gleaming sonic experience with grandiose designs, yet clever enough to avoid excess, save for epic album closer "The Big Mash-Up." Yet for everything that could be said about the album, there undoubtedly will be one word that comes to mind upon first and repeated listens: shoegaze.
The mere mention of the term is often enough to trigger knee-jerk comparisons to genre sensations like My Bloody Valentine. But is it cliché and somewhat presumptuous to immediately invoke such an easy allusion? Which is it for Airiel: lazy comparison or honest influence?
"To be perfectly honest, it's both," Wrenn offers as a half clarification. "My Bloody Valentine was definitely something that I was listening to when Airiel started."
Yet he and Osborne say their influences don't end there. Far from it, they practically trip over themselves to offer up more apt comparisons, many of which listeners have offered up themselves.
"On the new album, somebody had made mention of Black Rebel Motorcycle Club," Osborne mentions before Wrenn interjects, "The Warlocks, The Brian Jonestown Massacre. Those are bands that have had a big influence on us, lately. Songwriting-wise, I mean."
Admiration is no one-way street when it comes to Airiel, however. One of the group's fans even ended up collaborating on one of the Sealand tracks, "Sugar Crystals." Renowned remixer and eletronica craftsman Ulrich Schnauss is hardly just a casual fan.
"That's actually kind of funny," Wrenn begins, recalling the story of how Schnauss came to work with the band. "He was touring with M83. And I had heard that he was a big Airiel fan, I just sent him an e-mail, and he said, 'Absolutely, I love your music.' And I said, 'Well, you guys are playing two shows, and, one of those nights, we're playing down the street at Darkroom.' And he literally finished his set, ran down Western Avenue, and ran down Chicago, and got to Darkroom right as we had finished our first song and we hung out and just got to talking, became fast friends and we kicked around the idea of doing some sort of collaboration at some point. We just had this song, 'Sugar Crystals,' and we weren't quite, we really couldn't finish it, we couldn't figure out how to put a cap on it. So, we just recorded the basic tracks, threw it at Ulrich, and he just did an amazing whirlwind 24-hour treatment on it and that was that."
The result is one of Sealand's most dynamic and immediate moments. "Sugar Crystals" combines an intense and urgent electronic overhaul treatment courtesy of Schnauss with an overdose of Airiel's trademark gleam. Yet the track's shine and gloss displays but one side of the group. Elsewhere on Sealand, songs like "Mermaid In A Manhole" and "Thrown Idols" demonstrate Airiel's more riff-driven, bombastic tendencies, which are all the more amplified during Airiel's increasingly notorious live sets, due in no small part to the volume the band strives for at each show. Of course, fan reaction to such a tidal wave of effects and flooring feedback varies, ranging from ecstatic to apprehensive.
"It depends on whether or not they got the free earplugs," Wrenn laughs. "Your audience members are either going to be, 'I'll only watch it, I'll only listen to this with earplugs because it's too much,' or, 'I want to hear all of it so I don't dare put earplugs in.' I mean we've met people that love the show and they've said, 'This is the first night I've ever worn earplugs, blah blah blah.' And that's not to say we're loud for the sake of loud, there's just an energy there that we get from playing at a crazy volume."
An energy that translates from the stage to the crowd, just like it does over stereo speakers blaring Sealand right to the listener. Which is exactly what Airiel aim for. Between the impression left by Sealand and the immediate impact left as a result of the Airiel live show, it's not so inconceivable to imagine awestruck and appreciative audiences reminiscing about the time Airiel floored them at rooms like Darkroom or Schubas.
Better here than New York or L.A.
— Jaime de'Medici