Rufus Wainwright
Out And Kraut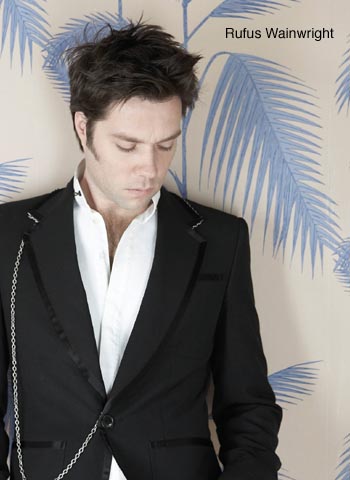 The sleeve photographs certainly tell the Teutonic tale. The kitschy gnome-peopled toy Futterhaus that beckons "Willkomen." The closeup details of the Pergamon Altar from the Pergamon Museum in Berlin. And lastly, candid snapshots of the artist himself — cabaret-cool crooner Rufus Wainwright — decked out in traditional "RW"-embroidered lederhosen and matching kneesocks. It didn't start out this way, the artist swears, but his latest songbook for Geffen, Release The Stars, wound up feeling as German as a steaming-hot plate of sauerbraten. With a few steinfuls of Spaten on the side.
Appearing: August 25th at Ravinia Festival in Highland Park.
Over the past few years, the Canadian-bred Wainwright — scion of folk royalty Loudon Wainwright III and Kate McGarrigle — has called New York home, and gotten so entrenched in the Gotham party scene he's now an A-list society fixture. And with his last two soul-baring sets, Want One and Want Two, he recalls being "very involved with myself and figuring out my own personality and loves and all of that." The albums also frankly dealt with the aftermath of a rehab-curtailed crystal-meth addiction that nearly killed the once-decadent pleasure seeker. Over his carnal phase, Wainwright got down to business for his Stars sessions. "I was in Brooklyn recording for the first part of the record," he notes. "And I had every intention of it being this very toned-down, black-and-white, bare-bones sound — I wanted to get away from the orchestras and the 10-part harmonies, so I got my band together and we jammed on the songs, which gave 'em a good sorta structure." He sighs. "But then I moved to Berlin for the summer, because my boyfriend lived there . . ."
Wainwright — looking street-casual hip in his black stovepipe jeans, Converse All-Stars, and sleek dress jacket — lets the words flutter there for a couple of minutes as he savors the last few morsels of chocolate-drizzled cheesecake in his swank hotel restaurant. In previous interviews, the same clothes had hung limp on his bony, wraithlike frame — a malnourished Oliver Twist who'd run out of gruel. Compliment him on his healthy new look, and he offers a genuine "Thank you!" before bouncing cheerily into the reason behind it: "I've basically decided to, uh, live. And it wasn't so much a question, but a vision, shall we say, that I had of death at one point. A searing vision of death ahead. It didn't look scary, it wasn't sad, it was more like an incredible orgasm. The closer you got to death, the bigger the orgasm was, so it was kinda fun actually. But I realized that I didn't wanna do that right now, and in the process of that I kinda figured out how I was gonna plan out the next 10 years of my life, artistically."
And Germany just wasn't on the map. But to be with his new beau Jorn, the singer (who came out of the closet as a teenager) jetted overseas for what would become an almost transcendental experience. His self-snapped museum photos only hint at all the Berlin art he inhaled in one giddy breath. "And all of a sudden, instead of getting a cool haircut and hanging out with the East German low crowd," he recounts, "I was hit by this furious wave of German romanticism and classical prowess, and I ended up wearing lederhosen and visiting Baroque houses. And all my childhood fantasies of this fairytale Europe just kinda reared their ugly heads."
Wainwright couldn't speak fluent German. Still can't. But he did just fine abroad — nothing Grimm about his visit at all. "And probably one of the funnier moments was when I was hanging out with Eva Wagner, one of the Wagner family," he chuckles. "She's in her 50s, and she's very beautiful and very serious, just a wonderful woman. And we were talking about music when she turned to me and said 'My pants are falling off!' So, uh, that was pretty odd." And as fans can see by his lederhosen pics, he adds, "It's all documented, it's all out there. And this record was very influenced by German romanticism. I visited Goethe's house, even went to Weimar, and stayed in a hotel where Hitler stayed, just for shits and giggles."
Perhaps that's why the most affecting new Stars number is the European-flavored "Tiergarten," a whimsical, chorale-backed ballad with all the pomp and circumstance of a classic showtune. And the rest — as Wainwright promised — delivers the romantic goods: the gentle piano chords wafting through "Going To A Town" and "Leaving For Paris No. 2"; the playful, ballsy rock motifs crackling across "Between My Legs"; funereal chords that haunt the terse landscapes of "Slideshow" and "Not Ready To Love"; and the sweeping, symphonic splashiness of "Tulsa" and "Do I Disappoint You." It's not exactly the artist's delectable '01 breakthrough Poses, and he's quite delighted that it isn't.
"Whereas my other albums are very effortful and constructed — during which I hopefully learned something and now have some ability — this album is more of the actual performance, the actual set after the rehearsal," is Wainwright's rationale. "And oddly enough, even though the record seems really big, it was the easiest record I ever made, and — thanks to Germany — it kinda happened in a flash." Friends have called Stars "My most personal album, but in a strange way it's the exact opposite. On this one, I'm actually addressing other people — it's more conversational, so people can actually hear me saying something. So it's funny how that works — the more outward you are, the more personal you seem."
Ach, du lieber! Wainwright's got the lieder. And he purposely opened the set with the lyrical downer "Do I Disappoint You," he snickers. "Just 'cause it has absolutely no connection to me whatsoever. It's just a brutish object of desire that drives everybody crazy, due to their extreme beauty. And they're never taken seriously, because they're so physically attractive, so it's written as a fantasy, kinda like my own little Death In Venice." And he does enjoy the occasional visit to Paris, he adds, just to drop in on longtime pals like Marc Jacobs and Lee Radziwell. And in "Going To A Town," he even openly declares "I'm so tired of you, America." "Well, aren't we all?" Wainwright will smirk when quizzed about the line….
— Tom Lanham
To learn more about Wainwright's intentions on writing that song, grab the August issue of Illinois Entertainer, available throughout Chicagoland.