Everything Old is…Still Old, They Just Sound Better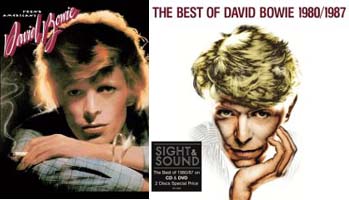 An unheralded reason for the decline in CD sales is people are no longer replacing vinyl. While some music is still finding its way to digital media, we'll also help you decide if you should replace the CDs you already have.
David Bowie
Young Americans/Sight & Sound
(Virgin)
Elvis Presley and Frank Sinatra might lead the field in amount of product on the market, but when it comes to reissuing the back catalog no one tops David Bowie. The near-chronic repackaging of older albums reaches comical proportions with another round of 1975's Young Americans to go with the the '80s-encapsulating Sight & Sound.
Bowie himself had fewer reinventions. It'd be easy to blame DVD technology, and in truth the first round of Bowie reissues by Ryko in the late '80s were due to the artist's combined business and tech acumen. Americans here captures a "Dick Cavett" appearance and Sight & Sound tallies 15 videos. Americans makes an appeal to audiophiles with 5.1 DVD Audio mixes by Tony Visconti, as well as with the three bonus tracks ("John, I'm Only Dancing," "Who Can I Be Now?," and "It's Gonna Be Me" — it doesn't, however, claim "After Today"). Sight & Sound is a track-for-track replica of Disc 3 from The Platinum Collection Virgin released last year.
If you have neither, are they worth the investment? As always with Bowie, that depends on what you're after. Young Americans is not Ziggy Stardust; it's perhaps the furthest thing. Bowie went kitchen-sink after American soul, squeezing between the iconic opening and closing tracks (the title cut and "Fame") a slow jam ("Win"), dirty funk ("Fascination"), futuro Stax blues ("Somebody Up There Likes Me"), and, oddly, a cover of The Beatles' "Across The Universe." The bonus tracks underscore the soul theme, adding touches of disco, gospel, and a ridiculously over-the-top, Ray Charles-type version of "It's Gonna Be Me."
Sight & Sound, officially titled The Best Of David Bowie 1980/1987, is perhaps a merciful summation of the period pointed out in the title. Even though his hits in the era ("China Girl," "Let's Dance," "Modern Love") combined beautifully with MTV to secure his international superstar status, there's a reason critics greet each new Bowie album with "his best since [1980's] Scary Monsters." It's not to say some of the dated sonics and coked-up experiments don't have their charm, but if you're new to the artist there isn't a bigger mistake than starting here.
METRIC
Grow Up And Blow Away
(Last Gang)
So you got signed but due to annual record label politics your band was dropped and the first album never came out? Boo-friggin'-hoo. Didn't stop Metric — course, they're six-two, two-fifty.
Actually, no, the members of Metric don't look like linebackers, especially frontwoman Emily Haines, who's about as impish as they come. But, before they were the indie superstars we've come to know and embrace, Metric hardly measured when Restless Records was purchased by Rykodisc in 2001. The band were able to distribute copies on later tours, but Last Gang's release of Grow Up And Blow Away marks the its belated coming-out party (Chinese Democracy defeated once again!).
Scrawled on top of the liners is "What you have here is a record of innocence," but largely the sound that exploded on 2003's Old World Underground, Where Are You Now? is intact. At this point just a duo, Haines and James Shaw hadn't yet added the power pop sheen and were making sultry, midtempo ditties on keyboards and drum machines. After feeling their way through the first half, Grow Up takes off with "On The Sly" — portending the sucsexy they'd soon find — and the soaring "Soft Rock Star" — which Haines would try to become on her solo album.
GARBAGE
Absolute Garbage
(Geffen/UMe)
It's possible Garbage breakup and get back together daily, but only announce it less than a percent of the time. Sensing an opening, Geffen is dropping two discs of unabashed trash in the stores: one an out-and-out hits compendium, the other a bonus remix set.
While the actual length of their on-again/off-again tenure is debatable, their string of industrial pop nuggets demands you admire and measure its girth. Granted, at 18 tracks the first disc could use less padding, but for two albums in the '90s their domination across the radio spectrum was nearly intractable. Included here along with "Only Happy When It Rains" and "Push It" are a new track, "Tell Me Where It Hurts," and "James Bond" entry "The World Is Not Enough."
The remix disc hauls out the heavy hitters (U.N.K.L.E., Massive Attack, Felix Da Housecat, Crystal Method), but none of the electronic twisting and turning does more than marginalize the songs as club anthems or minor embellishments. Except for Fun Lovin' Criminals, whose jazzy kiss on the lips of "You Look So Fine" is as classy a reimagination as you'll hear.
JERRY BUTLER
The Ice Man Cometh/Ice On Ice
(Collector's Choice)
If someone were to tell you there's a Cook County board member who goes by the nickname "The Ice Man," you might imagine he's some mafia-tied installation staunchly upholding the "interests" of the family. In reality, Jerry Butler is one of the smoothest soul singers around.
A founding member of The Impressions (how he escaped Cabrini Green), Butler was able to find lasting success while so many doo-wop acts were figuratively buried under matching suits and smiles. Essential to his longevity were Philadelphia-based hitmakers Kenny Gamble and Leon Huff, who drafted him for these two albums. Containing some of his biggest hits ("Western Union Man" and "Only The Strong Survive" — "A Brand New Me" was later a hit for both Aretha Franklin and Dusty Springfield), the albums, both released in 1969, helped not only boost Butler but firmly ensconced the Philly Soul epidemic. He would return to Chicago and set up his own imprint on Record Row, then became an alderman in the '80s before manning his current post.
People generally regard Cabrini Green and the old Chicago housing projects as abyssmal failures. Listening to the Ice Man, however, doesn't make one so sure.
— Steve Forstneger