A Day In The Life Of Delmark Records
The name Delmark Records isn't just synonymous with Chicago jazz and blues, but has steadily become an American institution as the second oldest independent record label in music history. Since 1953, the company's wide ranging roster has included such royalty as Junior Wells, Magic Sam, Otis Rush, and Sun Ra and now counts an extensive Apollo Records reissue campaign (featuring Dinah Washington, among many others). And from the very first day through present tense, label founder Bob Koester has stood at the helm, spearheading everything from day-to-day operations to recording sessions to taking inventory on his extensive archives that boast nearly 400 audio projects and about a dozen DVDs.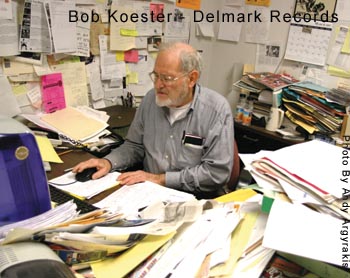 Setting The Sage
In fact, the boss' office is situated prominently upon entrance at this lived-in location on North Rockwell, piled high with paperwork, files, and CDs. Despite the overflow, attention is immediately drawn to a sequence of vintage album covers that adorn the lobby walls, along with rows of browser bins packed to the brim with hundreds of CD titles. A quick turn to the right leads to a long hallway with a kitchen and bathroom as primary pit stops, though the true prize, Riverside Studio, rests comfortably at the end and is loaded with both contemporary and vintage equipment, including fully functional artifacts originally owned by Chess Records.
The Head Honcho
Following the eye-opening tour, it's back to Koester's office. At first the owner appears inundated with a slew of filing and the constant click of a computer mouse, while the phone rings several times in the background. After sorting through seemingly endless stacks of documents, he takes a break for a more coherent glimpse at an average itinerary.
"I just sort of check up on people," the feisty 74-year-old says with a hearty laugh. "I take some of the inventory, I reconcile all the checking accounts, and I do shit work like shrink wrap records. If someone writes Delmark Records a letter, I'm usually the guy to respond."
Koester pretty much sets his own schedule, starting the day around noon (he's a frequent club-goer into the wee hours of the morning) and wrapping up in the early evening (never later than 8 p.m.). However, his time isn't exclusively dedicated to Delmark, but also split with owning and operating the Windy City's equally historic Jazz Record Mart.
"I try not to do store business here or vice versa," he asserts. "Sometimes if I'm buying a bunch of records — like a collection when a store goes out of business — we'll bring the ones that need to be re-wrapped over here. But other than that and maybe some storage space, the two are separate. I'm at the store on Saturdays and Mondays and am here the rest of the week. Sunday I get as far away from the music business as I can."
In the spirit of wanting to keep the two entities freestanding, the conversation swiftly swings back to Delmark, including Koester's goals to continue a series of successful reissues and the purchasing of other labels' catalog. "Reissues can sometimes be wham, bam, thank you ma'm where you use old deleted copies and ship out the records again," he continues. "It may sound like kind of a phony thing, but we have to stay alive. We do with studio rentals and now DVDs, but another way to cycle the product, which is something I'm constantly working on. There was a time when Junior Wells' Hoodoo Man Blues and Magic Sam's West Side Soul went out of print, but when we reissued them, it was as if they'd never been issued before! Hoodoo Man Blues has since become our best-selling title and it's probably up to between 150,000 to 200,000 copies just because of continued exposure and attention."
Men Of Many Hats
A short walk down the hall indicates Delmark is more than merely a museum. Just a few doors away from that landing pad, producer/recording engineer/general manager Steve Wagner is feverishly working away behind his computer editing an Ernest Dawkins DVD.
"We have 11 DVDs out now with many more coming, so I'm getting this footage down for a two-to-three-minute capsule for future promotion."
After several painstaking tweaks over the course of the hour, he completes the task to impressive results, but immediately switches to his producer hat and moves toward Riverside Studios. "I've been managing Delmark since 1987 and we installed Riverside in 1992," he says during the short walk between both locations before sitting behind a ProTools bay. "I started slowly with overdub sessions, but eventually after four or five years, got really comfortable with running sessions all by myself with a full-blown band."
Of course, blues and jazz have had a hand in that.
"When I do a session as a producer, I sometimes produce and engineer simultaneously," he offers. "A Delmark producer is much less involved than a major because we're not as production oriented, but there's still feedback to be given and rough mixes to create once the band's left. With ProTools, now you can do the copying and pasting that you couldn't do in the old days when they literally had to take out a razor blade and cut tape. And because blues is generally in the 12-bar format, a mistake in the first verse is easy to replace because the band generally plays the same thing in the second verse."
Endless Promotion
A barrage of calls light up publicity director Kevin Johnson's office phone. Even when he's not feverishly chit-chatting on the phone, the staffer communicates tirelessly via e-mail, pitching press to review recent Delmark titles, while concurrently touching base with radio programmers in hopes of securing airplay for his roster.
Every once in awhile, Johnson pops up from his desk to quickly stuff a CD and press kit in an envelope and toss it on a ballooning snail-mail stack. But then it's back to media messaging and occasionally grabbing a magazine from a five-level bookshelf for a more specialized pitch.
"I'm basically the liaison between the label and the publications, but I also work closely with artists to help promote their releases," says the personable and enthusiastic publicist. "Delmark doesn't have an in-house booking agent, so I also help out if I have time to get bookings for artists, which in turn promotes sales."
All the responsibilities and a steady flow of releases mean somewhat long days for Johnson, though because he's a fan of the product he is pushing, he doesn't seem to mind.
"It can be really hectic if you let it, between answering phones, going non-stop on e-mails, trying to send out releases and communicating with artists," he adds. "Plus I field a lot of calls from artists who want to be on our label, which at this time we're not actively looking, but we're always paying attention to what's out there because something could hit our ears or eyes."
Shaping Up And Shipping Out
With the stack of outgoing envelopes rising every second, Johnson soon steps out of the office to the shipping department, nestled deep within the warehouse. He leaves the load on the post-office styled desk of Frank Corpus, Delmark's shipping and receiving manager by day/cameraman on club shoots by night. Corpus is in the process of sorting invoices.
"We get a large amount of orders from distributors and I'm in a constant process of seeing what needs to get filled, putting them in the computer, making out lists, actually filling the orders, and making sure all the paper work is completed," he divulges. "Foreign orders are always a little harder because of customs, but I'm pretty much used to it at this point. I really enjoy the music and the people, so I look forward to coming here and being part of the film crew."
All In A Day's Work
It's obvious the tunes and camaraderie drive the staff much more than the money or recognition. No one denies cash doesn't flow nearly as fast as in the major leagues, though artistic integrity and solid business principles continue to keep the crew running into a sixth decade.
"The ideal employee — and I would say this for any business — is the guy or girl who knows when to go ahead and do something and when to ask," considers Koester. "Just about everyone on staff at both places is just like that and it keeps us going."
Though the record business continues to operate and change at lightning speed, Delmark is clearly nestled into its niche and plans to expand its DVD line, in addition to purchasing additional catalog.
"My feeling is we have stuff in the can that's never been issued and acquired stuff that's never appeared on CD, which will keep us going," he predicts. "We've lasted essentially because it's become an overgrown hobby and this is what I do. I'm stubborn and will keep doing this for a few more years until I feel the need to retire."
Thus far, that could very well be another 74 years.
— Andy Argyrakis