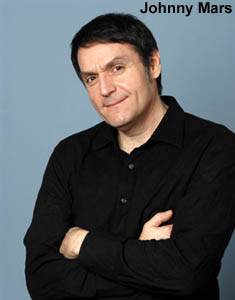 It's a lesson in taking the high road and not bashing your ex in public. Make that ex-boss.
Two high-profile local jocks who were banished from their longtime radio homes are back in the saddle again.
Melissa Forman has returned to Clear Channel-owned WLIT-FM (93.9), which let her go last summer in favor of Whoopi Goldberg's syndicated morning show. Forman is now on afternoons from 2 to 7, replacing Coco Cortez.
"The fans' response has been beyond overwhelming," says Forman. "I'm just happy to be back and able to talk to them – no matter what time of day. I've never been around in the afternoon to actually be with people after a long day of work, being with their kids, etc. It is a completely different feeling.
"In the afternoon you can actually be a part of setting the mood for the rest of someone's night, and that's a great opportunity."
Even more dramatic is Johnny Mars' return to CBS-owned WXRT –FM (93.9), which pushed him out in 2001 – after 21 years with the station. Until being laid off last September he was at "Nine FM," the signal-challenged Newsweb Corp.-owned simulcast combination of WDEK-FM (92.5), WKIE-FM (92.7), and WRZA-FM (99.9).
He'll be keeping the day job with The Apartment People, because WXRT hired him as a part-time and fill-in host.
"I thought radio was done with me," he admits. "I was actually O.K. with it. I've got a straight job I really like. I was getting into the routine of that for the last couple of months and WXRT came calling. It's funny how that works. You let go of something, and it comes back somehow."
On his first time back, Mars sounded like he'd never left: The first song he played was David Gray's "Babylon."
The phone lines lit up all night with fans calling to welcome him back.
"I was really deeply moved by the comments," he says. "I'm feeling overwhelmed that people were that loving and welcoming.
"The thing about WXRT is that the audience has been there for 30-plus years and they're really loyal and really generous and really kind. And that's not something most radio stations have."
SAVE PUNK PLANET: The recent demise of the nonprofit Independent Press Association took a handful of indie magazines down with it .
It owed a half-million dollars in newsstand revenues to independent magazines. Some have folded, including Clamor, Kitchen Sink, and HeartattaCk. Others – Herbivore, Grooves, and Rock And Roll Confidential – are now online only.
Local music and alternative culture zine Punk Planet has also taken a hit. Publisher Dan Sinker is still owed a few-thousand dollars by the organization, and recently held a fundraiser at Hideout to make up the difference. "It was more 'fun' than 'raiser," Sinker admits.
But money isn't the only worry for the zine, which has a print run of 16,000. "The much larger problem is that a year and a half of fighting with our distributor has left us exhausted, all possible favors have been called in, and we've still got debt, production difficulties, and distribution nightmares to deal with," Sinker explains. "The things that have had to be shelved, money that has had to be shuffled, things that have had to be cut for the last year and a half is the bigger piece of the puzzle. Now we just have to take some time to figure out if the puzzle can go back together again."
Readers can help out by subscribing to the zine, which is $21.95 for six issues. Subscribe at www.punkplanet.com or send $21.95 ($36 for two years) to Punk Planet, 4229 N. Honore, Chicago IL 60613.
The Punk Planet Books imprint includes Joe Meno's Hairstyles Of The Damned – about growing up punk on Chicago's South Side – and Jay Ryan's 100 Posters, 134 Squirrels, a collection of his underground poster art with essays by everyone from Steve Albini to design historian Debra Parr.
RADIO MADE THE VIDEO STAR: "This American Life"'s recent six-city "What I Learned From Television" tour was the first live show since 2003 for the wildly successful radio program, which airs on some 500 public radio stations and reaches some 1.6 million listeners each week.
It featured regulars Sarah Vowell, David Rakoff, and Dan Savage as well as the duo Mates Of State.
The audience at the Chicago Theatre actually booed creator Ira Glass when he mentioned the show's move last year from Chicago to New York City in order to work on a TV adaptation for Showtime.
They started coming around when Glass showed excerpts of what he and director Chris Wilcha chose not to do on the TV version – like including fake-looking "60 Minutes" style reaction shots.
The tide turned completely when he unveiled an excerpt, which was riveting and visually stunning – and retained the tone of the radio program.
Afterwards, Glass talked about his shock at hearing "TAL" mentioned on "The OC," when Summer said, "Oh, is that that show where all those hipster know-it-alls talk about how fascinating ordinary people are?"
Incredulous, Glass asked his wife, "Is this on everyone's TiVo, or just ours?"
The TV version of "This American Life" airs Thursday nights at 9:30 p.m. on Showtime.
– Cara Jepsen