In honor of International Guitar Month, "Gear" takes a look at some of the newest guitar pedals hitting the market in 2007.
Seymour Duncan
Lava Box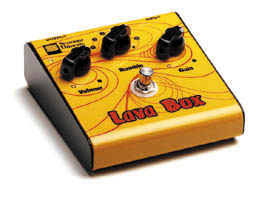 Though they've made their name in the guitar pickup business, Seymour Duncan's SFX-05 Lava Box reinforces their abilities in the pedal trade and aims high to bring the sexy, mid-range guitar timbre made famous by the Jims – Hendrix and Page – among others. Its six-position "Rumble" knob changes the dynamics of Lava Box's distortion to achieve a large palette of tones, from shiny and bright to deep and warm. The company claim "whether you have the thinnest single-coil in the bridge of your guitar or the woolliest humbucker in the neck, there is a Rumble setting that's perfect for it." Most guitarists battle to keep their volumes at the highest levels despite their band's and neighbors' protests, thankfully the Lava Box enables you to turn down your guitar's volume control yet still control and propel its crunchy and dynamic tone. With high-quality internal components, Seymour Duncan's Lava Box is perfect for stage and studio. Visit www.seymourduncan.com for more details.
DEATH BY AUDIO
Interstellar Overdriver Supreme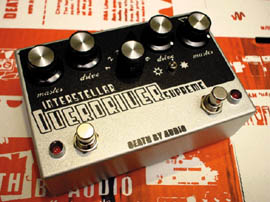 Handmade in Brooklyn, New York, Death By Audio's Interstellar Overdriver Supreme features two independent overdrive channels with six types of drive, fuzz, plus noise mayhem on one side and dreamy, classic overdrive on the other – like the Pink Floyd tune it's named after. Combining two stomp-controlled, multi-channel effects into one unit gives guitarists the most versatile compact pedal set-up DBA have produced to date. The overdrive channel contains a switchable germanium diode clipper that smoothes the tone and enriches the sound with "saturated creamy goodness," according to DBA. The second channel utilizes a six-position voice-selector switch that features a bevy of additional effects: interstellar overdrive, treble drive, bass drive, octave fuzz, oscillating fuzz, and voltage-controlled tremolo, making the pedal ideal for metal and avant garde noise. The IOD's analog circuit lets your guitar set-up breathe and doesn't constrain your sound. When off, this pedal is true bypass; when activated it can maintain the individuality of your sound or can take it straight through the roof. Retail price is $320. For info visit www.deathbyaudio.net.
LINE 6
Floor POD Plus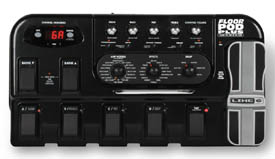 Line 6's POD line of effects have made their mark during the past several years with musicians looking to achieve a wide array of outboard sounds for bass and guitar. And, as you'd expect, the company have improved the original Floor POD with the Floor POD Plus that offers 32 amp models, 16 classic cabinet sounds, 16 modulation effects (including chorus, flanger, and tremolo), six delay models, and two different types of reverb – all with an ability to tweak to your taste. The Floor POD Plus goes for about $419; check out www.line6.com for full details.
– David Gedge