Fall Out Boy
Little White Castles For You And Me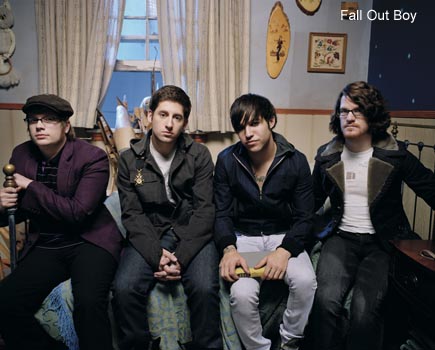 The "underdog" card is a favorite of Midwesterners. Ozzie Guillen, though Venezuelan by birth, famously played it during the White Sox's run to the World Series in 2005, giving wide berth for Lovie Smith to do the same as the Bears approached the Super Bowl this winter. So forgive Patrick Stump if he invokes it while describing Fall Out Boy's history as a North Shore band trying to gain respect on their road to the top.
A few things work against him, however. Most notably, none other than Jay-Z is the first voice heard on the band's chart-topping new album, Infinity On High (Island), hardly a benefit allowed their lower-echelon inhabiting labelmates. Also, Island Records is even going so far as to make local calls for Stump, when he could certainly do so himself.
But that's what happened the afternoon of his phone interview with this magazine, Island racked up a long-distance charge for a 20-mile call.
"Pretty silly, right?" he laughs. "They told me Illinois Entertainer. I'm like, 'Really? I'm at home right now, so . . .'"
This is the week after Infinity's release, however, the album has just reached numero uno on the Billboard charts and Fall Out Boy have just played a "thank-you" Valentine's Day concert at the Metro the night before. Perhaps the powers that be felt he was owed a taste of rarefied air.
Still, the Jay-Z thing is a point of contention between him and us, because last summer while on tour Stump spoke to us and, in response to a joking question about potential collaborations, he told us he was more into further exploring his current bandmates than making any gossip-column splashes. Jay-Z? Only Gnarls Barkley would have been less conspicuous.
"The thing is, whenever we do something like that," Stump says of putting Jay-Z on the album, "I talked to Neil [Avron] about it, Neil our producer: Anytime Fall Out Boy goes and does an experiment with something else, I kind of like the idea of Fall Out Boy going out as a whole to do it. You know?"
This is an important stipulation, because the same line of questioning also, in jest, brushed upon the possibility of solo projects. Stump might split hairs, but he might also have a bright future as a lawyer.
"So with the Jay-Z thing," he continues, "we all kind of sat down — first off, he sends us the tracks and we're all sitting there in awe: 'Jay-Z just said something about Fall Out Boy. That's crazy.' But I think more than anything it still is the four of us, the four of us with Jay-Z rather than [one of us appearing on his album] . . . so that's what I meant by that. It's still us versus the world. I don't think we're at the point yet where it's us versus each other."
It's an interesting point, however one not entirely believable. FOB bassist Pete Wentz has become an industry unto himself, with a clothing line and boutique record label. Stump, like Death Cab For Cutie's Chris Wall, has begun showing up with a producer credit on more young bands' albums than seems fair. Drag in the recruitment of superstar knobsman Keith "Babyface" Edmonds on two of Infinity's tracks, and it's easy to think something's going on.
"When we did the Babyface stuff — and it ultimately came down to a scheduling thing — I wanted Neil to be there, too," he says. "When we sit down to record he's a big part of it. So I wanted it to be Fall Out Boy meets Babyface, not a couple key figureheads from 'band' go out and meet with 'guy.' I wanted it to be collaborative."
It was and remarkably — perhaps surprisingly — has little effect on Infinity. The two Babyface-helmed tracks, "I'm Like A Lawyer With The Way I'm Always Trying To Get You Off" and "Thnks Fr Th Mmrs," do not deviate from Avron's overall scheme, and, frankly, the legendary producer's presence seems superfluous.
But the idea "surplus to requirements" is in keeping with Fall Out Boy's M.O. They are a band who weren't supposed to stick around, after all. Fall Out Boy are actually a side project for Arma Angelus, a hardcore punk band from the North Suburban punk scene. Artistic overstock is their thing. Even when plying new wares to the fertile Back To The Office open mic scene in Schaumburg, Fall Out Boy, while essential members, were sore thumbs.
"As in BTO?" he asks, initially unfamiliar with the venue's full name. "Yeah, absolutely. We were huge on that. It was us and 504 Plan [now Wax On Radio]. Back when [William] Beckett [of The Academy Is] was doing Remember Maine we used to play there like every weekend. We played BTO all the time. That was one of the things: We were kind of misfits in our own place. At the same time as we were in the BTO thing, we were also in the Arlington Heights hardcore thing and playing with Enforsaken. It's really weird kind of, because we were always in between. We were never, we would play at the BTO and a lot of the other bands would be like, 'Yeah! Third Eye Blind!' And we'd be like, 'Yeah! Who?' And then I remember we played a skate park with Eighteen Visions, Throwdown Terror, The Promise, 25 To Life, just massive, heavy bands, and I remember walking around and someone being like, 'Saves The Day rip-off!' So it was weird because we were always in between where we were. We were hard to pin down because we were always too pop for the hardcore kids and a little too hardcore for the pop kids. It's so really unlikely, I remember getting a text the other day: 'Hey, congrats on the number one [album].' And I'm like, 'Holy shit! Arma Angelus has the number-one record!'"
page [ 1 ] [ 2 ]