Hello, My Name Is Eddie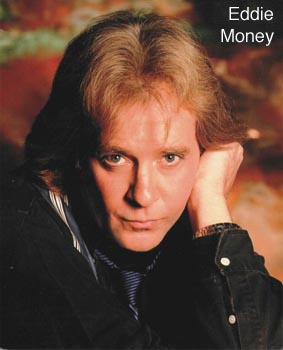 IE: Hey Eddie, how ya doin'?
Eddie Money: Doing good. Illinois is one of my better states, man. A lot of people love the Money Man in Illinois. Make sure and use a good picture.
IE: Yeah, yeah. We will.
EM: I did a show in Daytona Beach and somebody used a picture where I looked like Merv Griffin, for Christ's sake.
IE: You're known for classic rock hits like "Shakin'" and "Two Tickets To Paradise." What made you want to cover 1960s R&B?
EM: These are songs that I actually covered back in high school, and I had the idea to put out a record of 1960s music. You have Barry Manilow doing the sappy stuff, but I thought that I'd put out an R&B record of like Sam & Dave, Jackie Wilson, Ray Charles, and Mitch Ryder And The Detroit Wheels. If I was going to do a record, it was going to be a really good rock 'n' roll record. I mean come on, get up and do some dancing!

IE: Your 18-year-old daughter, Jesse, sings with you on Wanna Go Back. Is she following in your footsteps?
EM: Well, she does a lot of the stuff with me onstage. She has an old soul. She came up with the idea of doing "Ain't No Mountain High Enough," the terrific tune by Tammi Terrell and Marvin Gaye. I don't think I do it as good as Marvin Gaye, but I think my daughter does it as good as Tammi. You know how it is. She's a chip off the old block. I was calling her Jesse Rehab for a couple years.
IE: I noticed you played onstage with Hinder recently. Are you going to be collaborating with them in the future?
EM: If they want to write with the old Money Man, I'll write with them. Hinder are like huge Eddie Money fans. They know all of my material. The singer is a great little singer. They're very innovative. They do a great version of "Take Me Home Tonight." They put a little funk in there. It's like a 2007 kind of feel for the tune. It's really nice.
IE: I have to ask, when you played with Hinder, did you hide Jesse from them?
EM: You're right. The drummer got my daughter's phone number. There are some things you can't fucking control.
Eddie Money's Wanna Go Back will be released March 13th on Big Deal/Warrior.
— Mike Meyer