The Photo Atlas
No, Not Me, Never
(Stolen Transmission/Morning After)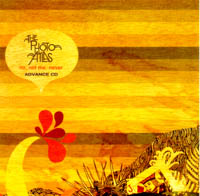 There's a lot of apologizing going on around The Photo Atlas' debut. First, you didn't know about it 'til now because it was cultivated in a cultural vacuum called Denver. Secondly, yeah, it's dance punk, but you can actually dance to it.
Of course dance music, of any pop genre, almost demands its entries be of-the-moment and up-to-date, something No, Not Me, Never is obviously not — it's also not eminently danceable. It's a lot like Radio 4 meets At The Drive-In, leaning more to the ATDI side. Turning a blind eye to their damaged commercial potential, however, does The Photo Atlas little good because the album is simply too little, too late. Alan Andrews does his damnedest to shred his vocal chords each line, but the effect diminishes as the brisk, 10-song 33-minute album just gets going. The pace is unrelenting and even compelling when it comes to "Red Orange Yellow" and "Broadcasting Feedback," but overall No, Not Me, Never is a lot like watching someone repeatedly slam into a wall at full speed. Maybe if it slowed down a little bit and took a look around, it'd see there are other ways out.
3
— Steve Forstneger