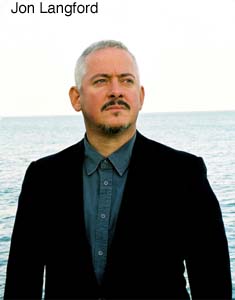 Few things are more satisfying to the ears than hearing Robyn Hitchcock unveil a new song played live with Peter Buck and Scott McCaughey on free radio, then listening to them explain its context and spin some of their favorite records.
But that type of thing is de rigueur on "The Eclectic Company," which is presided over by rotating musicians/hosts Jon Langford and Nicholas Tremulis each Tuesday night from 10 to midnight on WXRT-FM (93.1).
"When [guests] sit down they expect to be talking about themselves and their product," says Langford, who, along with Tremulis, has many famous musician friends. "When they find out it's just to play music and talk about other people's music, they really warm to it. They usually thank me after the show, like it was some sort of therapy session."
For the listener, it's like being a fly on the wall. "The best thing is being able to create a world in your own likeness," says Tremulis. "We've done this for each other for so long. If I come to town and go to friend's house he'll sit and DJ for me for three hours. That's how we always pass on great things and ideas to one another. It's great to be able to do that on the air."
The pair can play anything from MP3s to 78s and so far have gotten away with it all – including a recording of some graphic poetry by William S. Burroughs.
"This is the opposite [of] what commercial radio has become, which is to repeat the familiar," says Langford. "Plus I get to sit around and talk rubbish with my favorite musicians."
Guests, who sometimes perform on air with the hosts, have ranged from David Johansen to Leo Kottke to Beck. "I try to throw a curveball to the guys and play something neither of us know too well," says Tremulis, who did The Byrds' "Chicory Tip" with Robbie Fulks.
During the first year Tremulis recorded a song per week for a spot at the show's end called "52 Reasons." Local singer-songwriter Kelly Hogan is finishing up a year of doing the same and has also hosted the show a few times. She'll have legendary dusties DJ Richard Pegue on when she hosts January 2nd.
As for local bands, Tremulis says "We don't usually have fresh-out-of-the-box local artists. We try to go for people who've been around for awhile, because they have more stories and they've met more people and people are more aware of them. The thing is you don't really play your own music on the show. It's not a promotional device. It's all about music and the love of music."
"It's the best job in the world," says Langford. "You don't have to carry an amp. You don't have to buy a van and throw a bunch of guys in it. You just show up."
Upcoming guests include Kurt Elling and Tindersticks frontman Stuart Staples. For more see www.wxrt.com.
Also satisfying to the ears is hearing a raw, early version of P.J. Harvey's "Sheela-Na-Gig" – on public radio.
The 1991 John Peel recording was a desert island pick from Chicago Tribune music critic Greg Kot on "Sound Opinions," which he co-hosts on WBEZ-FM (91.5) with his Sun-Times counterpart, Jim DeRogatis. Equal parts "Car Talk," "Siskel And Ebert," and "Peel Sessions," "SO" is a lively magazine show that combines the hosts' vast knowledge of pop music with witty repartee, music criticism, and live, in-studio performances.
Starting January 12th it airs Friday nights at 8 and repeats Saturdays at 11; it's also syndicated to other public radio stations. An early incarnation with DeRogatis and then-Reader critic Bill Wyman ran from 1993 to 1996 (Wyman is now an arts editor at National Public Radio). DeRogatis and Kot paired up in 1999 and moved to public radio last year. The show is an hour shorter and a lot tighter, but they have a bigger budget and access to a performance studio with a grand piano that has been played by guests such as Radiohead and John Cale.
But it's not all fun and games. "We're not afraid to ask tough questions in addition to saying, 'Gee, that's wonderful – tell me about your new album,'" says DeRogatis, who has authored books about psychedelia, Lester Bangs, and The Flaming Lips.
The two have very different tastes. "Mine is exquisite. And Kot's is mediocre," quips DeRogatis, who also drums in the band Vortis. Kot, who has written a book about Wilco, says his taste is excellent and describes DeRogatis' as "problematic." On the show, DeRogatis recently accused Kot of being a Tom Waits groupie for fawning over his recent three-album set, and said he flat out hates him.
"If he had good taste like I do we'd have nothing to argue about," he says.
The show's producer is Matt Spiegel of Tributosaurus and Brother Brother. Local bands have a chance of getting on if there's buzz, they play well, and can do a good interview. "It doesn't matter if they're from Chicago or Fargo," says Kot. "A great album is a great album."
To hear the show and debate music with other Sombies on the show's message board, go to www.soundopinions.com.
ODDS N SODS: "Upscale TV: Chicago" has jumped to WFLD-Channel 32 where it airs Saturdays at midnight . . . After a six-year hiatus, live weekly national broadcasts of the Chicago Symphony Orchestra return Sundays at 1 p.m. on WFMT-FM (98.7). It coincides with the creation of "CSO Resound," an in-house recording label for new CSO self-produced CDs and digital downloads. For more see www.wfmt.com . . . Progressive talk WPCT-AM (850) has added syndicated talker Stephanie Miller to morning drive from 8 to 11. She replaces Jerry Springer.
– Cara Jepsen