There was a time when live recordings were considered inferior to studio sessions because of the poor sound quality, the somewhat annoying concentration of applause, and the possibility the artist would turn in a less-than-perfect performance. The advent of digital technology and DVDs have changed all that. The following three recordings, by blues greats Robert Cray, Jeff Healey, and the venerable Junior Wells, capture the immediacy of the various moments, transporting the listener to London's Royal Albert Hall, The Montreux Jazz Festival, and the South Side's Theresa's Lounge circa 1976.
The Robert Cray Band: Live From Across The Pond (Vanguard) comprises 14 songs, seven per CD. Live versions of classics like "Phone Booth," "Right Next Door (Because Of Me)," and "Bad Influence" are included alongside more recent gems "Poor Johnny," "I'm Walkin'," and the deeply moving "Twenty," a tragic story of a young soldier's tour of duty in Iraq. The band, Jim Pugh (keyboards), Karl Sevareid (bass), and Kevin Hayes (drums) are a tight unit who have been with Cray for a number of years. "It's like we know how to play with one another, we support one another on solos, and we work hard to make the shows good," says Cray.
Having not seen Cray and band in a number of years, I was pleasantly surprised by the performances on this set. Cray has stepped it up considerably from his more laid-back, soulful delivery that defined his early career. His staccato signature style is augmented throughout by some fiery licks and a more driving, aggressive delivery. Not that every guitarist needs to be a high-energy machine to be credible, but Cray, especially when he appeared on sets with guitar burners, seemed to belong more to classic soul than high-energy blues.
Choosing which tracks to include from the seven concerts, Cray was looking for enthusiasm and things that stood out from the norm. "One night, for example," he says, "we played 'Our Last Time,' and Jim Pugh, who normally plays piano on that one, decided to do it on organ. I went with that version not only because it sounded great, but also because it was so uncommon." "Our Last Time" is one of the standout tracks of the set.
The Jeff Healey Band: Live At Montreux 1999 (Eagle) is a DVD/CD set that showcases Canadian guitar wizard Jeff Healey and his super-tight band playing an extended set at Montreux Jazz Festival in 1999. As if 76 minutes of virtuoso blues and blues rock guitar is not enough, the DVD includes four bonus tracks from an earlier appearance in 1997.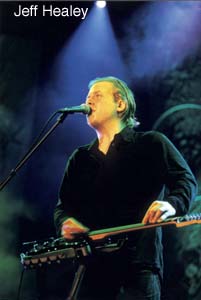 Live At Montreux features Healey and band – Joe Rockman (bass), Tom Stephen (drums), and Pat Rush (guitar) – as they blaze through 14 originals and cover tunes, including "Angel Eyes," "While My Guitar Gently Weeps," "Stuck In The Middle With You," "See The Light," "Roadhouse Blues," and "Hoochie Coochie Man." Healey is a charismatic performer who can wail on guitar one minute, then banter calmly and self-effacingly with the audience the next.
Blind since the age of one, Healey began playing guitar at three-years old. He initially placed the guitar flat across his lap, resulting in a revolutionary approach that became his signature style. Healey's warm voice has a slight rasp, lending an edge to his soulful, impassioned vocals. These days Healey, who owns Healey's, a club in Toronto, prefers to stay close to home. He plays mostly in Canada and Europe with the Jeff Healey Blues Band and his other group, Jeff Healey's Jazz Wizards. During the past few years, Healey has learned the trumpet, modeling himself after one of his musical heroes, Louis Armstrong. American fans that don't get to seem him much anymore can revel in this essential Jeff Healey collection.
Junior Wells: Live At Theresa's 1975 (Delmark) is a vital piece of Chicago's blues history. Originally broadcast as part of WXRT's "Un-Concert" series, Live At Theresa's captures the legendary and beloved "Godfather Of The Blues" on his home turf, accompanied by guitarists Phil Guy, Byther Smith, and the late Sammy Lawhorn.
Live At Theresa's is part of the series that includes the Otis Rush gem, Live At The Wise Fools Pub Chicago. Whereas Rush's CD was mostly music, Live At Theresa's goes a step further by including Wells' banter with the audience between songs. Wells plays and sings his hits, "Little By Little," "Snatch It Back And Hold It," "Come On In This House," and a moving "What My Mama Told Me," and covers classic tunes like "Love Her With A Feeling," "Juke," "Scratch My Back," "Key To The Highway," "Goin' Down Slow," and his signature tune, Mel Brown's "Messin' With The Kid." An impassioned harmonica player and vocalist, Wells was also a kind and funny man. The banter before and after he sings "Happy Birthday" to noted photographer and Theresa's regular Marc Pokempner is especially entertaining (Pokempner went on to publish Down At Theresa's, a book of black and white photographs that capture the essence of this famed South Side tavern).
Owned by Theresa Needham, Theresa's Lounge was a mainstay at 48th and Indiana for many years. Wells became a regular in the late '50s until the club closed (having moved to another location) in the late '80s. When he was not on the road touring with Buddy Guy or with his own band, Wells could be found at Theresa's. I had the pleasure of seeing him at the club one night in the late '80s, just before it closed. I had seen Wells on many occasions, playing concerts and clubs in Toronto, mostly with Guy, but on that memorable night he just destroyed the place blowing the harmonica and singing with deep blues feeling.
– Beverly Zeldin-Palmer
Category: Columns, Monthly, Sweet Home