Little Miss Sunshine
Fox Searchlight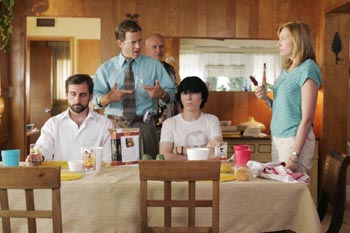 We've all been on road trips with the family. And, as one gets older, nine out of 10 people will probably tell you there's hardly anything more taxing. That's why the cross-country trek with the relatives is such fertile ground for filmmakers.
Little Miss Sunshine follows the Hoover family as they take an 800-mile jaunt to enroll their seven-year-old daughter Olive in the "Little Miss Sunshine" pageant. As the group is introduced at the film's outset, you just know things are not going to go smoothly.
The Hoovers are saddled with Frank, Olive's uncle, fresh off a failed suicide attempt. Billing himself as the world's foremost expert on French author Marcel Proust, Frank's failed relationship with one of his students leads him to take drastic action to end it all. There's Richard, the father, whose career as a motivational speaker is doomed from the start, and mother Sheryl. Olive's brother Dwayne reads Nietzsche and has taken a vow of silence as a way of preparing himself for entrance into the Air Force Academy. And finally, there's Olive's grandfather, who has recently been kicked out of a swanky retirement home, and whose love of porn eventually saves the family from a disastrous situation.
All of the characters seem to have ready-made resumes as stereotype film screw-ups, yet despite two overly contrived scenes, such as Frank's ex showing up at the exact same gas station 500 miles from home, the film never runs as you would expect a road trip movie to play. Directors Jonathan Dayton and Valerie Faris imbue the film with a quiet sensibility that's honest to the characters, and give the audience the credit of having a brain.
The film could easily fall flat, were it not for the great performances. Greg Kinnear plays Richard with just the right touch, never letting a character that could easily get out of hand go too far. Alan Arkin as the grandfather is, well, Alan Arkin — an actor who seems to never turn in a bad performance.
Despite a wonderful turn by Abigail Breslin as Olive, miraculously avoiding the dreaded "precocious child syndrome," it's Steve Carell who steals the show. An alumni of "The Daily Show," The 40 Year Old Virgin, and "The Office," Carell is often lumped in with the current crop of film funnymen. Here, he not only shows great comic timing, but an emotional depth that elevates him over the Ferrells, Vaughns, and Wilsons of the day. His explanation of his suicide attempt to Olive alone is worth the price of admission.
The disc is fairly lacking in special features, with only commentaries by Dayton and Faris, along with writer Michael Arndt. There are also four alternate endings that show, as is often the case, why they're alternate.
Film: ***1/2 Features: **1/2
Bob Dylan – Don't Look Back (1965 Tour Deluxe Edition)
Docurama
With films such as Monterey Pop and the examination of the 1992 Clinton presidential run The War Room, Evanston native D.A. Pennebaker's street cred as one of the finest documentarians in the business is beyond reproach. It's his 1967 Bob Dylan biopic, Don't Look Back, that made people first stand up and take notice. The film follows Dylan around on the British swing of his '65 tour, with stops in Sheffield, Liverpool, Newcastle, Manchester, and finally the Royal Albert Hall in London. With appearances by Allen Ginsberg, Donovan, and Joan Baez, Don't Look Back is generally regarded as one of the finest music films ever made, and it's really hard to argue.
Now, Docurama has released a two-disc set of the film packed with extras such as commentary by Pennebaker and tour manager Albert Grossman, and five audio-only tracks from Newcastle and The Royal Albert Hall. The second disc centers on Pennebaker's outtake film '65 Revisited, more than an hour of extra performances and clips that didn't find their way into the original release, yet stands as a complete piece of its own.
Between Don't Look Back and last year's superb No Direction Home, Dylan fans will never be able to say they've gotten the short shrift when it comes to quality big-screen Bob.
Film: **** Features: ****
— Timothy Hiatt