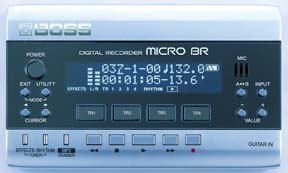 BOSS
Micro BR Digital Recorder
BOSS' new Micro BR Digital Recorder attracted big crowds at the Summer NAMM trade show, and it has finally arrived in stores just in time for Christmas. The iPod-sized Micro BR records and plays back MP3 files, plus time-stretched MP3s, in real time without affecting tone or pitch. It also offers an onboard guitar multi-effects processor, built-in drum patterns, plus 32 recording tracks with four simultaneous playback tracks. USB connectivity lets you load MP3 files for rehearsing, jamming, or data exchange with a PC or Mac. A Secure Digital (SD) Card expands storage for song sketches. Retail price is $299, and it's our choice for best gift to give the musician on your list. Visit www.bossus.com for complete details.
ALFRED
Hard Rock Hits For Easy Guitar
We've become so enamored with Alfred Publishing's Hits For Easy Guitar series we're begging Santa that Hard Rock Hits For Easy Guitar lands under many a Christmas tree this season. With Jimi Hendrix, AC/DC, Van Halen, Mötley Crüe, Bad Company, and Guns N' Roses featured, this series does let beginners get going on rockin' basement versions of "All Along The Watchtower," "Runnin' With The Devil," "Panama," "Welcome To The Jungle," "Dirty Deeds Done Dirt Cheap," "Dr. Feelgood," and yes, "In-A-Gadda-Da-Vidda." A vintage heavy metal wig will cost extra. Visit www.alfred.com for full details about Hard Rock Hits and the rest of the Easy Guitar series.
MARSHALL
MB Series Bass Amp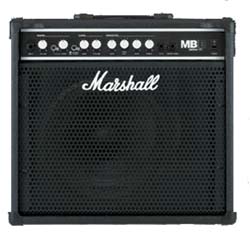 When you think of bass amps, Marshall don't immediately come to mind because their bread and butter has been high-profile guitar amplification going back to the early days of The Who and Yardbirds. However, Marshall's new compact #MB Series packs a lot of punch as a practice bass amp for rehearsal or small club/coffeehouse gigs. Both the 15-watt (MB15) and 30-watt (MB30) MB Amps feature two channels of tone starting with "classic setting" that offers two independent controls for volume and gain, allowing users to dial in exactly the amount of "dirt" desired. The Modern setting offers a single channel of "crispness and crystal clarity that is ideal for slap and other modern styles," according to the company. Both channels share a three-band equalizer (MB30), a three-position voice shift switch, a built-in limiter which works on both channels, and Marshall's Emulated Line Out for live performance or direct recording. Prices for these amps start at $169. Check out www.marshallamps.com for more details.
EFFECTRODE
Phaseomatic Deluxe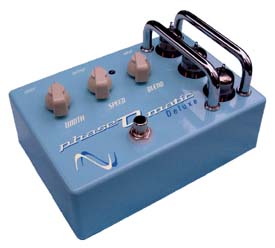 The Phaseomatic Deluxe guitar pedal bills itself as "the world's first photo-optical, all-tube phaser pedal." Based on the name alone, you'll want to try it out, right? This heavy-duty pedal generates every tone from intense analog phasing to avant-garde jet-plane effects plus '60s/'70s psychedelic effects and '50s sci-fi movie-style noise. Its all-tube innards offer expanded headroom even when using high-output pickups like EMG 85s. Finished in a '50s-style sky-blue powder coat finish, it looks pretty darn cool as well. Suggested retail price is $529, but street prices are hovering around $399 right now. For more information, visit www.effectrode.com.
– David Gedge