The Torch (Watchdog), the third album by guitarist, singer-songwriter Ronnie Baker Brooks, is a musical gumbo of blues, rock 'n' roll, soul, funk, rock, and hip-hop with a touch of folk and rockabilly added to the mix. The son of blues legend Lonnie Brooks, Ronnie was raised on the blues but brings a contemporary sensibility to his music. He is his father's son blues-wise, but he's also a child of another era.
The Torch pays tribute to a variety of musical styles but is at its most revealing with the title track, featuring his dad, Jimmy Johnson, Eddy "The Chief" Clearwater, and the late Willie Kent. Each veteran bluesman takes a line in the song, exhorting Ronnie to keep the flame burning and carry on the tradition of the blues. The song is especially poignant given the fact bassist Kent passed away in March.
The Torch kicks off with Ronnie's autobiographical "Born In Chicago," a ferocious shuffle with shades of Elmore James and Stevie Ray Vaughan. Things turn funky with the Prince-inspired "It's On," no doubt influenced by Ronnie's collaboration with Jellybean Johnson (Prince, Janet Jackson), who co-produced the album and adds guitar and background vocals throughout. Check out his guitar solo on "Love Me Baby" and his eerie backward guitar on "A Whole Lot Better Too." "Half" is a funky Albert Collins-style groove about a man caught up in a "baby-mamma-drama," similar in tone to Collins' slyly comic tune, "Mastercharge." "Train" is a brilliantly conceived instrumental journey that pulls out of the station with some highly charged rockabilly/honky-tonk energy, stops for some funk along the way, and winds up at the station with the blues.
Ronnie keeps it current with "If It Don't Make Dollars, It Don't Make Sense," a rap song featuring Al Kapone. "Can't You See" is a swampy New Orleans-style boogie featuring band member Daryl Coutts on piano. "It's All About You" is crunchy blues rock at its best and delivers an empowering message. The Torch ends on a mellow note with the Cat Stevens-inspired "A Whole Lot Better Too." Brooks imbues each track with a signature guitar sound, weaving seemingly disparate riffs and solos into a compelling musical tapestry.
REISSUE: THE MAN AND HIS BLUES: I Can't Quit The Blues is the first ever box set devoted to the music of Grammy Award winner and Rock And Roll Hall Of Fame inductee Buddy Guy. Chock full of information, this three-CD set includes a DVD with interviews and rare performance footage, plus a 40-page color booklet with notes by esteemed rock critic Anthony DeCurtis and rare photos of Guy throughout his career.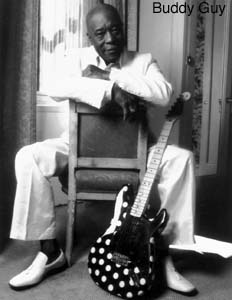 I Can't Quit The Blues covers Guy's storied career from 1957 to the present. Musically, the three CDs trace Guy's development as an artist from an early stripped-down demo (recorded in Baton Rouge in 1957) titled "The Way You Been Treating Me" with brother Phil Guy on guitar to his latest genre-defying release, Bring 'Em In (Silvertone), featuring fellow superstars Keith Richards, Keb' Mo', Ivan Neville, Willie Weeks, and Steve Jordan. The set is historically significant, revealing two large gaps in Guy's promising recording career seemingly cut short in the '70s and '80s. The story back then was that to really appreciate Guy you had to hear him live, that his recordings didn't do him justice. In retrospect, this makes little sense, especially when you listen to the Vanguard sides, including the title track, "One Room Country Shack," and "T-Bone Shuffle."
Guy was at the forefront of modern Chicago blues from the very beginning. His early Cobra/Artistic, Chess, and Vanguard sides featured on Disc One include the classics "Sit & Cry (The Blues)" with Otis Rush, "The First Time I Met The Blues," "Hoodoo Man Blues" with Junior Wells, and the galvanizing "I Smell A Rat," the first time Guy was allowed let his guitar chops loose in the studio. "DJ Play My Blues," the final track on Disc One, is just as relevant today as it was in 1981 because Guy and his contemporaries have simply vanished from the airwaves.
Guy came blasting back into the studio in 1991 with a series of recordings for his current label, Silvertone. Disc Two opens with the title track, which is followed by an impressive range of covers by Ray Charles, John Hiatt, Denise LaSalle, Muddy Waters, Mose Allison, and Roosevelt Sykes among others. Guy lends a blazing guitar solo to Charles' "Mary Ann." He revisits the blues on Sykes' haunting "Miss Ida B" and follows it with Hiatt's "Feels Like Rain," featuring old friend Bonnie Raitt. "I Smell Trouble" is a nod to Texas and Stevie Ray Vaughan, featuring Tommy Shannon and Chris Layton of Vaughan's backing band, Double Trouble.
The songs on Disc Three include blues and soul, culled from Guy's daring acoustic albums, Sweet Tea and Blues Singer (recorded at Oxford, Mississippi's Sweet Tea studio), his latest, Bring 'Em In, the blues documentary Lightning In A Bottle, and Martin Scorsese's Salute To The Blues. Otherworldly tracks like Junior Kimbrough's "Baby Please Don't Leave Me" mix with Waters' "I Can't Be Satisfied" and O.V. Wright's "I'd Rather Be Blind, Crippled & Crazy," featuring John Mayer. Guy reprises his classic "The First Time I Met The Blues" with a band featuring Danny Kortchmar, Keb' Mo, Dr. John, and Ivan Neville. Richards joins the band on Mo's "The Price You Gotta Pay," and B.B. King and Eric Clapton stop by to lend a hand on "Crawlin' Kingsnake."
I Can't Quit the Blues is one great set spanning a career stretching over five decades and still going strong. It is Buddy Guy at his essential best.
– Beverly Zeldin-Palmer
Category: Columns, Monthly, Sweet Home