Mario Vazquez
Idol Hands
As the only contender to ever voluntarily withdraw from Fox TV's hit singing competition "American Idol," Mario Vazquez became the show's ultimate rebel last year. After all, this Bronx-born Nuyorican was only stepping away from what many speculated to be a sure victory. But just prior to reaching the show's coveted Top 12 in Season Four, Vazquez had already garnered enough attention from record labels to persuade him to say goodbye to the competition for good on March 13th, 2005. As it turns out, this may have been the smartest career move this burgeoning vocalist could have made.
"When I did make Top 12, I just felt the competition wasn't right for me anymore," admits Vazquez with certainty. "I felt, even if I didn't win the thing or if I did, I was gonna be restricted with a [particular] sound. I wanted it to be much more grittier, much more edgier — you know, bad-ass! And that wasn't the route they wanted to go with."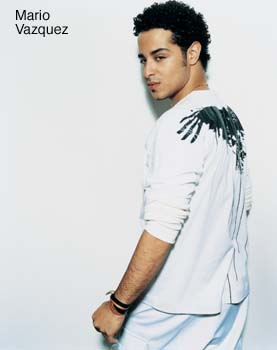 At the time of his departure from "Idol," the rumor mill said Vazquez had been asked to leave because of singing backup on Michael Jackson's Invincible (supposedly giving him an advantage). That simply was not the case. As a club-going kid who grew up listening to Motown classics, Latin jazz, and hip-hop among a family of singers, Vazquez naturally wanted to reflect a diversity the "Idol" camp may not have supported.
After a few months of perusing his options in the music industry, ironically, Vazquez found himself talking again with a friend of "American Idol." That friend of the show was Clive Davis, CEO of the BMG family of record labels. Davis, who occasionally serves as a song selector and guest judge for "Idol," was happy to take on Vazquez as an artist, even after the vocalist's untimely withdrawal from the show. Before the deal was even presented, however, Vazquez had his share of insecurities. "I felt that he didn't want to have anything to do with me."
Once Vazquez got over his initial apprehensions about working with Davis, he proceeded to sign the dotted line with BMG's Arista imprint — just a day after Carrie Underwood was crowned the new American Idol. "I realized after they have their business taken care of [with 'Idol'], then it's onto their record company and they're looking for talent," says Vazquez. "And Clive saw something in me that I've seen for awhile. Fortunately I'm starting with a great label. I really am. I really am fucking lucky," he adds, bursting into laughter.
— Max Herman
To find more about Vazquez's TV departure, pick up the December issue of Illinois Entertainer, available throughout Chicagoland.