Familiar Influences, Different Worlds
A New Breed Of Chicago Punks Challenge The Country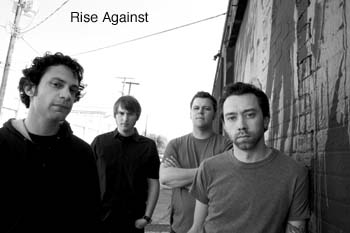 Chicago never had a punk rock scene — at least not one you were supposed to know about. Stubbornly hiding underground, it bred Midwestern know-how with an extreme prejudice toward the mainstream. Purposefully uncommercial even when Nirvana blew up and punk "broke" open in 1991, Chicago bands were castigated if they looked for more dollars and shown the door.
The golden age, whose bronzed heroes include Naked Raygun, Big Black, The Effigies, and Pegboy, lived only in the minds of a couple thousand fans, musicians, and writers. Bearing none of the hallmarks that made New York, London, Los Angeles, Manchester, and Minneapolis explosive scenes, it was content to keep to itself and remain a historical footnote.
After the early-'90s major-label signing binge subsided, a second generation unfurled in Chicago and saw the rise of Smoking Popes, Triple Fast Action, and Loud Lucy. None of them, however, would finish the '90s together. Ten years and the anomalistic Alkaline Trio later, the doors have been blown off.
There's almost a perverse joy in contrasting the latest batch — all of whom are suburban-born — with their forebearers. Plain White T's, who originated in Lombard, were introduced to a national television audience when their video debuted on MTV's "Total Request Live" on November 8th. Wax On Radio never issued an official recording until their major-label debut arrived in October. And Fall Out Boy have toys made in their likenesses and complain of young girls flashing them during sold-out shows at the UIC Pavilion.
A brave new world, indeed.
And what gritty, urban wasteland would be the pumpkin patch? Why the western to northern suburbs, of course. It'd be unfair and untruthful to deny the bands the full spectrum of their influences, but by and large the area's young rockers are byproducts of MTV. The rise of Green Day, Rancid, and The Offspring in 1994 and 1995 was a watershed, and the channel broadcasted subsequent waves of nouveau punks who each came with a three-minute video that got to the point, hooked you, and got out.
Featured in this article are four bands of whom expectations, either external or internal, are extremely high. The worlds of Rise Against, Plain White T's, The Academy Is . . ., and Wax On Radio are now not only measured by rabid, local fanbases, but ticket stubs, SoundScan figures, and chart positions.
RISE AGAINST
Of all the bands in this story, Rise Against's success seems least likely. While the term "punk" is used loosely in this article, the band are the real, er, article. Girlfriends and sugary choruses don't factor. Opaque noodling has been held at the door. They have no history with the other three bands (though they are from the same general area). They turn their instruments on, Tim McIlrath screams his balls off, and that's how it goes.
"The biggest band I knew about in Chicago was Pegboy, and that was what you could aspire to be," McIlrath says from a tour stop in Houston. "It'd be selling the Metro out like Pegboy still does to this day. There was definitely no delusions of grandeur in Chicago just because there wasn't really a chance to make it."
McIlrath oozes Midwest when he speaks. There's the patented aw-shucks humility, and there's the tendency to honor stars who aren't really stars, like bragging you pissed next to Jay Hilgenberg in an O'Hare john. "I was such an admirer of the Chicago scene with bands from The Bollweevils to Sidekick Kato to the Smoking Popes, Apocalypse Hoboken, Slapstick — I went to so many Slapstick shows." He also admits to being the only obsessive Kato fan — ever. "I was really guilty of putting all those bands on a pedestal and believing I didn't belong on a stage. So I did bands and we wrote songs and did demos and all kinds of stuff, but I never had the confidence to approach anybody with it. I was like, 'This band is great, but we'll never play with Slapstick.'"
While a love for Slapstick also played a part in the birth of another huge Chicago punk band, Alkaline Trio, they didn't have quite the immediate impact on McIlrath. He toiled in a band called Baxter until it was through, not understanding his chances until he met Joe Principe, who had just left a disbanded 88 Fingers Louie.
"Joe's old band already had a following, so we already had kids who wanted to check us out," he says. "We aligned ourselves with Fat Wreck Chords early on, so right away people were checking out our records because at the time a lot of people were Fat Wreck subscribers: whatever they put out, people wanted to check out. At the same time we had a lot of pressure on us too. We had more pressure than your average first show or first record. People were already looking for it because 'It's on Fat, some guys from 88 Fingers Louie are in it, and so it better be good.' We went out there with some big shoes to fill."
Acceptance didn't turn out to be a problem. Rise Against fueled a surge in hardcore that hinted they could be more than another genre standby. Pertinence grew into potential, and then into potency. Soon McIlrath, who saw Nirvana's final Chicago show in October 2003, was on the band's label, Geffen. Easily shaking off "sell out" cries, the band's second Geffen album, Siren Song For The Counter Culture, entered the Billboard charts in the 10th position.
"Things like the Billboard charts — that's so surreal," he admits. "When someone wakes you up in the morning and tells you you have the 10th-best selling album in America, it's like, 'Are you serious? Are you kidding me?' I don't think it ever really hit any of us, I don't think it ever will in the span of our career. Maybe years from now one morning, I'll be like 'Holy shit! That actually happened?' But to be honest, I don't know if I attribute that to our band or our record, but a lot to do with the world we live in today. It's not that our music is all of the sudden there, it's all of the sudden there's an audience there."