The Tyde
Three's Co.
(Rough Trade)
Sun-drenched yahoos The Tyde wash ashore with the sequel to Once and Twice.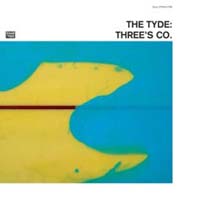 When they first arrived, The Tyde seemed primed to capitalize on Beachwood Sparks' indie success and then fade into the background. Little did we know the "side project" would supersede the father. While America's West Coast affair with The Thrills proved brief, The Tyde run their Felt surfboards out with so much enthusiasm time and again they become irrepressible. Three's Co. hesitates none, blaring hooks for "Brock Landers" and "Too Many Kims" as if their left them on the beach unattended. Yet a restlessness prevails on "County Line," "The Pilot," and the washed-out "Don't Need A Leash," suggesting a trip downtown can sober someone up mighty quick. Surf's up.
7
— Steve Forstneger
Click here to stream the "Brock Landers" video.