The Hold Steady
Ratted Out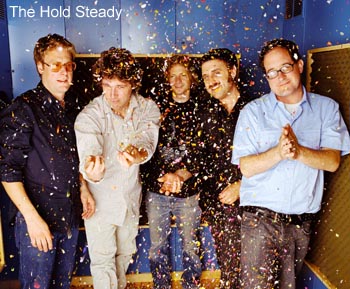 "I've had kids come up and say to me, 'God, you guys and Drive-By Truckers are the only bands that I ever go see that look like they're having any fun at all,'" recounts Hold Steady vocalist Craig Finn. We're discussing his band's triumphant, early-afternoon appearance at Lollapalooza back in August. "We definitely, honestly, have a great time when we play and try to convey that, and I think that gets contagious. I think we really did a pretty good job putting on a Big Rock Show. It was early in the day and obviously we're not as big as the other bands . . . But there was the Jumbotron, so that was cool."
Appearing: 10/26 at Metro (3730 N. Clark) in Chicago.
The Hold Steady are currently riding a three-year/three-album wave of frenzied activity that has yet to reach its peak. Their second disc, Separation Sunday, was one of the most hyped and lauded indie releases of 2005, an unlikely but palatable mixture of literary ambition and barroom bravado. Finn nasally spins the wordy, heroic tale of Holly, "a real nice girl who made some not nice friends," and her journey of spiritual and corporeal redemption while the band churns shameless, no-quarter-given Thin Lizzy-isms behind him. Turns out the relative hookiness of Sunday's one-off quasi-hit, "Your Little Hoodrat Friend," was a harbinger of things to come: The brand new Boys And Girls In America is relentlessly catchy and accessible without giving up an iota of the band's quirky personality.
"We quite honestly decided we wanted to do some more repetitive choruses on this record," Finn explains. "On the other two records, the songs had choruses, but they would come around and they wouldn't be all that different from another verse. I think the backup vocals bring some kind of memorability to the choruses on the new stuff. It's not so much that they're more melodic, but more melody is maybe showing through. Y'know, on our first two records, everyone was saying that there was no melody and I was always kind of embarrassed 'cause I could hear melody. I was like 'Well, in my head they're melodic.' And what this record does is maybe demonstrate those melodies that I was already hearing."
Finn's relationship to melody wasn't the only thing maturing in between Sunday and Boys And Girls. Hold Steady guitarist and new father Tad Kubler found his approach to his axe growing by leaps and bounds.
"My daughter takes a nap for about two hours in the early afternoon," Kubler says, "and I decided to use those two hours to try to focus. Nobody else was in the house, so I could sit with the acoustic guitar for a while and try to focus on areas of my playing that weren't as strong as I wanted 'em to be. There are certain things I'm really comfortable with, that I can do well and I know I'm always gonna be able to do, but I was like: What about working on fingerpicking and shit like that? And so I came up with these exercises that eventually turned into songs."
Turns out the most surprising track on Boys And Girls grew directly out of these exercises. "Citrus" is a sensitive acoustic number that finds Craig Finn's voice getting as close to power-balladry as it's likely to get anytime soon.
"When Tad started playing that riff we thought it was kinda like one of those Led Zeppelin acoustic things and I'm thinking, well, all good Led Zeppelin songs are about citrus, y'know? That was sort of the joke which, um, lead to the lyric. It was structured in that sort of off-the-cuff way, though I did actually put a lot into the lyrics in the end. But that originally was kind of a joke."
Not so much of a joke on Kubler's side. "I remember saying to Craig, 'This is something I kind of wrote for my daughter.' She's fascinated with watching me play guitar, and it was just kinda this pretty little thing that I played for her all the time, and I'm like: 'Please don't make it about some girl that ODs.' He never promised, though — he was just like, 'Ohhh, I'll see what I can do, I'll see what I can do.'" The final song, with its refrain of "Love and hope and death and faithless fear/with kisses that make Judas seem sincere," was apparently acceptable to the protective papa.
— Scott Faingold
The joys of Craig Finn and Hold Steady continue in the October issue of Illinois Entertainer, available throughout Chicagoland.