Catfish Haven
Floor To Ceiling
To say George Hunter, of Chicago-based trio Catfish Haven, was having a bad day is an understatement. First, he had double booked IE's phone interview with some dog-walking he had agreed to do for his bass player's business. When the time came to do the interview, he was four pooches deep and his cell-phone battery had died. By the time he got to another phone to call back, it was too late.
Appearing: 10/26 at Metro (3730 N. Clark) in Chicago.
"I do odd jobs and sleep on floors to be able to do this full time," says Hunter, who wrote, played guitar, and produced Catfish Haven's debut with bassist Miguel Castillo and drummer Ryan Farnham. Guess you gotta suffer if you want to sing the blues.
Released on Secretly Canadian, Tell Me is a powerful mix of soulful rock 'n' roll, propelled by Hunter's howling vocals and percussive acoustic guitar, all mixed with the band's driving rhythm section. On "I Don't Worry," the title cut, and several other key tracks, the album effectively offers snippets of inspiration that range from early Motown and classic rock to more modern acts such as Dave Matthews Band and Los Lobos. Yet through it all, the band somehow manage to forge their own musical trademark.
"Turbulence is a common theme," says Hunter. "You have a horrible fight and you think you are breaking up, but you're not. You think you are alone and you go through a tough time, and then things work out."
Like many of the classic rock recordings of the '50s and '60s, Tell Me is a no-frills album with the band playing virtually overdub free. "You never get the same vibe as live when you're in the studio," he says. "But it is nice to see how much you can build up a song when you are recording it."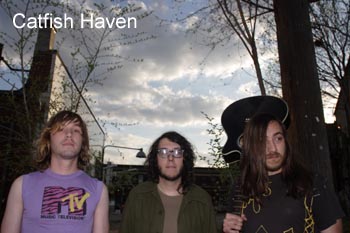 Not that there was a lax construction schedule. "We made it in nine days," he adds. "That is how I work. I had everything ready to go. I knew what I wanted. There was trial and error, but for the most part we were in and out. We do the job and move on."
Both in the studio and onstage, Hunter plays an acoustic guitar through two Fender Twin reverb amps, giving his band a full, amplified sound. "The acoustic guitar always sounded like it had a bigger set of lungs, to me," he reasons. "Electric guitars sounded too thin for my taste. I play the cheapest Ibanez I can find. When I heard Neutral Milk Hotel's In The Aeroplane Over The Sea, that record was a major influence on me. That was what made want to play acoustic with a rock band."
Given how much he was moved around as a kid, Hunter would be a natural for road-dog rock, but things didn't begin that way. "I got into skateboarding and punk rock as a teenager," he says. "That whole scene was a whole community and it was very liberating and I wanted to take it all in. I was deeply into the Misfits, Ramones. I was really digging the San Francisco garage punk from the 1990s like Supercharge and The Mummys. I had a band [that] was just me and two guys and it was like The White Stripes' kind of thing.
"So, for a long time I was into punk and then one day I discovered my dad's record collection," and an epiphany was under way. All of the sudden, "I wasn't sure what I wanted to do. I was 21 and I just stopped being in bands. I got an acoustic and I started rockin' and I decided to get into songwriting. Eventually, I got the guys I have now."
While the album that did it had greater ambitions than entrapping curious white kids, he could hardly have picked a better one to lead to reinvention. "What made me want to go in this direction was when I heard the Marvin Gaye *What's Going On LP," admits Hunter. "I heard it for the first time in its entirety and it brought tears to my eyes. Then, like overnight, I went from Frank Black to Sam Cooke. I respect anything I listen to and take it all in, but what I do now, came from all that."
Except for the band name. Born in Geneva, Illinois, Hunter moved to Elgin with his extended family when he was just a few years old, only to be uprooted again. "We moved to Catfish Haven, Missouri until I was seven. It was a trailer park I lived in when I was a kid. That is why I chose the name. I was proud of where I came from. It makes the band seem like home to me."
It's clear, however, the band's name is a source of ongoing frustration for Hunter. "People think we are a country bullshit band because of the name, but it is something I will never forget. It is filthy and dirty sounding, like calling the old blues guy Muddy Waters. I mean. How cool is that? We hear it from everyone: 'Great band; horrible name.' Whatever," he says, letting out a sigh. "A name is a name, and I happen to dig the name."
Despite the moniker, the band knocked around greater Chicago for a few years at places like Empty Bottle and The Hideout. Their advantage was Catfish Haven can play R&B songs with a punk intensity and get away with it because of the passion. Says Hunter, "We only know how to play these songs this way. We only know that one way and I think our fans understand that. The intensity has always been there and the drive. The three piece limits you in some ways, but it opens you up in lot ways. All those great bands — [Jimi] Hendrix [Experience], [Led] Zeppelin, Cream, The Who — they were all three musicians or three musicians and a singer. If they could do it, we can. I can dig garage bands, but if they can play a tune, the song should be foremost."
Before long they signed with Secretly Canadian, who released the Please Come Back EP in January to critical acclaim. The build to Tell Me, out in late September, was considerable because Catfish Haven had already embarked on a tour of U.S. clubs and festivals, including Lollapalooza. Hunter might not make the transition from floor to bed soon, but he might be able to get his own floor.
"Fuck, to take it as far as we have, I think we've done O.K.," he says. "This is our full-length debut album; I can't wait to see what the future holds. We want to spread the word as much as we can." Laughing, he adds, "It is not about being rich and famous — but we wouldn't turn it down."
— Bruce Pilato