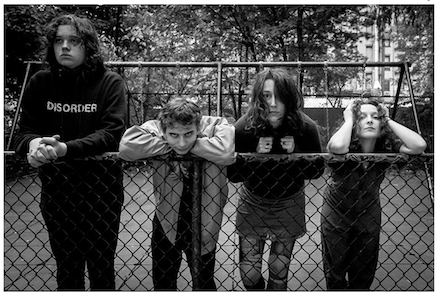 Oddsmakers could never correctly assess it. Fortune tellers could never predict it. And even the shrewdest talent scout this side of Col. Tom Parker could never pinpoint with any historical accuracy exactly where, when, or how tomorrow's Next Big Thing would be arriving in the music world. Rock stars — however carefully cultivated they might be — just seem to fall to Earth in their own time, burst onto the scene albeit unexpectedly, and sometimes disappear in an equally-surprising puff of smoke. Only in retrospect, by retracing their carefully choreographed career steps, is it possible to clearly chart the trajectories of such luminaries, from Elvis Presley to David Bowie, Kurt Cobain, and even visionary trailblazers like Andrew W.K., R.E.M., and The Jesus and Mary Chain. Then, what looks like fleeting ephemera starts to make concrete sense, and the layman listener can see that it wasn't all smoke and mirrors after all — said act truly worked hard at becoming the Next Big Thing. Which, of course, is not to discount this equation's magic element. Magic is what makes the whole star system work, and what makes it so perpetually appealing.
So we'll start with an Official Proclamation here, and work our way backward: Sam Quartin, who fronts a fiery little New York garage-punk quartet called The Bobby Lees, while also moonlighting as an in-demand film actress — is The Next Big Thing for 2020. No Nostradamus prognostication involved, really. It's already happened — we're just delivering the necessary memo to hit 'Play' on her band's new sophomore album Skin Suit, produced in high lo-fi style by none other than Jon Spencer of Blues Explosion renown, is to time-warp back to 1977 at exhilarating speed. From the first crunchy power chords of its "Move" opener, an alternately howling/growling/muttering Quartin stakes her claim as a genuinely commanding — and altogether unique — stage and studio presence. And think back to the punk-heralding late '70s — could anyone only a few years earlier have foreseen idiosyncratic, scene-shaping performers such as David Byrne, Patti Smith, Chrissie Hynde, or The Ramones? She even brings it full Sire Records circle with a lumbering cover of Richard Hell's signature punk anthem "Blank Generation," which breathes just as much trashy fire as the original — no mean feat. And a searing cover of Bo Diddly's "I'm a Man" cements her iconoclastic penchant.
Backed by three young retro-minded rockers (bassist Kendall Wind, guitarist Nick Casa, and drummer Macky Bowman), Quartin, 25, lets her voice twist, shape-shift, and often violently shudder across their sinewy, scratchy riffs, as on the chugging "Coin," a pell-mell "Guttermilk" the fly-buzzing "Redroom," and a regulation CBGB's-ish anthem drive, wherein she snarlingly declares "They say I shouldn't drive when I'm feeling slightly suicidal/ Looking for telephone poles…come and ride with me." And she sounds just mentally unbalanced enough to make that a life-or-death proposition. Few of the 13 tunes clock in over three minutes, and some, like the 2:49-length "Russell," combine machine-gun rhythms with Quartin shifting into a spoken-word mode, which still manages to sound ominous in its stream-of-consciousness coda: "Man I feel really fucking sick…I read what you told me to read, it's not working…I'm on my hands and knees, and I'm about to cut off my fuckin' skinsuit." Which is another big part of her allure — that sense of decadent danger hanging over every track, an unmistakable feeling that, like Lou Reed, Iggy Pop, and David Johansen before her, she's not just whistling "Dixie" here. This former outsider has lived it, every last razor-sharp word of what she sings.
But the last person in the world who could have foreseen her submersion in the entertainment industry was Quartin herself. Given her outrageous persona, one could imagine her as the sparkplug theatre kid in school, with an ardent stage mother in the wings, perhaps. That image immediately gets her laughing. "No, no, nooo! It was the exact opposite!" she clarifies. "My dad was in New Jersey, and my mom was in New York City, and I went between the two places. And I always wanted to sing and perform, but I had a really intense fear of doing anything in front of anybody. So I just didn't do anything, until I was older and I had a psychotic episode. And after that, I had the courage to start doing shit in front of people. And that's when I put the band together." In casual conversation, the brutally-honest singer has a habit of making surreal declarative statements like this, the kind that sets your head spinning and demands further investigation. And no problem, she says — she's happy to tell all.
What kind of psychotic episode? Quartin sighs, resignedly. "I still have no idea what exactly it was, but it was intense, and it lasted around nine months," she recalls. "But it was great, too. I mean, it was horrible when it was happening, but it was like a growth thing because afterward, I just started doing shit that had always scared me, like writing music and playing music live, that kind of thing. And I'd had a really bad drinking problem since I was 13, and by the time I was in my late teens I was a serious alcoholic and hanging out with just a weird group of people, and I stopped sleeping and eating and taking care of myself, and I left my home. I went insane, basically, for a year, and my mom had even picked out a mental institution that she was going to send me to, but she wanted to wait and see if it would pass."
Somehow, she managed to stop drinking, and within a few weeks, all of her hallucinations, both visual and auditory, vanished. "And I've been sober ever since, for about five years now," she notes proudly. "But a lot of my writing definitely comes from that period, when I was learning what is — and isn't — real. But then again, who knows, really?"
What did Quartin think she saw back then? The list is long, she admits, starting with the most terrifying — watching her whole body disappear, her corporeal form scatter like pixels and float away. Then there were the invading aliens she was certain were coming, War of the Worlds style. And to this day, it's sometimes difficult, even in 20/20 hindsight, for her to differentiate fact from fiction. "But now, with a few years behind me, it's not scary anymore. And now I'm kind of grateful to have had such a weird experience because I was able to live through it, I didn't die during it. And I certainly could have — I got in vans with people I didn't know, I got left in the desert, tons of weird shit happened. And somehow, I was always okay. It was like something was watching out for me."
In those riotous days, the rebel didn't believe in a higher power, or some sort of benevolent spirit guiding her along the way. She does now. "When all that was going on, I thought I had been given the keys to the universe," she says. "But after I got sober, I started believing, and my higher power changes all the time." In the woodsy area of Woodstock, NY where she now resides, she looks to the forests, nature itself for affirmation. "Anything that's bigger than me. And to me, the trees are a lot more special than a lot of people that I know. But there are some humans that I love, too." And it was in such pastoral surroundings that feral piledrivers that would become The Bobby Lees' Beauty Pageant debut sprang forth, almost unbidden. "It happened really fast," Quartin says. Simultaneously, she bumped into a local producer who had access to a studio, who picked up on the spark in her material ("They were rough ideas, really — just basic guitar parts and melodies and lyrics," she says) and pointed her in the direction of a nearby School of Rock, where first met Wind and Bowman. Fleshing out the tunes with them proved so enjoyable that they decided to call it a band. Casa joined shortly thereafter.
Once The Bobby Lees were chugging, nothing was guaranteed, however, and Quartin could have easily slipped off track. When a musician contacted her out of the blue from New York, asking her if she could open his upcoming gig in Woodstock, she said No, Wind was graduating from high school that particular day, thanks for the offer, though. Then she caught herself having second thoughts. Who was this Jon Spencer guy anyway? She had never heard of him. One Google click later, and she was gasping for spit-take air. "And I said, 'Holy shit! We HAVE to play this show!'," she says. "And it was exciting. But afterward, Jon and I were both selling our merch at the end of the show, and he asked me for a copy of Beauty Pageant. And I didn't want to give it to him because I was embarrassed of the way it sounded, but I said, 'Here you go. But I'm not proud of the production.' And he said, 'Well, I could give it a try — we could work together and maybe make something that you're a little happier with.'" Next stop: Skin Suit.
And that's only half of Quartin's Horatio Alger tale. She had always wanted to trod the thespian boards, and she quickly found out that the classic old cattle call casting system from cinema's past had streamlined and sped up. "When I first started acting, right before I formed the band, anyone could go on backstage.com, make an actor profile, upload your photo and start submitting for jobs," she recollects. "And I submitted for one in Boston called Amy in a Cage, and most of my parts got cut from that, but I played a mad surgeon operating on this teenage girl's brain." Another attending physician in the brain scene was eccentric character actor Crispin Glover, who was duly impressed by Quartin's style. "After we did the scene, he said, 'You really need to pursue this.' He was really kind, and he looked out for me — he's been like a mentor, and he recommended me for one of my next jobs (Albert Sandoval's) By the Rivers of Babylon, where I was the caretaker for Connie Stevens." Said flick was originally titled "Caretaker," but it got changed along the post-production path and still has yet to see release. Which is the one downside of pursuing a career in independent films, she says. You may get to, say, shoot scenes with Melissa Leo, Michael Pitt, Ron Perlman, or even Marilyn Manson — as she has on recent assignments. "I've learned that with indie films, you really have no idea what's ultimately going on," she observes. "So it's just about the experiences that you get to have working with these people. Because some of the time, [the films] don't come out, or they come out and nobody gives a shit — they don't have the legs to survive— or else they're just not very good." She sighs again. "I know I've made some pretty bad ones."
Of course, it helps if you wind up falling in love with, then marrying your director. Quartin first met picked-to-click filmmaker John Swab on a Tulsa shoot in 2015, and they took to each other immediately. But there were a few snags. "He was dating a really crazy girl, and I was dating a crazy person, so we became friends and got to watch each other suffer through really shitty relationships," she says. She was sober, and he had a substance-abuse problem at the time, so she kept her distance. "And he went in and out of rehab, and then I saw something finally change — I saw something in his eyes, and I could tell — it was done, it was over, he wasn't going to use anymore. After that, we got together, got married, and now we live together in Woodstock. And the first film that we worked on as a couple was Run With the Hunted, and we did one called Body Brokers last summer, based on his actual experiences in the rehab system." Currently, Swab is on location without his starlet/muse, filming a shoot-'em-up Western, mid-pandemic, where every actor automatically returns to their hotel room each evening and is contractually forbidden from any social interaction before first call the next morning.
And Quartin happily takes the screen work when she can get it. She's particularly proud of the footage she shot for Kerry Mondragon's Blake-themed Tyger Tyger. "It was the most fun I've ever had on a movie," she says. "We shot it by the Salton Sea in Bombay Beach, California, and it was the most magical experience I've ever had." Plus, she made a new friend on set, co-star Eden Brolin, daughter of Josh, who recently moved nearby to her in Woodstock. How does she select her chosen roles? Easy, she replies. "I love to play characters that are nuts! I did a film I worked really hard on, called Stale Ramen, and I got to use my schizophrenic experience for that because it was about a girl who was 20, but she had the mind of a seven-year-old, trapped in an adult body. She was just insane! But you don't get to really choose, at least where I'm at in the business. I don't have connections, so I can't just call up my agent, so the jobs I get are just destiny jobs, where a friend reaches out and says, 'My friend's looking for THIS in his next picture — do you want to do it?' And I say yes. So I've never gotten a job through an agent or a manager — I've never done this the traditional way."
But withThe Bobby Lees, on the other hand, anything goes — until COVID-19 hit, they could play as many concerts as the bandleader bothered to book. And she's not resting on her Next Big Thing laurels during the lockdown, either. She just hammered out her first 99-page screenplay, which she's set aside for later editing since the group is, at the moment, recording its next magnum opus in Nashville, with producer Vance Powell at his rustic Sputnik Sound studio. And they're taking their leisurely time, recording only one cut per day instead of a dozen. As of now, working song titles include "Dum," "Death Train," "Little Table," "Monkey Mind," and "Bellevue." "You know, like the mental hospital?" Quartin adds, helpfully. To date, few folks have said no to her, with one unfortunate exception. "I reached out to Richard Hell to see if he would do the song "Blank Generation" with me. But he wrote back and just gave us his blessings instead," she says. "He said, 'I do not do ANYTHING involving music anymore,' and he was quite firm about it. So I tried. But hey — at least he wrote back!"
But only one fact is absolute. The truly unstoppable force of nature that is Sam Quartin is going to be pinballing her way through pop culture for some time to come now. And that's something on which you can safely place a bet.
-Tom Lanham
Category: Cover Story, Featured, Features