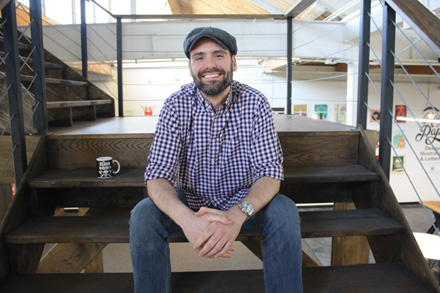 When WXRT night jock Ryan Arnold says he grew up on WXRT, he doesn't just mean that he listened to the station. His mom Marge Arnold worked there when he was growing up, and he spent a lot of time in the hallways.
"I literally grew up in the bowels of WXRT back when it was the Bunker on Belmont on the Northwest side," he admits. "Take Your Kid to Work Day" was the best day of the year for me and it happened pretty often. Mom started off as a sales assistant there and became a salesperson, and I was the kid who was always around tugging on the pants leg of Lin Brehmer and Terry Hemmert saying 'Hey, tell me what you're doin'. The end result is that some of these people became life-long family friends, and became mentors to me. We kept in touch during the early stages of my career."
It wasn't just the connection to WXRT that led Arnold into the radio business. He also had the good fortune of going to the right high school to get that radio career kick-started. "I went to Lyons Township High School in LaGrange, and their radio station facilities are nicer than the station I worked at out of college," he says. "I really was a child of radio and was so fortunate to get exposure to all these folks through mom, and then directly through high school and college, and ultimately through the post-college juggernaut that radio can be."
And now he's part of the lineup at WXRT, a reality that was beyond his wildest dreams. "It is humbling," he says. "I recognize that listeners really don't come to XRT for Ryan Arnold. They come to XRT for Chicago's Finest Rock, and when they get there it is my responsibility to not give them a reason to leave. I think that all of us at XRT are cut from that same cloth. I make sure to follow that formula."
Though that formula has been in place for decades, WXRT went through a pretty dramatic change recently. They hired a new program director, Greg Solk. While some XRT listeners wondered how that would work, Arnold had the advantage of having worked for Solk previously at the Drive (97.1FM), and he had no doubts. "When I read that Greg was coming over, I was at my desk at my day job, and someone was walking by my desk as I raised my hand in the air and yelled 'fuck yes! This makes perfect sense.' I was actually excited because I had already worked with him at the Drive and knew it was going to work. You put a bunch of radio nerds in a room and we can be unstoppable. We believe in the power of radio. Greg Solk is the perfect fit – in that he has that same attitude. How can we best serve the people who choose to spend their time with us? It's not about us. That's pretty much Greg's mantra, and he happened to step into a culture that was uniquely prepared to accept that attitude because we already felt the same way."
When he's asked what the best part of working at WXRT is Ryan Arnold doesn't need much time to come up with an answer. "I obviously love the music. It's a passion of mine. [The new music show] New Noise at Nine gives me the opportunity to hear things that no one else has heard before and the responsibility of having the ear to recognize what is worth sharing. Maybe something is only worth sharing once, but it's worth sharing. In general, the jocks program our own shows, but during New Noise at Nine, we do spend some time a few days beforehand putting that show together. We've had a few instances the last few months where we say 'We should hold open a slot for this song that may be coming' or it might not get there in time. There's a lot more prep and advanced scheduling. John Farneda is the interim music director, and he plays a big part in that show too."
But Arnold doesn't just work at WXRT. As he mentioned earlier, he has a day job too. "I like to work all day and all night because it helps my Irish tan," he says with a chuckle. "I've always been a night owl, but I did find when I got the night slot, that I had lots of time during the day. I had worked in advertising and marketing in between my radio gigs, and I had this notion that I wanted to be able to use my skills as a marketer, communicator, and writer for companies that didn't need someone full-time – just needed someone here and there. I got involved in writing for a few not-for-profits, and I enjoyed being able to be a force for good. Soon I had a chance to start my own company Desoto & State Communications. I focus on organizations that bring together the music world and the not-for-profit world, and it's been an incredibly rewarding experience. It's allowed me to do some of the best creative work I've ever done."
Whether he's working at his childhood home (WXRT) or his own company, Arnold is out there spreading the word through his love of music. Follow him online at Twitter, Facebook and Instagram @RyanArnoldRocks.
– Rick Kaempfer
Category: Media