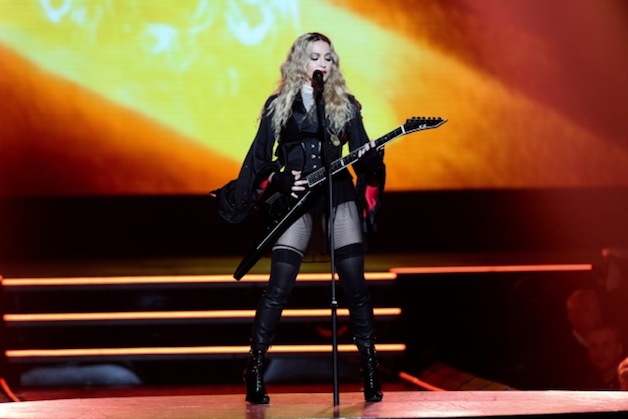 Madonna
Rebel Heart Tour
United Center, Chicago, IL
Monday, September 28, 2015
Madonna's concert at United Center found the singer as provocative as ever at 57, pushing buttons and engaging a sea of adoring fans. It also found her confidently supporting the relevance of her current work, and having fun in the process.
Although Madonna gave a dazzling and audience-pleasing show, she clearly remains determined to live in the present. Half of the set list was drawn from her new album Rebel Heart. Several earlier pop hits like "Vogue" breezed by as snippets woven into other songs.
A spiked cage descended from the lights for opening number "Iconic." Madonna emerged in an elaborate Asian-themed costume with black bodysuit and red robes. She was beset by adversaries in the form of her dance crew, bedecked in black-and-gold samurai-inspired attire with crucifix staffs.
"Tell me I'm no good, and I'll be great," she sang. Madonna has made a career of challenging naysayers and winning the love of her people, and she succeeded again at United Center.
"Chicago, are you with me," Madonna asked, to the response of unanimous cheers. She then tore into party starter "Bitch I'm Madonna." The song has more shock value than melodic staying power, but Madonna took its bravado to the max.
The show was divided into four major acts, and the first one presented Madonna as the boundary pusher. The song "Holy Water" was already a brazen ode to cunnilingus, but Madonna upped the ante with dancers in nun habits cavorting on stripper poles that doubled as more crucifixes. The piece was crowned by staging the song as The Last Supper, ending in a NSFW scene with Madonna lying on the table with her knees parted before a Christ figure.
"Devil Pray" blended religious imagery with a list of possible vices that could be tried in order to get high enough to see God. Close attention reveals Madonna's lyrics as a cautionary tale, suggesting that a vocal minority in the room were willfully missing the point by cheering for those sins of excess and consumption.
The show's remaining set pieces toned down the shock and amplified Madonna's desire to connect and enjoy the moment. "Body Shop" featured innovative staging dynamics in a mock auto repair garage. Madonna then promised a prize at the end of the night to whichever side of the hall could sing the loudest to an old favorite (spoiler: it was a tie).
"It's a subject that never gets old," she said, sitting atop a stack of tires and leading "True Blue" while strumming a ukulele.  "HeartBreakCity" was an emotional highlight, performed in the middle of the arena at the heart-shaped end of a catwalk. Upon a spiral staircase descended from the rafters, a dancer representing Madonna's unfaithful lover threw himself into daring acrobatics just like our mothers told us never to do. As the song transitioned into "Love Don't Live Here Anymore," the cad was thrown by victorious Madonna from the top step.
A stripped-down arrangement of "Like a Virgin" allowed the sound of every singing voice in United Center to carry as Madonna pranced and ponied youthfully along the catwalk. The pulsing "Living for Love" was Madonna's answer to Gloria Gaynor's disco classic and anthem of post-heartbreak empowerment "I Will Survive." The set was bathed in red light with a bullfighter theme, with male dancers as horned bulls and female dancers as matadors.
The tone continued with "La Isla Bonita" and a flamenco treatment for "Dress You Up." The latter included bits of "Into the Groove" and "Lucky Star." The least guarded moment in the show was among its most compelling. Madonna spent a few moments talking about the unpredictable nature of her life and times. "It leads me to asking myself the same question again and again and again," she said, before performing an acoustic guitar duet of "Who's That Girl."
One of the most tuneful and melodic songs from the wide-ranging Rebel Heart album was performed next. During "Ghosttown," Madonna spun a tale of romance and commitment in a time when the rest of civilization has bowed to the rule of "every man for himself."
The final set piece created the atmosphere of big city, jazz-era class. Dancers in top hats and tails teetered atop tall flexible poles, swinging madly over the crowd in jaw-dropping choreography. "Music" was recast as a smoky lounge crooner before transitioning into a mash-up of tap dance and sinewy disco. During "Candy Shop," Madonna's entourage of elegant hedonists included a topless dancer adorned primarily by her pearls and tattoos.
"Material Girl" was naturally slotted into this segment of the show. Madonna sang from a balcony set, and discarded her suitors one by one to the stage below. Afterward, she declared that really, "I'm married to you," indicating the audience. "You're who I give all my love to. You're who I write all my songs for. You're who I spend all my time with. We do everything together except …," Madonna paused, suggestively stroking the neck of her ukulele before continuing, "… rub each other's feet."
"But that can change," she added. The show concluded with an intimate solo performance on ukulele of Édith Piaf's signature song "La Vie en rose," followed by a rowdy version of "Unapologetic Bitch" during which Madonna pulled a Britney Spears-styled drag queen from the crowd. A boisterous romp through "Holiday" was the encore, with flags of all nations underscoring the song's message of global togetherness.
"In order to start a revolution of love, you have to have a rebel heart," Madonna had said before performing her new album's title song. While noting the condition that it required the motivation of love, she said, "In order to change the world, you have to rock the boat a little bit." If one statement could capture Madonna in a nutshell, that would be it.
– Jeff Elbel (Photos: Curt Baran)
SET LIST:
Iconic
Bitch I'm Madonna
Burning Up
Holy Water
Devil Pray
Body Shop
True Blue
Deeper and Deeper
HeartBreakCity
Like a Virgin
Living for Love
La Isla Bonita
Dress You Up
Who's That Girl
Ghosttown
Rebel Heart
Music
Candy Shop
Material Girl
La Vie en rose
Unapologetic Bitch
ENCORE:
Holiday
Category: Featured, Live Reviews, Stage Buzz, Weekly