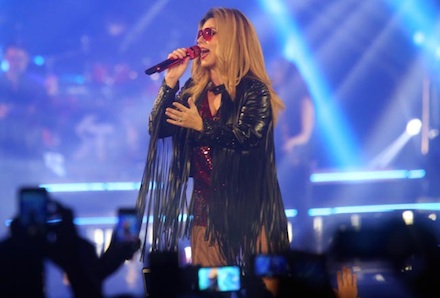 Allstate Arena, Rosemont
Wednesday, July 29, 2015
She may have only released a mere four studio projects in 22 years, but between her late 1990s/early 2000s country turned pop crossover burst and sheer star power, Shania Twain is one of the top selling female artists in the world. Much like frequent chart peer Garth Brooks, the 75 million album selling "Queen Of Country Pop" took considerable time off from touring, but is back to the road after an eleven year absence (two of which were spent in Las Vegas).
No, the singer/songwriter doesn't have anything new to debut on the "Rock This Country" excursion (other than re-purposing the retrospective residency Still The One CD/DVD), but had no trouble filling suburban Chicagoland's Allstate Arena based on past laurels alone. Despite being far from prolific, the now 49-year-old's ability to entertain is right up there with any pop/country lady of today, many of whom could probably learn a lesson or two from this super-charged show (even if Twain's voice wasn't quite as pitch perfect as a decade ago).
Indeed, the near two hour night leaned much closer to the spectacle of Sin City than Music City (complete with flashy fashions, more make-up than was probably needed, pyro explosions, loads of lasers, billowing smoke and a saddle ride above the crowd), but then again, this Canadian always intended to blur genres and expectations. In fact, selections such as "Honey, I'm Home," "(If You're Not In It For Love) I'm Outta Here!" and "Man! I Feel Like a Woman!" could've easily doubled as Def Leppard or Bryan Adams tunes (all of whom share the production of Twain's ex-husband Robert John "Mutt" Lange), while a duet with piano man opener Gavin DeGraw during "Party For Two" shot straight for the southern rock revival.
But no matter how it's labeled, the sometimes guitar playing Twain and her band of seven players proved repeatedly they could tackle just about anything with equal legitimacy. "Whose Bed Have Your Boots Been Under?" was delivered with loads of classic country sass, "Don't Be Stupid (You Know I Love You)" bounced with a splashy dance beat, "Come On Over" adapted a smooth island arrangement, while acoustic treatments of 2011's stray single "Today Is Your Day" and "No One Needs To Know" took an effectively raw and unvarnished approach.
By the time everyone turned to her signature ballad "You're Still The One" (by far the most vocally potent and poignant selection of the evening), the song's title served as a fitting summary for fans' continued love affair with the headliner. And considering how much country, pop and the music industry as a whole has changed since her last tour, the fact that Twain was basically able to pick up right where Y2K left off is a testament to her total package superstardom, which in spite of being a stair or two below her Grant Park peak, is nevertheless durable enough for a slot in 2015 should she choose to continue.
-Review and photos by Andy Argyrakis
Category: IE Photo Gallery, Live Reviews, Weekly