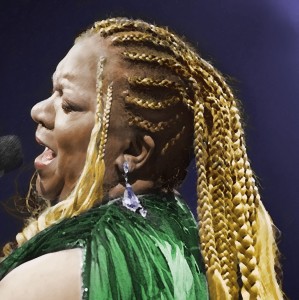 It's generally accepted that blues women need big voices and big personalities to kick a dent into the male-dominated blues industry. But if you've ever witnessed the phenomenon called Graná Louise (pronounced gra-nay) perform – her five-octave voice soaring, her dramatic stage presence commandeering the spotlight as she belts and purrs self-penned tunes – you'll realize there's one thing in the mix that sets her apart. "I come from a long line of women with backbone," Graná explains of her dynamic attitude. "My mother was an activist, so I learned to stand up for myself early on. I am a professional. I'm an artist and bandleader; I don't have time for 13-year-old antics [of blues industry bigwigs]." Fully aware of the way history has mistreated the legacy of blues women, Graná has no intention of continuing in that direction.
Although she didn't take a direct route to the blues, there were some signs of her future career path while growing up in Columbus, Ohio. "My favorite song at 3 years old was Billie Holiday's 'God Bless The Child,'" she says. "I couldn't even pronounce her name; I'd tell my mother to 'play the pretty lady.'" Young Graná startled her mother when she sang along to the blues classic. "My voice didn't sound like a little girl's voice," she recalls. Indeed, she trained in opera and classical music during her formative years. Even though she came from a musical family (her mother "had a voice that could make angels weep" and her older brother taught her how to keep a beat and harmonize), she wasn't clear about what she wanted to do professionally. She acted in plays, danced ballet, and sang, but she couldn't choose just one to focus on. "I had no clue about what I wanted to do. I was doing what I was supposed to do; it wasn't even a choice. I was told, 'You have this talent, you're going to use it.'"
And use it she did, until a car accident sidelined her career at 22. Hit by a drunk driver, she laid in traction for two months. "I was broadsided; I had whiplash, muscle spasms. My extension was gone, so my ballet career was taken away. I was bitter about that for quite a few years."
The disappointment and pain stemming from that accident would eventually serve her well, but in the meantime, she decided to explore options outside of performing. "I wanted to see what else I could do," she says. "I think I did every type of job but dress up in drag and do the hula." She wound up settling in the medical field, working in the industry for 14 years.
People continued to ask her about where she was performing, but Graná avoided the questions. "Music never left me alone. I enjoyed listening to it; I just didn't sing it." One day, Rose Royce's classic '70s tune, "Love Don't Live Here Anymore" was playing on the radio and there was another voice singing along with it. "I learned that that adage – 'If you don't use it, you lose it' – isn't true," she says. "It hit me that that was my voice singing along to the song. I still had it. I sat down and cried because I thought it was gone."
Listening to her recent album, Gettin' Kinda Rough (Delmark), Graná's voice is anything but gone. Showcasing her range with a diverse offering of classics, originals, and nuanced interpretations of R&B and rock hits, she delivers on every level. Offering up covers with a twist, "Stagger Lee" gains her rich and assured delivery and "Back Door Blues" is elevated by her crescendoing wailing and belting. Graná's originals showcase her clever songwriting and forceful personality. The bouncy "Lead Foot Mama" is based on her comical experiences learning how to drive from her less than spry-footed parents and the hilariously raunchy "Big Dick, M'isipi" conjures up the bawdy and commanding tradition of great blues women like Big Mama Thornton and Bessie Smith.
Upon discovering that she hadn't lost her voice after more than a decade of not singing, she decided to become a professional vocalist at 33. "I liked classic blues, Billie Holiday, Alberta Hunter, Bessie Smith. I learned [vocal technique] from the greats like Billie and Scatman Crothers. I started going to nightclubs just to see if I could do it." Soon she was singing in Ohio clubs and then she moved to Minnesota venues. In 1998, she found herself performing in Chicago.
"A blues fan, David Murford, would come hear me play in St. Paul and he arranged for me to play at Kingston Mines. He told [owner] Doc [Pellegrino] all about me. I sat in with J. W. Williams and after I opened my mouth that's all she wrote. They treated me like Patti LaBelle. Doc hired me and I was still living in Minnesota. He was working me so much that I had to move here."
Graná's career immediately sparked in Chicago. "When I first got here my name spread like wildfire because I was singing real blues. Not rhythm and blues, not contemporary blues, stone blues. We would stomp a hole in the floor. We played blues popularized by Muddy Waters and Howlin' Wolf, not soul blues. I wasn't trying to step on anybody's toes. I just did what I knew. People wouldn't believe that I was from Ohio. They said, 'People from Ohio don't sing blues like that. She's from Louisiana and don't want people to know.'"
Graná will appear at the 30th annual Chicago Blues Festival on June 9 in Grant Park, performing her signature repertoire of blues classics and cutting-edge originals with her band, The Troublemakers. It's her way of making sure the music doesn't keep heading down what she sees as a dangerous path. "I see the danger in how the blues has been represented," she says. "They are not showing enough real blues artists. Too many newbies are being allowed to perpetrate it. This has put the music in dire straits. It's not being performed from the soul. It's being mutated. The imitators have taken it and run with it and the real artists are not being hired." How can a turning point be reached? Graná says, "Sometimes you got to jab the devil with his own pitchfork."
— Rosalind Cummings-Yeates
Category: Columns, Monthly, Sweet Home