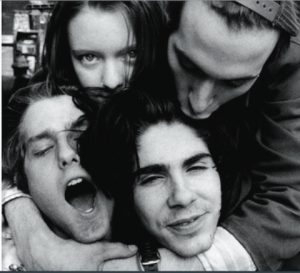 Fifteen Quiet Years is a celebratory, four-years-in-the-making box set from Louisville's Rodan; a repository for all of the band's important recordings, including their seminal 1994 album, Rusty. The collection, masterered at Chicago Mastering Service and released on Chicago-based Touch And Go/Quarterstick Records, also features the band's 1994 BBC Peel session and out-of-print 7-inch recordings and compilation tracks.
In 2009, band members Bob Weston, Jeff Mueller, and Jason Noble lovingly re-mastered the tracks at CMS. All formats of the album include a digital download of 10 bonus live recordings selected by Noble, Mueller, and remaining Rodan members Tara Jane O'Neil and Kevin Coultas. The packaging for the vinyl album and CD was designed by Noble and Mueller, and has been letterpress printed at Mueller's Dexterity Press studio.
Tragically, in August 2012, Jason Noble lost a three-year battle with cancer and passed away at the all-too-young age of 40. In February of this year, Rodan drummer Jon Cook also passed away, after 20 years of continuous involvement in the Louisville music scene. Both Jason and Jon will be greatly missed.
Elgin-based heavy rockers Psycho Sister entered the studio with Larry Kriz at LnL Recording in Elgin. The band told us they're just finishing the mixes on their first six-song EP and are scheduled to go back into LNL with Kriz this month to start work on "tracking the next set of tunes."
Chicago's Delamancha recorded songs recently with Rick Barnes and Mike Tholen (engineer for Ministry) at Rax Trax Recording. David Delamancha told us that only "custom handmade microphones were used in the recording."
Lasting Vengeance, a thrash/death metal outfit from Batavia, is recording both an EP and a full-length at Gremlen Studios in Aurora with Sam Beckley. The band told us that "both albums are expected out by mid-July 2013."
It's been a busy couple of months at Chicago's IV Lab with AM Taxi tracking an upcoming release, Caroline Davis finessing a solo record, and Dave Miller and W.W. Lowman laying down some sounds in studio "C" for the upcoming W.W. Loman record. Bluegrass fans will be happy to hear the new Henhouse Prowlers record was mixed in the IV Lab vault last month while Taggart Transcontinental and Sidewalk Chalk tracked in March and April. Chicago's Janus, who recorded 2009's Red Light Return at IV Lab, checked in recently as well. Dave Brandwein also recorded tracks.
Log on to YouTube and check out some of the amazing performances from Coachella.  Chicago's American Mobile Studio had a major hand in the amazing sound that was recorded at the California festival in April.
At Chicago Recording Company, Frank Lucas recorded a song, "Melodies Of Life," in Studio 4 with Mat Lejeune.
Hey Studiophiler: To get your studio or band listed in "Studiophile," just email info on who you're recording or who's recording you to ed@illinoisentertainer.com, subject Studiophile, or fax (773) 751-5051. We reserve the right to edit submissions for space. Deadline for June 2013 issue is May 15.
Category: Columns, Monthly, Studiophile