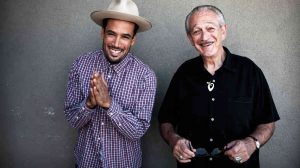 Blues harp legend Charlie Musselwhite's long career boasts an interesting array of collaborations. Everyone from Cyndi Lauper and Tom Waits to Eddie Vedder and Bonnie Raitt can point to his graceful virtuosic harp playing on one of their releases. But a musical marriage with roots rocker Ben Harper required the longest time to complete and delivered the most gratification. "John Lee [Hooker] said we sounded so good together that we should do something else," Musselwhite recalls. He first met Harper in 1998 when both joined Hooker in the studio to record "Burnin' Love." It took almost 14 years, but Musselwhite finally honored his friend's request with a smoldering collection of impeccable blues on Get Up! (Stax).
"It's traditional blues in an new way, it's 2013 blues," Musselwhite explains. Indeed, Get Up! sounds very much like modern blues should – intense and stripped down with a good dose of contemporary sensibility. It's a very familiar path for Musselwhite, who's dabbled in variations of the blues for decades. Yet, his Chicago blues roots always serve as the foundation. The musician remembered his time living in Chicago and his journey from blues fan to blues legend during a phone conversation while out on tour with Harper promoting the new release.
"I used to live at 61st Place at Blackstone on a dead-end street," he says of his Chicago address. "It was a pretty rough neighborhood then [in the '60s] with [the] Blackstone Rangers [gang] running around everywhere. I came to Chicago looking for a job. It was just a big city way up north with all this factory work and way for a better life. I had no clue that Chicago was a blues town."
Born in Kosciusko, Mississippi and raised in Memphis, Musselwhite inadvertently followed the migration of blues music when he moved to Chicago in the early '60s. As an occasional Beale Street harp player and blues lover nicknamed Memphis Charlie, he had no idea that many of the records he listened to were produced in Chicago. "I didn't know that Muddy [Waters] and [Howlin'] Wolf were playing and living in Chicago," he says. "I worked for an exterminator company and I drove around the city. I'd see signs for Elmore James and Muddy and I started finding the clubs they played at. I was like a kid in a candy store."
Wide-eyed and 18, Musselwhite soaked in the glory of witnessing blues masters up close and he soon became a regular at a handful of South Side joints like Theresa's and Peppers. "Blues was adult music. I stood out because I was young and white," he recalls. Standing out wasn't a bad situation for Musselwhite because a waitress quickly brought his harmonica skills to the attention of Waters. "I was just happy to be there; I wasn't looking to sit in. But I guess Muddy liked the way I played because from then on, he had me sit in with him whenever he was in town."
Before long, Musselwhite fielded requests to play gigs. He even garnered enough session work to quit his exterminator job. "I learned to play harp and guitar on Beale Street and I just played. It never occurred to me that you could make a living with music." Musselwhite insists that he never had any intention of ever leaving Chicago, but when he was asked to do a record, it expanded his reach beyond what he had ever envisioned. "I just did the recording on a lark, but after it came out I started getting calls from all around the country," he says. That 1967 record, Stand Back! Here Comes Charley Musselwhite's Southside Blues Band (Vanguard), opened blues music up for young white fans. "I discovered that blues was exotic in California," he says. "They had all of these big shows and you could make a lot of money. In Chicago, the clubs were small and you didn't make a lot of money."
Hoping to play for a month and come back to Chicago, Musselwhite ended up relocating to San Francisco after a groundbreaking concert at legendary rock venue the Fillmore West. Although he may have abandoned the Midwest, the gritty heart of Chicago blues never left the musician, as demonstrated by the 10 riveting tracks on Get Up! Produced and written by Harper, the album pairs the folk rocker's signature moody song structure with enough striped-down blues rhythms to satiate the genre's deepest supporters.
Opening with the country blues that Musselwhite was weaned on, the acoustic purity of "Don't Look Twice" builds into a nasty Chicago blues groove on "I'm In I'm Out And I'm Gone," and the title track supplies a memorable blues anthem with Harper declaring, "Don't tell me I can't break the law/'Cause the law has broken me." But the showstopper is the last tune, "All That Matters Now," an evocative offering of pure Delta blues that sounds like two guys playing on the back porch.
Musselwhite acknowledges that making the album was like hanging out with an old friend. "We could have been playing on the back steps, it was that effortless," he says. "We did one or two takes, rarely any overdubbing and on the last track, you can hear me laughing and talking. I didn't even know we were recording. That's a reflection of the album. There was nothing contrived about it; it was real spontaneous. Music should move you, talk to you, and resonate with you. This album does that."
Musselwhite and Harper's tour brings them to the Riviera Theatre (4746 N. Racine) Chicago on March 3.
Chicago blues icon
Eddie C. Campbell
suffered a heart attack and stroke while performing in Germany last month and the blues community continues to rally for him. Although he is reportedly making some progress, efforts to raise money to bring him home for rehabilitation inspired a benefit concert at Rosa's Lounge on Feb. 17. The all-star affair drew luminaries including
Billy Boy Arnold
,
Jimmy Johnson
,
Eddy Clearwater
, and
Sugar Blue
.
See video from the performance HERE
.
The Chicago blues community lost another legend with the passing of Morris "Magic Slim" Holt last month on Feb. 20. A pioneer of the mid-'60s electric blues band sound with his group, The Teardrops, Slim's gruff vocals and sharp guitar work was a constant on the blues scene for over 50 years. He was hospitalized on tour in Philadelphia with breathing problems and never recovered. Slim, one of the last Mississippi-to-Chicago blues band leaders, will be sorely missed.
— Rosalind Cummings-Yeates
Category: Columns, Featured, Monthly, Sweet Home