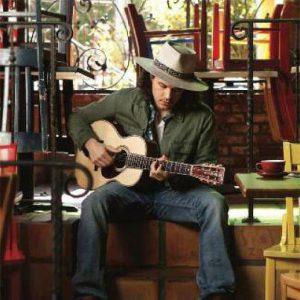 C.F. Martin & Co.
00-42SC John Mayer Custom
Signature Edition
Fortunately, John Mayer is slightly more dedicated to his guitars than he is to his love life.
After 10 years of "musical dating," C.F. Martin & Co. and Mayer were happy to team up a second time to create a new version of their acclaimed "cowboy guitar," the 00-42SC John Mayer Custom Signature Edition. As a sequel to the successful 00-45SC John Mayer Stagecoach Edition that was produced in limited quantity in 2012, this new model was created to be "a more affordable option" (street price is rumored to be in the $7,000 range) for collectors and Mayer devotees.
C. F. Martin CEO Chris Martin was naturally excited about this collaboration: "We are proud to continue the Martin tradition of partnering with John Mayer. For over a decade John has been a devoted fan of our custom models. Our last collaboration was a rousing success both in sales and fan reception. We are confident that we will repeat that pattern with the 00-42SC." Mayer is also thrilled. "I am absolutely stunned by my Stagecoach guitar every time I play it," he enthuses. "It has the charisma that very few guitars have. I connect with it sonically and feel wise . . . it stimulates my imagination on some other level. I know it sounds like hyperbole, but it's quite an accomplishment."
This sequel guitar maintains many elements used in the original 00-45SC, including the unique 45 rosette inlay that morphs into its fingerboard extension. Golden Era-style 42 snowflakes and CFM block inlay are also included in breathtaking blue paua pearl. A decorative and dense cocobolo is retained for the guitar back and sides, creating deep bass, dynamic mid-range, clear trebles, and pronounced power and sustain.
Each Signature Edition is delivered in a Geib-style hard shell case. A left-handed version of the guitar may be ordered at no additional charge. However, factory-installed electronics are an extra-cost option.
Local, authorized C.F. Martin dealers are accepting orders for the 00-42SC John Mayer Custom Signature Edition. Find a list of participating dealers on the Martin website: martinguitar.com.
Alfred Music Publishing
Shredding The Blues
Not sure if the late Chicago blues legend Muddy Waters would approve of "shredding the blues," but time marches on, don't it?
As one of the world's largest music book publishers, Alfred has released Shredding The Blues, a new book and DVD volume that pairs the blues with heavy metal shred guitar techniques that have popped up in online forums and on stage in recent years.
Tailored for any serious shredder (a fast and technically unique solo metal player), the set employs master shred guitarist and author Dave Martone (yes, real name!) who goes through dozens of techniques needed to shred within the often heart-wrenching soul of the blues.
Written in standard music notation and TAB, Martone covers the most important techniques in Shredding The Blues, including sweep picking, tapping, hybrid picking, and string skipping. Learn how to master the licks of modern blues shredders in addition to explanations of shred-style blues basics, chords, and scales.
Easy-to-read neck diagrams assist in effortless learning of chords, scales, and arpeggios, according to Alfred. The bonus DVD also features Martone and his "unique, entertaining, and clear approach" to teaching the technical aspects of playing guitar.
Martone was named one of the top four underground shredders in North America by Guitar One magazine and has been featured in Guitar Player, Guitar World, Muzik Etc., and Gonzo magazines. He has worked with artists such as Greg Howe, Joe Satriani, and Steve Vai and has recorded six studio albums and two live concert videos. MSRP for Shredding The Blues is $19.99 at local music retailers.
News & Notes
If it's February, that means R&B Guitars will be hosting its 21st annual Chicago Vintage Guitar Expo at the Doubletree Hotel in Alsip on Sunday, Feb. 24 from 10 a.m. to 4 p.m.
Tobias Music in Downers Grove will be hosting a C.F. Martin Guitars Clinic on Monday, Feb. 25 at 7 p.m. Acclaimed guitarist Craig Thatcher will showcase new (specially priced) Martin models, while Midwest Martin rep Steve Strong will answer questions from guitarists.
— David Gedge