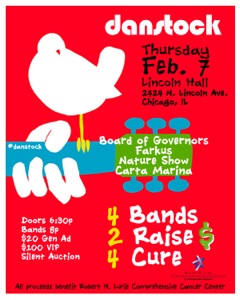 Danstock
We try to inject quirky asides into the overwhelming amount of news relayed every month in FILE with the hope of turning this mammoth column into a fun read. However, Dan Stock's struggle with melanoma is no laughing matter. As the local musician and longtime Uptown Recording engineer remains under hospice care, whether he'll be able to attend the benefit hosted in his honor at Lincoln Hall on Feb. 7 is still up in the air. Danstock hopes to raise money for the Robert H. Lurie Comprehensive Cancer Center of Northwestern University where Stock has been receiving treatment. Board Of Governors, Farkus, Nature Show, and Carta Marina will perform. VIP tickets run $100 and include reserved seating, food, and a goodie bag. General admission is $20. Those unable to attend can contribute HERE. Our prayers are with Dan, his wife Angie, and four-year old daughter Charlie.
Dancing Queen
Two words that strike terror into the heart of any penny-pinching social butterfly: Bottle service. Some write off the club ritual as unnecessary price gouging and a bribe for a seat while others wouldn't dream of slipping into those platform heels without it. A burly gatekeeper stands between a wall of drapery and the swanky White Lounge at the newly minted Dolphin Nightclub (located at 2200 N. Ashland in the former Green Dolphin Street space). The crystalline room of high-backed VIP booths and eye-popping waitresses offers a pricey breather from the pulsing and laser-throwing dance floor where music director "Just Joey" Swanson culls the DJs, (electronic music duo Crystal Method performed at January's grand opening) including Dance Factory-programmed Saturday nights and his revered Boom Boom Room Sundays. Look for an outdoor patio complete with Jacuzzis come summer. Currently, Dolphin is open Fridays through Sundays, 10 p.m. to 4 a.m. (except on Saturdays when doors close at 5 a.m.) with a cover between $10 and $20.
Nice Package
A history of sleeping in pajamas littered with the adorable faces of Donnie, Joey, Jordan, Jonathan, and Danny and sporting a jeans jacket covered in pinback buttons pledging allegiance to the "cute" one should entice the wearer of such youthful indiscretions to screech "eek!" and barf up a barrage of emojicons while texting every female alum of Mrs. Davis' sixth-grade class about New Kids On The Block teaming up with Boyz II Men and a reunited 98 Degrees for "The Package Tour," which hits Rosemont's Allstate Arena on July 12 19. But, we just can't muster it. Sure, the nostalgic thrill at finally seeing the objects of our affection in person (thanks a lot Mom, for instituting that no-concerts-until-you're-17 rule) titillates a small pocket of our brain, but just how long will NKOTB milk the pre-teen dreams of its audience? On the other hand (when did we turn into Tevye from Fiddler On The Roof?), with promises of a new album (10) and Philly's fly Boyz, the night could be worthy of a diary entry.
— Janine Schaults
Category: Uncategorized