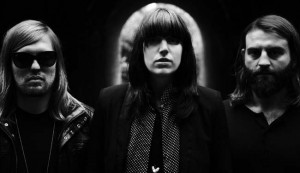 Ladies, if you ever receive a text from a potential mate that reads, "You're not pretty, but you've got it going on," there's two possible scenarios to consider. Either the gentleman caller is utterly clueless as to how to woo a fair maiden, or he's really digging the new Band Of Skulls album. Taking a line from the most aggressive and full-throttle track on the British trio's sophomore effort as a pickup technique seems circumspect, but at least you can trust his taste in music. That's gotta count for something, right?
Appearing: April 3rd at House Of Blues (329 N. Dearborn) in Chicago with We Are Augustines.
"The whole concept with that was, what's the basic minimum compliment? What's the faintest praise you can give?" guitarist Russell Marsden admits over the phone from London, as tour mates The Black Keys soundcheck in the background. "If it gets used in any kind of social platform, I think we'll be very proud."
Marsden should think about the bigger picture. The band's second release, Sweet Sour (Vagrant), successfully straddles the line between undulating balladry ("Lay My Head Down") and down-n-dirty garage rock that could have easily emanated from Jack White's carport ("The Devil Takes Care Of His Own"). The album's dueling personalities stem from a studio-induced bout of seasonal-affective disorder.
"We went in — it was pretty much last winter. We went straight off tour and we went straight into writing," he explains. "That was our idea of not wasting any time, which was a bit strange because we basically had a fall out from the tour and we struggled with not being on tour. We forgot [how to] survive. The stranger atmosphere of the record came from that time.
"Then we had some time off, went home, [and] regrouped. We went back into the studio and went up to this place in Wales called Rockfield. That was sort of the nice time. The sun was out, it was the royal wedding, and it was a really happy time. I think that was the two sides of the record that came out — sort of an anxious winter with a real sort of fulfilling summer. I think those two sides of the record are definitely in there, and it was the two periods of working on the record that manifested themselves."
Yes, the three Southampton natives stopped and savored Prince William's nuptials like any good royal subject — and no one relished it more than drummer Matt Hayward.
"Matt's a very patriotic sort of dude and yeah, I think he had his own little party," Marsden reveals. "It was one of those things that you'll always remember. We were in the studio and stopped to have a look at the Queen basically. Friends of mine had all-night royal parties. [It's] just an excuse to get drunk really, isn't it?"
Eye socket-rattling guitar riffs pour out of Marsden's fingertips effortlessly, and there's plenty here to make the walls quake, but his vocal tradeoffs with bassist Emma Richardson provide the stoic "Navigate" and the delicate "Close To Nowhere" with emotional heft.
"I think it's a lot more exposed when you're doing something more heartfelt. You do a song that's a little deeper and you're emoting your feelings — it's more of a terrifying prospect really," Marsden admits. "And sometimes those messages need a little more space around them to come across. Sometimes we feel angry and want to rock out. We want adrenaline and then we're human beings, too, and sometimes we feel bad or upset and playing some uptempo number's not going to tick all the boxes for us. We don't want to be typecast into one thing, so basically it's our way of saying, rightfully, we have the permission to have more than one emotion in our music."
Most of all, Marsden wants to keep proving the band's not just a one-trick pony. He hates the impression Sweet Sour only churns out slightly altered versions of its snappy first single "I Know What I Am."
"I hate, 'Oh yeah, Band Of Skulls, that's that band [that does] that thing.' I hope we can keep opening doors to what we do next. Some days we feel quite frivolous. Other days, downright grumpy," he says.
Making a followup to an acclaimed debut can wreak havoc on a band's creativity if one trusts rock's checkered history. The phrase "sophomore slump" gets thrown around a lot. Marsden's not buying it.
"It's really difficult to make a breakthrough, to get the ball rolling for any band or any artist. That really is the make-or-break moment," he proposes. "Like the second album, in many ways, you get so much more help and resources to call upon. You might feel the pressure, but it's not as hard as like struggling as every band does before they get their first [chance]."
The career trajectory for Band Of Skulls centers around two simple goals: "Being a good rock band and making good records," Marsden lists. The rest goes into the bonus column.
"You don't want to overestimate. To underestimate is always probably the right side of things to do. I don't know, maybe it's because we're British or something, I don't know what it is, but we're always totally surprised — we really stress out and think no one's going to show up," Marsden says.
Not that it's a completely irrational fear. "As a band that's played with no one showing up in our formative years, we know that feeling of pain when no one comes. So, it's just basically an anxiety attack about that feeling."
All you can do is take a deep breath, count to 10, and wait for the curtain to open. It probably doesn't hurt to have a quiver full of borderline-offensive one-liners, just in case.
— Janine Schaults