Going Rogue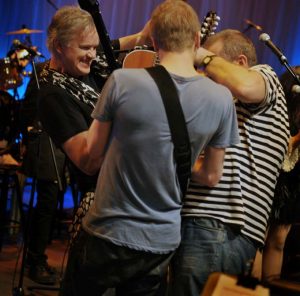 He must not have had the chops – seen the competition and promptly backed off. He'd been set up perfectly for a career as a lighthearted barroom rocker, giddily butchering Otis Redding's "Try A Little Tenderness" while seated on a tourbus in Bull Durham. Bruce Willis, Don Johnson, Eddie Murphy, and other actors had been storming the Billboard charts already, and there was certainly room for one more.
Appearing: August 4th at Space in Evanston.
"Didn't have the chops?" Tim Robbins roars in laughter. "Did you actually just say that?"
No offers were on the table then?
"It was actually later than that," Robbins insists, "when Bob Roberts came out and I was singing and playing guitar in that."
Whatever the case, he clearly held off. And while it may have seemed an opportunity lost 20 years ago, the postman has e-mailed back. Regardless of today's positive actor/musician climate, the efforts of Jeffs Bridges and Daniels weighed little on Robbins' decision to finally release an album of material. Time was just finally right.
"I was raised by two musicians," he says. "I'd come home from school and see my dad get out the ink and composition paper, writing sixteenth notes, first in pencil, then he'd erase and redo it – it was a beautiful art. To see the form and parts coincide . . . It just never felt like something I could take lightly. It's not a cavalier thing, to do music. It's a real choice you make in your life to tell a story or to try to elicit an emotion out of the listener. It's an artform just like playwriting or painting are. It's a discipline."
Robbins' parents – who died within a month of each other this past April – met in the UCLA marching band. His father Gil later toured with The Belafonte Singers (from which Harry would spring) and Tom Paxton, and joined folk-revival juggernaut The Highwaymen. He eventually settled down to manage Greenwich Village's famed Gaslight Cafe during the late-'60s, which, despite being removed from the days of Ginsberg and Dylan, immersed the young Robbins in the counterculture's artistic methods (and maybe some of its ideologies).
Though best known as an actor, it's Robbins' talents as a storyteller – writer/director of both Bob Roberts and Dead Man Walking – that complement his musical ethics. He hasn't released Tim Robbins & The Rogues Gallery Band (429) to show what types of music he can do, but to create an extension of his life's work.
"I was not ready for it, for a number of reasons," he says. "One, that I was pretty busy with the movie career: acting, directing, writing, writing plays, running a theater company as a non-profit, raising a family. I had enough on my plate. I had an opportunity, a couple offers to do music. It just seemed disingenuous at the time, like I would be taking advantage of/exploiting my fame. It just didn't feel right, like I didn't have an entire story or entire album to express."
He tends to use the words story and album interchangeably, a proclivity underscored by the opener, "Book Of Josie." Not only does the track have the word "Book" in the title, but it's also the name of a film for which he lost the funding.
"I think," he says, "thematically, it makes a lot of sense to start with 'Book Of Josie.' They're all stories. It's a little bit of a different format. The nice thing about music is you do it in shortform. Even though it's a six-minute song, it's not a two-hour story."
– Steve Forstneger
For the full interview, grab the August issue of Illinois Entertainer, available free throughout Chicagoland.