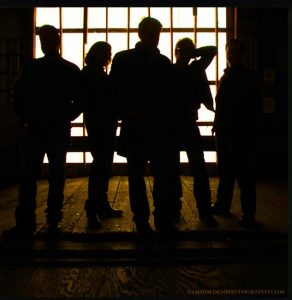 On record, Greg Dulli's Twilight Singers operation can come across slightly docile at times, the group's slow-building and subtle approach allowing for the mistaken impression of a sleepier production. Such was not the case Tuesday night at Metro, when the group hit town in support of its latest studio offering, Dynamite Steps (Sub Pop). Over the course of an impressively packed two-hour set, Dulli and his seasoned players brought a raucous live show to the Wrigleyville venue, with moments of sexy serenade slipping between sets of roaring romantic rock.
Early in the evening, Dulli made his intentions known by ripping into "I'm Ready" off Twilight Singers' 2006 effort, Powder Burns. It was just one of many performances that found the frontman screaming the chorus in a passionate showing of absolute investment. Similarly possessed were the blazing and building "Decatur St." and "Esta Noche," which found Dulli shouting out when he wasn't sneaking in a tease of "Everlasting Love." Dynamite Steps' "Gun Shots," meanwhile, followed an introductory tease of "When Doves Cry," while the bold and confrontational "Too Tough To Die," itself a cover of a Martina Topley-Bird track, incorporated Kanye West's "All Of The Lights" midway through.
Not all of the evening's selections proved as heavy, however. The soulful "Candy Cane Crawl," led by Dulli on keys, provided a seductive swagger to the set. And the youth-spirited "Teenage Wristband" proved especially triumphant and exuberant in tone. Though it was the romance-soaked "The Killer" that best exemplified the band's subtle and soaring strengths, with strings elevating the performance as blue stage lights bathed the band. There was no shortage of electrified energy during last night's Twilight Singers show at Metro, though it came in varying volumes.
— Jaime de'Medici
Category: Featured, Live Reviews, Weekly