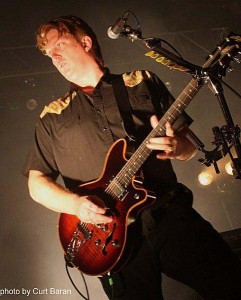 Read any industry rag and you're likely to see that record companies are dying on the vine. In the scramble to generate income, the big trend has once again become the reissue. That means attempting to sell you again what you already own or entice you by adding to your collection something you may have originally overlooked. Or, as Morrissey once sang, "Reissue! Repackage! Repackage! Re-evaluate the songs/Double-pack with a photograph/Extra track (and a tacky badge)."
In the case of Queens Of The Stone Age, all of this cynicism is actually a good thing. Their criminally underappreciated self-titled debut is getting rolled out with all the requisite bells and whistles, including a brief tour that brought them to the intimate confines of a sold-out Riviera on Friday night.
From the opening chords of "Regular John," it became immediately apparent why this music matters. Frontman Josh Homme — with a single guitar riff — managed to bridge the gap between his previous metal outfit Kyuss and a new definition of heavy music. Songs like "Avon" and "Mexicola" thrived on their I-beam rigid power chords. But the music also had a taffy-like elasticity. Headbangers accustomed to whiplash were being forced to address the orbit of their hips as well. Behind the voluminous, triple-guitar attack, drummer Joey Castillo made it swing, baby. His thick, tattooed arms looked more like tree limbs as he pummeled away at a kit that seemed to be begging for mercy. It was malicious intent disguised as a groove. The band plowed through the debut in its entirety with an ear-crushing intensity that never ebbed. Homme, with his Sequoia-like frame, held centerstage throughout, losing himself in serpentine solos, an ever-present cigarette struggling to remain between his lips.
The encores piled on a host of should've-been-hits. "Little Sister" rode its wah-wah chorus to hip-shaking freedom and "Songs For The Deaf" was played at a decibels that could have reached said audience. Standing atop Castillo's kick drum, Homme resembled a man surveying the beauty he created. When he crashed the ride cymbal with the neck of his guitar, he seemed to be adding an exclamation point.
— Curt Baran
Category: Featured, Live Reviews, Weekly