The Future Of Public Access TV In Chicago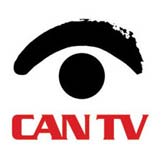 Any individual or organization in Chicago can learn how to produce their own program at Chicago Access Corporation (CAN TV) and show it on one of its five channels. That's because of the city's strong cable-TV franchise agreement, which allows CAN TV to receive its funding directly from cable providers.
Refranchising takes place every 15 years, and will start up again in June when RCN is due for renewal. RCN, WOW, and Comcast are franchised by the city, but have the option of refranchising at the state level — which is what AT&T has chosen to do. CAN TV executive director Barbara Popovic says that if these other companies opt for a state franchise, a 2009 Chicago ordinance will give the city — not CAN TV — control of the one-percent fee for public, government, and educational (PEG) channels (this would be in addition to the five-percent franchise fee the city already receives from cable companies).
"Whatever the regulatory vehicle, we feel it's very important that the public be firmly in the mix," she says.
CAN TV recently commissioned an independent survey, which found that 85 percent of Chicago cable subscribers say it's important that community issues are covered on local TV channels, and that customers would like more money set aside in their cable bill for the production of local programming than for commercial channels. Nearly 80 percent said it's important that Chicago residents have access to a local facility where they can get assistance in producing programs.
"If anything in Chicago, we see an increase in local interest and an increase in people using it," says Popovic, noting that public-access centers have closed down in San Francisco and Seattle in addition to scores of PEG center closures in California, Michigan, and Indiana — eight in Michigan.
"There is no rationale saying that now, 25-plus years after having created good policy in Chicago, that policy should be eroded in any way," says Popovic. "But we're observing with concern what is happening in other cities and want to work with all parties and the public to make sure Chicago doesn't let something like that happen here."
She says consumers still have trouble tuning into PEG channels on AT&T's U-verse system — the only one with a state franchise agreement.
"Our channels are treated equally on cable systems," says Popovic. "On the U-verse system, they have tweaked it here and massaged it there, but at the end of the day you can't find the channels on the program guides, you can't do DVR recordings, and you can't switch between commercial and PEG channels."
"The AT&T U-verse architecture and network is significantly different from cable," says AT&T spokesperson Eric Robinson. "While AT&T cannot provide PEG in the same manner as cable, cable cannot match the amount of PEG choices that we offer to our viewers," including programming from some 80 local communities — all of which can be found on Channel 99. (A 2008 Columbia Telecommunications Corporation report disputes the claim that U-verse technology must treat PEG channels differently.)
"Although the U-verse DVR cannot record the PEG channel, customers can choose to connect their own recording device and record whatever is on their TV," says Robinson.
He points out that U-verse ranked highest in the J.D. Power And Associates 2010 Residential Television Service Provider Satisfaction Survey, and says that U-verse meets requirements specified by state law. Nonetheless, the PEG access issue is under investigation by the Illinois Attorney General's office.
"If cable companies see around the country that the world's largest telecom company is able to treat PEG access with unequal standards, then the temptation will be great for cable companies to do the same," says Popovic.
"If we don't have entities like CAN that encourage and publish and distribute the people's voices, the door closes on a lot of issues and discourse and controversy.
"The city is richer, and the public discourse is richer, because of it."
A long list of local groups support CAN's mission, and the Committee For Media Access is actively working on the refranchising issue. For more, go to ouraccess.blogspot.com or cantv.org.
ODDS 'N' SODS: WLUP-FM (97.9)'s recent shift from hard to classic rock has raised the hackles of longtime fans, who've started a movement to purchase the Emmis Communications-owned station; check out the video at www.savetheloop.com . . . Local pet expert Steve Dale has left his weekend gig on WLS-AM (890) and is now back — sort of — at his old home, WGN-AM (720), where he's a regular contributor to the recently-returned Bill Moller's Saturday morning show; look for a podcast soon on the WGN Web site . . . Remember that old hoax e-mail about the government killing off Big Bird? It's ba-ack: earlier this year, Rep. Doug Lamborn (R-Colo.) introduced legislation that would slash all funding for National Public Radio and the Corporation For Public Broadcasting. Learn more — and sign the petition — at freepress.net . . . The Arizona shootings had some Democrats making noise about reviving the Fairness Doctrine; its death in 1987 paved the way for Rush Limbaugh and Fox News. One of those looking to bring back the FCC rule requiring broadcasters to provide adequate coverage of public issues and reflect opposing views is South Carolina Rep. Jim Clyburn — whose daughter Mignon happens to serve on the FCC. (She's said to oppose such a policy) . . . Kudos to Weigel Broadcasting-owned Me-TV and Me-Too for having the agility to air classic sitcoms with snow themes during the Blizzard of 2011 — proving yet again that small and local is where it's at.
— Cara Jepsen