Smoking Hot Mic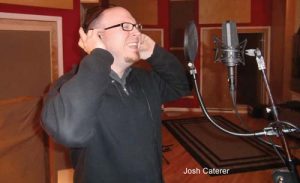 Smoking Popes vocalist Josh Caterer recorded a solo track for a yet to be named benefit compilation, and is currently working on another non-Popes project at MILLION YEN in Chicago . . . Also at Million Yen, acclaimed indie producer J. Robbins was in town tracking noted indie band Braid for Polyvinyl Records . . . Jeff Dean recorded The Black Sheep Project, featuring members of Naked Raygun, Stiff Little Fingers, and Screeching Weasel . . . Bad Boys tracked one song for a compilation album . . . All Eyes West (The Bomb, Noise By Numbers) tracked a CD for Academy Fight Song Records
At STUDIO VMR in Brookfield, Hans from Congo Africa is working on a new album with engineer Don Griffin . . . Nate Johnson flew in from Spain to do some mixing with Griffin and track new vocals with Senay Jones . . . Owner/engineer Griffin also did a bit of celebrating last month at Studio VMR, because 2011 marks 10 years in business in Brookfield. Congrats, Don.
Bobby Midnight And The Big Ordeals recorded their latest set at Fineline studio in Lombard with engineer Mickey Urbanowicz. Live previews of the new material are online at YouTube.com; search Bobby Midnight, Shark City.
Ed and Eric Gosselin from Radiance Recording Studio in Homewood dropped a note to let us know the Chicago based blues-rock and country band Brass Budah had recently recorded a five-song demo that will serve as a reference disc for the band to expand their live endeavors . . . Ed and Eric's band Fierce Atmospheres recently wrapped up a three-song disc that was mixed and mastered by the legendary Neil Kernon. It features Chicago's own Steve Reimer (Slauter Xtroyes) on vocals. Main tracks were recorded at Nashville's Omni Sound Studios and all additional guitars and vocals were done at Radiance.
Chicago-based doom metal legends Trouble were busy recording at WARBURN STUDIOS in Chicago, their own tracking suite. According to guitarist Rick Wartell, "One of the luxuries of recording in your studio is that you're not under any time constraints. We can work on our own schedule, which allows us to focus on the creative process." The project will also feature new vocalist Kory Clarke (of Warrior Soul) on vocals. "Kory is an incredibly talented and dynamic singer. He's a great addition to the band as he brings a high level of professionalism, which has positively affected our creative process." Working with Trouble was their long-time engineer Larry Burns, whom they entrusted with their signature sound not only behind the studio console, but at their live shows as well. Trusted Trouble cohort Bill Metoyer also handles production when the band record. The band began utilizing Internet technology in their recordings by conducting most of their songwriting collaborations via FTP site, since vocalist Clarke currently resides in Berlin. "Bruce and I record our guitars separately and then would send those tracks to Kory, who would, in return, send us his vocals. As we share a collective vision for the album, this hasn't hampered our progress in any way," says Wartell. Also adding their talents to the band's vision for the album are new bassist Shane Pasqualla and drummer Mark Lira, who are both recording their first studio album with Trouble. According to the band, the expected record release date is summer 2011.
Hey Studiophiler: To get your studio or band listed in "Studiophile," just email info on who you're recording or who's recording you to ed [at] illinoisentertainer.com, subject Studiophile, or fax (773) 751-5051. We reserve the right to edit or omit submissions for space. Deadline for April 2011 Issue is March 15th.
Category: Columns, Monthly, Studiophile