Roland
R-05 Digital Recorder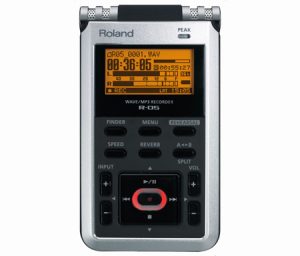 In the past several years, the competition in the hand-held digital-recording business has become extremely cluttered with dozens of contraptions to capture your music in a portable format. www.roland.usMost major manufacturers (Tascam, Korg, Boss) have released multitudes of cellphone-sized recording devices that recorded HD-quality sound onto an SD card or onboard flash drive. The common features between these machines were built-in stereo mics with MP3 and WAV recording formats into 24-bit and 96-kHz sonic recording ranges. Beyond the hardware devices on the market, Apple introduced apps and software for recording music on iPod Nanos, iPhones, and iPod Shuffles.
Most folks reading this column for the past few years know our feelings about artists releasing music recorded on these devices. With the abundance of world-class recording studios in Chicagoland, there's no excuse for tracking your album on portable recorders and punishing your audience like that. However, as a digital tape sketchpad for demos and rehearsals, you can't go wrong with something so portable.
Roland's R-05 digital recorder aims to make it the easiest handheld to operate among the new wave of WAV/MP3-capable gadgets released in the last year. It features 24-bit/96kHz recording with a built-in stereo mic that records directly to an SD card. It offers extended battery life for recording and playback (30 hours playback/16 hours recording), and utilizes 16-bit WAV and MP3 files with built-in reverb, the ability to change tempo without changing pitch, loop playback, auto record start, auto song split, and auto level adjust.
All of it is wrapped up in a iPhone-sized package that retails for $250. We can't wait to see what Korg and Tascam will come up in response to the R-05. For info, visit www.roland.us.
Rocktron
Texas Recoiler Stomp Box
For those minimalist guitar players who use single-coil pickups to power their tone, Rocktron is offering a little sonic Viagra to improve their sound. The Texas Recoiler, part of Rocktron's Boutique Series of stompboxes, is a more traditional looking and sounding series of pedals than we're used to seeing and hearing from the manufacturer. In recent press releases, the company claims, "Now you can take control of your single-coil pickups without having to physically alter your guitar, or purchase various sets of custom pickups. The Texas Recoiler is actually a 'single-coil tone shifter.'" Using special FET inputs, along with unique filtering techniques, the Texas Recoiler produces a cleaner quality tone and response, similar to that of high-end custom shop-type pickups. As an example, players can dial in the Stevie Ray Vaughan mid-tone setting, while adding more kick to the sound. Sound and adjustment knobs include Output, which adjusts the final output gain; Frequency, which adjusts the center frequency; Windings, which adjusts the amount of gain produced at the frequency center; and HP Filter, which controls the amount of lows that are present. Rocktron has also included an internal rear PCB Pot that can be used to adjust the bandwidth of the Windings filter. This will adjust how narrow or wide the dip effect becomes. The Texas Recoiler is powered by a 9V battery, or by an optional Rocktron DC power supply. List Price is $169. For info visit www.rocktron.com.
— David Gedge