25 years, 700 songs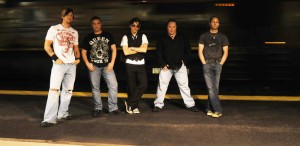 Richie Hoffher has sacrificed for his band. "Man, I lived with my parents 'til I was 35." In between those rare nights sleeping in his own bed, Hoffher, the co-founder/guitarist, reinvested nearly every dollar he earned back into his band, 7th Heaven, playing over 250 gigs a year, sleeping on friends' floors, fleabag motels, and the occasional Motel 6 when a promoter offered an upgrade.
Today, Hoffher's reinvestment seems to have paid some dividends as we sit in his nearly new west suburban recording studio/home/NTD Records office along with long-time 7H guitarist/vocalist Nick Cox. Scattered over two floors of space, there are dozens of boxes of touring t-shirts and other swag, hundreds of packets of guitar strings, and more guitar picks than most bands would use in 10 years. "We're Dunlop's [pick manufacturer] biggest customer, bigger than Metallica. Our fans call us 'the band with the picks,'" says Hoffher
"I've been doing this since I was 15, this is always what I planned, to have a band and a label." Though Hoffher gives a passing nod to some of Chicago indie-label owners of days gone by like Jim Nash (Wax Trax) and Kai Dohm (Rotz Records), his business model, intended or not for NTD Records is not only a full-time promotional vehicle for "friends of the owner," but instead of industrial and punk rock on their label, NTD focuses like-minded suburban-based rock bands like Hi-Fi Superstar, He Said, She Said, and Men From Marz. Like a Stateside version of Alan McGee (former Oasis manager, label owner), Hoffher books, records, and promotes the bands on his label. "It just seemed as a natural progression as we booked 7th Heaven we needed opening bands and headliners on nights we could not commit to a certain venue."
"We've tried to mold our band and label in ways that means we'll always remain profitable, and that means avoiding some of the financial mistakes that other [now defunct] Chicago bands might have made, like Dovetail Joint and Extra Very." Cox and Hoffher note that those bands signed major-label deals with relatively large cash advances, while 7H decided to remain independent and release their own music. "We just decided that being signed to a label deal wouldn't work for us if it meant ending up in bankruptcy, which some of these bands did. We actually chose Plan B," Cox says.
7th Heaven began as a fair-to-middling, struggling hard-rock band in 1985 that learned to write songs the hard way, and that meant getting through the fog of not only being teenagers and writing some shaky material, a few tracks of which are being re-recorded and given new life for their Jukebox box set, but simply learning to be better songwriters and a live band. Their music has progressed in 25 years from '80s hair band mayhem to Nitzer Ebb-styled aggro-rock to its current incarnation as harmony-filled AOR, where Train meets Def Leppard. The return of Cox on guitar after a sabbatical, Mark Kennetz on bass, and co-founder Michael Mooshey on drums, has added to their continued stability.
The band has decidedly come into its own in the last five years with the addition of "Pop-Idol U.K." contestant Keith Semple, whose musical instincts complement Hoffher's honed rock and pop songwriting abilities. When former vocalist Andrew Blake departed the band on somewhat strained terms ("Unfortunately, he's the only former member I don't speak to any longer," says Hoffher), the band found Semple on Myspace and Hoffher e-mailed him on a whim. He was stunned when Stemple responded with a late-night phone call from Northern Ireland. After some negotiation, visas were obtained, the band flew him into O'Hare, and Semple became the band's third lead vocalist in 20 years. "It was really a longshot, I knew the landsape of vocalists around Chicago, but I wanted something different. I've always been fascinated by good singers. This band plays a lot of shows, and we needed someone with endurance, someone who wasn't afraid to perform in front of 10,0000 people, the guy who had the voice. That turned out to be Keith. This guy from Northern Ireland."
— John Vernon
To find out how it turned out, grab the September issue of Illinois Entertainer, available free throughout Chicagoland.