Martyrs', Chicago
Friday, November 20, 2009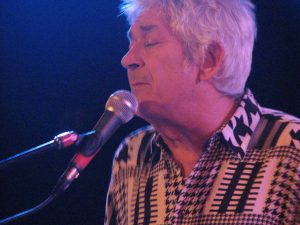 The universe is back to smiling on former Small Faces and Faces keyboardist Ian McLagan. After a rough couple of years when he lost both best friend Ronnie Lane and his own wife, the impish veteran completed a brief but emotionally complex set for a modest crowd.
There are local bands who boast larger Friday-night draws than McLagan did at Martyrs last weekend, and they have only a fraction of his history. But, having relocated to Austin, Texas years ago, he seemed very comfortable in his shoes. Performing solo with the occasional accompaniment of touring bassist Jon Notarthomas, he was long on some Faces anecdotes but almost entirely dependent on the material from his recent solo albums, including this year's criminally overlooked Never Say Never (00:02:59).
Opening with "Loverman," he nodded to the early rock boogie he can perform in his sleep, but quickly segued into some of the more personal fair that has more than validated his persistent touring and recording. "Been A Long Time" bemusedly recounted feeling like a stranger in his old London grounds, while "Never Say Never" — touchingly dedicated to his "baby" — promised his late wife to use her as a prism of possibility. McLagan's subtle rasp recalls a less-honeyed Paul McCartney (especially his declarations of "I haven't made any plans — lately" in "Innocent Man") and suits his barroom rock perfectly.
Perhaps the room would have been more full if McLagan more shamelessly catered to Faces fans, but he only offered one snippet, "Debris," which was mainly done in dedication to Lane, as was his own "Hello Old Friend," included on his personal Lane tribute album Spiritual Boy. When he was finished, McLagan wasn't quickly ushered offstage and back on the bus, rather he stepped down and joined the audience for drinks and laughs.
— Steve Forstneger
Category: Live Reviews, Weekly