Aragon Ballroom, Chicago
Friday, November 20, 2009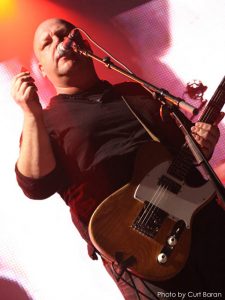 To paraphrase Nirvana's Kurt Cobain: Without Doolittle there would be no Nevermind. Arguably, the former document provided the blueprint that would take Alternative Nation to the top of Mt. Mainstream. Virtually ignored upon its release (except by critics and those in the know), it is now considered a touchstone recording whose quiet-loud-quiet approach has since been co-opted by countless others. Sadly, around the time (1991) Cobain was singing the band's praises in interviews and to anyone else who would listen, the Boston quartet was quietly imploding.
What a difference two decades can make. In recognition of Doolittle's 20th anniversary, the Pixies has once again hit the road for a tour whose highlight is a run through the historic recording in its entirety. And considering that at its commercial peak in the '90s, the band barely filled theaters, their three-night residency at the Aragon (some 12,000 tickets sold) feels like karmic artistic validation.
As live bands go, the foursome was always statuesque and stoic at best. And Friday's performance, the second of their three-night stay, was no exception. Throughout the 90-minute set, the band was steady and workmanlike in its approach. Guitarist/vocalist Black Francis provided the skeletal frames for the songs while lead guitarist Joey Santiago splashed surreal squalls of aural paint over torrid tales of compulsive yearning ("Debaser"), sexual politics ("Tame"), a cocktail lounge sing-along ("La La Love You"), and the debauched yarn of low rent criminals ("Crackity Jones").
What the band lacked in physical presence and performance charisma was more than compensated for with the seemingly timeless heft of the music. Minimalism ruled, as not a single note was wasted. Bassist Kim Deal, forever flashing a mischievous grin, and drummer David Lovering locked into a cement-hard groove on "Gouge Away," the band's finest example of its subdued-scream-subdued approach. "Wave Of Mutilation" was surf-punk ecstasy with Francis unraveling a David Lynch-ian mind film where the protagonist kisses mermaids and rides the El Niño. No big mystery there as to why it never received radio airplay.
Even the material that bookended the Doolittle performance reinforced and celebrated the thrill of that era. "Weird At My School," "Manta Ray," "Bailey's Walk," and "Dancing The Manta Ray" were all obscure, Doolittle B-sides from the band's European singles.
But with no new material debuted and talk of any new recordings forever being blown off, it's certainly reasonable to point an accusing finger at the band for using its legacy and catalog as a cash-money printing press. Perhaps time will once again silence the cynics. What remains free of doubt is that even though its creators may have considerably less hair and additional girth in and around the midsection, Doolittle, and most of its other output ("Isla De Encanta," "Velouria," and "Nimrod's Son" comprised the second encore) has managed to age gracefully.
— Curt Baran
Category: Live Reviews, Weekly