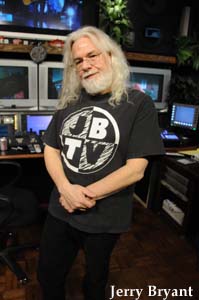 "I love to help those that have talent, give them a place to be a rock star . . . on 'JBTV,'" says Jerry Bryant, who has been bringing alternative-music videos, concert footage, and free-form interviews to the Chicago area since 1986. "JBTV" has featured everyone from The Afghan Whigs to Zwan, and won two Billboard Video Awards for Best Local/Regional Alternative Modern Rock Show.
Music fan Bryant calls the program "Chicago's longest-running, lowest-rated, most-respected local-TV show dedicated to the music lovers."
He started out playing videos that weren't considered mainstream enough for MTV, but soon artists ranging form Peter Murphy to Joey Ramone were inviting themselves on the show to play their favorite videos. He has done it all without sponsors, funding everything out of pocket.
"The main reason I'm always cheerful is that I get to work with musicians and artists that have the same big idea . . . that music is for the people," says Bryant, who estimates he has lost "millions" on the show. "I've been doing 'JBTV' as my hobby; I have never made any money from the show. I only produce 'JBTV' for the love of music and I also feel the inner need to help those artists that need exposure from the beginning of a career."
Bryant began shooting high definition before it became mainstream and was the first to produce an HDTV concert special (with Blink 182 in July 2001). The "JBTV" HD sound stage has nine HD cameras, and he recently produced the "20th Annual JBTV Don't Drink And Drive" 10-hour music marathon on CAN TV 19 and Cable 25.
But now he's looking for sponsors to help fund the show and take it to the next level. "I have a million ideas, but need a million dollars to make it happen, and in today's economy I don't know what is next," says Bryant, who has no sales crew or management team.
In a perfect world, "JBTV" would be on a "real" TV station, with plenty of viewers and sponsors. Until then, it airs Saturdays at 11 p.m. on WEDE-Channel 34 and HDTV WJYS-Channel 62-2 as well as on Chicago Cable TV Channel 25 Thursday night at 8 and Wednesday night at 9. You can see videos at www.jbtvonline.com.
THE HD SWITCHOVER CONUNDRUM: The analog-to-digital TV switchover presents a dilemma for Luddites who receive their TV signal from an antenna. Come February 18th, that old analog TV will no longer be able to receive digital signals.
A cheap solution is to keep the old TV and get a digital converter box using two $40 coupons afforded to each household by the federal government (visit www.dtv2009.gov or call (888) 388-2009), but at press time the government was out of converter-box funds. The new Obama administration was requesting a delay in the switchover date, though residents can still get on a waiting list for coupons. When shopping, be sure to look for a feature called "analog pass-through" to continue getting analog signals from low-power stations or those that haven't yet switched to digital. Even without a converter, analog sets will continue to work with the VCRs, DVD players, and gaming consoles you already own.
According to blogger, web designer, and former "Steve Dahl Show" contributor Mark Czerniec, antennas can now pick up loads of free channels. In an article called "Could Free TV Make A Comeback" (at Czerniec.com), he wrote, " Many of the familiar channels now also have an auxiliary channel — or two or three of them. While one program is airing on the main PBS channel, for example, there's a completely different additional show in Spanish, plus a cooking show, plus a local weather channel. [My neighbor] Mary Jean could now potentially receive 80 or more channels between all of the Chicago and Milwaukee stations and their multiple channels. Sure, some are just satellite weather images, but once you own an antenna, they're all free."
Another option is to connect the old analog TV to a paid service like cable or satellite, which is a new monthly expense.
Buying a new TV with a built-in digital receiver creates the problem of what to do with the old set, which contains hazardous and toxic materials that pose a threat to the environment.
United Recycling Industries (URI) in West Chicago charges 25 cents per pound to dispose of analog TVs (they also take other items; call (800) 270-8220). Another option is take it to your local electronic and hazardous waste disposal center. The City Of Chicago's Household Chemicals And Computer Recycling Facility (1150 N. North Branch on Goose Island – (312) 744-3060) recycles what they can, and safely disposes of the rest. The city and the Illinois EPA also conduct electronics collection days; for details on that and how to recycle everything from appliances to tires, visit the Chicago Recycling Coalition's Web site at www.chicagorecycling.org.
ODDS 'N' SODS: MORE GOOD NEWS: Kudos to Salem Media-owned WIND-AM (560) for launching "Chicago Overnight," which airs Tuesday through Saturday from midnight to 4 a.m. Instead of distant, automated voices, night owls get to hear real, live "Living Large" host Geoff Pinkus doing a locally based program complete with roving reporters, news, guests, and "stories about what makes Chicago great in the spirit of WIND radio legends like Eddie Schwartz." He's joined by producer Bonnie Sporn, formerly of WCKG-FM's "Stan And Terry Show" . . . We've also heard nothing but good things about WIND'S morning duo, Big John Howell and Cisco Cotto (5 to 9 a.m.) . . . Nine FM is ba-ack – if you live in Kankakee, anyway. On December 19th, Newsweb Radio Company replaced 92.7 WKIF-FM's (92.7) CNN Headline News format with "We play anything." It's only 3,000 watts, but at least now there's something to replace Newsweb's three Nine FM stations, which switched to progressive talk in October.
– Cara Jepsen