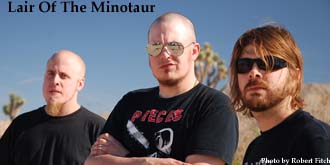 Lair Of The Minotaur's War Metal Battle Master might not have been the best heavy metal record of 2008 (fifth best, says me), but I can't think of a more metal heavy metal record released all year. It's only fitting the Chicago band also made the most metal music video, too.
Within the first 53 seconds of the video for the title track, an Akhaian Barbarian gets decapitated, blood spurting from his headless neck. But that ain't shit compared to a minute later when Keres (fanged, clawed, naked, blood-smeared female death spirits who dine on the flesh of the defeated and drag their souls to Hades) – frontman/guitarist Steve Rathbone is a Greek mythology buff – start eagerly sifting through the fallen's entrails. Yeah, awesome. It would be pointless to describe the entire video in detail; you can simply You Tube it.
Or, you can get LOTM's War Metal Battle Master DVD (Southern Lord) with both the uncensored and TV cuts (the TV version merely serves to prove how lame MTV and "Headbangers Ball" have become), some sparse special-feature, making-of type bonus features (extra looks at the Keres getting fake blood poured on their . . . parts), and 11 live performances from across the globe. The footage ranges from good ("Ultimate Destroyer" in Nantes, France) to horrible ("Burning Temple" in Chicago), and the sound is never better-than-average, but the setlist covers the group's career, meaning you get to see plenty of original drummer Larry Herweg (Pelican) playing with Rathbone and bassist D.J. Barraca (who recently left Minotaur and was replaced by Nate Olp) as well as current skinsman Chris Wozniak.
So, War Metal Battle Master might not be the best heavy metal DVD of the year, but it's hard to imagine anybody releasing a more metal heavy metal DVD.
66 1/6: War Metal Battle Master earned the Moshy for Most Metal Metal Record Of 2008, but what's the most metal record ever? My guess is more than half of you (Ten? Fifteen loyal, monthly readers?) say Reign In Blood. Slayer's masterpiece wasn't as immediately accessible as Metallica's Master Of Puppets or as adventurous as Megadeth's Peace Sells . . . But Who's Buying, both of which came out the same year (what a fucking year 1986 was, huh?), but as far as being a touchstone for every corner of the genre, Reign In Blood might be it, at least according to the author in charge of tackling the album for Continuum's 33 1/3 book, D.X. Ferris. Quickly, 33 1/3 is a series of small (Reign In Blood is only 153 pages, "Acknowledgements," "Introduction," and "Notes, Asides, & Works Cited" included), concise books about classic records. This one came out way back in April of last year, but since Continuum just sent it to IE recently, I have the right to comment on its awesomeness. Besides providing the straight who, what, when, why, and where of Reign In Blood's recording, Ferris also interviews a slew people affected in one way or another by the seminal thrash record, including the aforementioned Larry Herweg, Tori Amos, Helmet's Page Hamilton, Agnostic Front's Roger Miret, Mastodon's Bill Kelliher, and rapper Ill Bill among others. The consensus? Reign In Blood rules, dude. Of course, you don't need to buy a book (even at a paltry $10.95) to know that, but Ferris will probably surprise even the most hardcore fans with his nuggets of knowledge. Did you know Suicidal Tendencies guitarist Rocky George was an early mentor to Jeff Hanneman and Kerry King? Remember that next time someone insists Slayer is a "Nazi band," or better yet, when some idiot at a Slayer show strips off his sweaty T-shirt to proudly show off his Aryan Nation tattoos.
STRANGELAND AND BATTLE KOMMAND: Because I hardly ever mention Nachtmystium, I figured I'd pass along the news about Nacht' frontman Blake Judd's label, Battle Kommand, joining forces with international heavy metal powerhouse Candlelight. Last month Candlelight confirmed the "extension of their cooperation" with Battle Kommand, meaning they now get their mitts on BK's entire catalog (releases from Glorior Belli, Leviathan, Krieg, and Zoroaster to name a few) instead of just the Nachtmystium titles. Candlelight will put together reissues and handle marketing and distribution while Judd retains his role as the label's A&R . . . Because I can never mention Dee Snider enough, I figured I'd pass along news the Twisted Sister frontman is going to write and star in a sequel to 1998's Strangeland! Snider will pick up the pin and reprise his role as the sadistic Internet predator Captain Howdy (also the name of one of two songs that comprise the "Horror-teria" suite on Stay Hungry – as if you'd forget) for Strangeland: Disciple, which goes into production this year. It only makes sense now that torture-film franchises like Hostel and Saw are so popular, at least according to Snider, who humbly states in a press release, "I came up with the idea of Internet crime before anybody ever committed Internet crime. And I am the father of torture films."
I remember seeing Strangeland when it came out and being pleasantly surprised, but in order to provide a check and balance on Snider's ego I summoned Cardiac Arrest/ Severed guitarist/vocalist and "Caught In A Mosh" Horror Consultant Tom Knizner. "I don't mind the first one at all," he admits. "It is not great, but it is passable and, for the time, it was pretty disturbing.
"Modern torture films? Maybe. But there were plenty of torture films going around for years. The Internet crime thing is pretty much true, I think . . . first movie I can recall that exploits it. But then again, that Sandra Bullock movie, The Net, was Internet crime, not sure when that came out though."
Unfortunately, The Net edged Strangleand, by three years. Don't tell Dee.
OUT NOW: I praised Dodsferd's last album, Cursing Your Will To Live, for refusing to get all fancy-pants like peers Xasthur and Blut Aus Nord and instead cutting song lengths and stripping black metal to its essence: anger. How does Dodsferd mainman – only man – Wrath repay me? With Death Set The Beginning Of My Journey (Moribund) and six songs all more than six minutes a pop. Death Set fails, unfortunately, where Cursing Your Will To Live succeeded. Even the song titles ("You Were Talking About A Kingdom; What the Fuck Is That!!!" for ridiculous example) need editing . . . Outlaw Order is Eyehategod without Jimmy Bower. Need I tell you what Dragging Down The Enforcer (Season Of Mist), its full-length debut, sounds like? Apparently vocalist Michael Williams, guitarists Brian Patton (also of Soilent Green) and Gary Mader, drummer Joey LaCaze, and bassist Justin Grisoli (the only non-EHG member; original OO bassist Marc Shultz is in prison, apparently) grew tired of waiting for Bower to play with every Southern metal band – Down, Corrosion Of Conformity, Superjoint Ritual – except EHG (which hasn't released a studio album since 2000), so they formed Outlaw Order, a slightly – slightly – less sludgy, even angrier version of their main gig. Unless you're visiting New Orleans, don't plan on seeing the band live, though; pretty much everyone is on probation.
THE BRITISH ARE COMING!: If you're still holding a grudge against Carcass for not including Chicago on its brief North American reunion tour last September, let it go. Just before IE went to press, The Pearl Room in Mokena casually announced (tour info wasn't even posted on the band's Myspace) the pioneering grind/death act will play March 15th. The Black Dahlia Murder, Suicide Silence, Samael, Arsis, and Psycroptic open.
mosh@illinoisentertainer.com
– Trevor Fisher
Category: Caught In A Mosh, Columns, Monthly