But Who's Buying?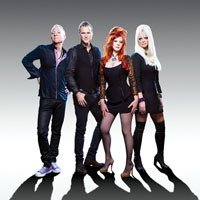 We all know about the vinyl rage. Things have gotten so rough, a 62-year-old woman had her eyes clawed out at an Uptown thrift store over a bullseye-striped copy of Ozzy Osbourne's No Rest For The Wicked the other day. Really.
As record manufacturers toast their .01-percent marketshare windfall, questions have arisen. How many new LPs found homes in 2008? According to Soundscan, 1.88 million. What were they? Radiohead's In Rainbows (Fontana) shipped 25,800 units; according to LA Weekly, the figure represents only two nights' worth of fans at the Hollywood Bowl. (And that's from a mental fanbase who splurged good money on a free download and another couple benjamins on the "official" coloring book.) Neutral Milk Hotel moved a surprising 10,000 sleeves; The Beatles, Pink Floyd, Metallica, and Fleet Foxes also made the Top 10.
But you wanna know what's (and this is in no way a reference to Fred Schneider) queer? The B-52's' Funplex (Astralwerks) is up there. What's stumping so many analysts – and believe us, at least two people have poured five-minutes' thought into it – is what the hell? Shifting to Soundscan's compact-disc logs, Funplex barely registers as a dust mite. It's not like a half-million old fans bought the CD while an enclave of white-belted West Town skate punks dropped some bob on their 180-gram vinyl. Something's up. We're not talking Enron, mark-to-market accounting here. But if Kate Pierson owns a tractor-trailer, it's probably not filled with rock lobsters.
I'm In The Mood For Love
Each February, "File" traditionally alerts you to what you can do on Valentine's Day when you can't stand the sight or sound of the person you love. If you fly solo – it's by choice, right? – put those fudgsicles and taquitos back in the Jewel freezer and join the new high-school tradition of going stag to prom. Flosstradamus are hosting their own (Flosstrapromus) at Abbey Pub on the 12th, two-days early so you can score digits and participate in a mad rush to do the following: Anything Box at the Auditorium Entertainment Center (3504 S. Western) or Mexican sexpot/alleged kidnapper Gloria Trevi at Congress or '80s U.K. misfits The Godfathers at Metro or Buckwheat Zydeco at House Of Blues or Delta Spirit at Double Door or (bad idea for a young relationship) Fucked Up at Empty Bottle or Lights at Beat Kitchen or, get this, Pretty Lights at Subterranean. This is all assuming you support the whole Hallmark-holiday economy. If not, we still have you covered, and invite you to Kinetic Playground on the 13th for "My Bloody Valentine," an anti-Valentine's show featuring Canyon, In Case Of Capture, Arctic Fox, Chatty Cathy, and Wonderful Flying Machines.
Stuff Of Legend
We've accepted that "legend" gets applied too carelessly for it to mean anything but "old," "once mildly popular," or "Keith Richards once vomited on my boots from a combination of grain alcohol and the heroin DTs." So, new definition in hand, IE won't hesitate to announce two-decades-absent, legendary Brit rockers The Godfathers at the Metro on Valentine's Day. Aside from referencing their "primal rock," we'll leave everything else Wikipedia says a secret, because whoever wrote the entry is bitter toward those (DJs, labels, listeners) who thwarted their growing legend.
"Legend" suggests a story, and Dave Mason (below) has one of those. As members of Traffic in the '60s, he and Steve Winwood were often at each other's throats. Despite writing some of the band's biggest early hits ("Hole In My Shoe," "Feelin' Alright?"), Winwood and the other two members voted Mason off the island – all told he "left" the band on three separate occasions. His other credits include acoustic guitar on Jimi Hendrix's "All Along The Watchtower" and work with George Harrison and Michael Jackson. Why mention his tale? Mason visits two legendary Best Buys in February, at 159th & LaGrange in iconic Orland Park on the 14th and Deane Dr. in mythical Rockford on the 17th, where he'll sign autographs.
Century Media wins with "There are few individuals around today that exemplify the term 'idol' or 'legend,' but one of Seattle's own stands tall amongst this chosen minority." Who? Who? Who? Hendrix? Cobain? Tad? "This person is Duff McKagan." Huh? We woulda picked Ann Wilson or Mark Arm before Duff. We like Duff. He was the only stable member of Guns N' Roses. But he played bass. Wrote "So Fine." And now Duff McKagan's Loaded will release an album this spring, which certainly won't add intrigue to the tale. Aye. Yi. Yi.
— Steve Forstneger