Warship
Supply And Depend
(Vagrant)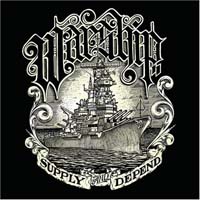 There's nothing wrong with incorporating a lot of influences and styles in an album, unless it makes it a big sloppy mess like Warship's Supply And Depend.
Appearing: Thursday, December 18th at Reggie's in Chicago.
Vocalist/drummer Francis Mark and guitarist/bassist Rob Lauritsen (both From Autumn To Ashes members, a band apparently on indefinite hiatus) never quite decide what they want Warship to be on its debut. Supply And Depend was produced by Andrew Schneider, responsible for records by Pelican and Cave In, who injects some of those bands foggy atmospherics into songs like "Wounded Paw" and "Indoors," yet other times, like album opener "Toil," the group tries to simply bulldoze its way through four minutes of muddy riffs a la High On Fire. Most the time, though, Warship opts to just slug it out in short, compact hardecore-ish metal swings ("Empty Vessel," "We've Never Been Equal") like Trap Them or Sweet Cobra.
Ambitious, but problem is Warship doesn't do any of them especially well, and Supply And Depend is an album lacking any direction. This album would normally get a 5 if it weren't for the fact the drummer is also the vocalist. One bonus Phil Collins Point awarded.
6
— Trevor Fisher
Click here,/a> to download Warhsip's "We've Never Been Equal."